Of Night and Its Mysteries: Owl Symbolism
Owls – Part I
For my days are consumed like smoke, and my bones are burned as an hearth.
My heart is smitten, and withered like grass; so that I forget to eat my bread.
By reason of the voice of my groaning my bones cleave to my skin.
I am like a pelican of the wilderness: I am like an owl of the desert.
- Psalm 102, The King James Bible
Few animals hold as ambivalent a place in human culture as the owl. Almost universally a symbol of night and its mysteries, they're often portrayed as portents of sorrow and death. During the Middle Ages in Europe owls were linked with sloth, sexual vice, and any "who have given themselves up to the darkness of sin and those who flee from the light of righteousness" (Bubo, Aberdeen Beastiary), but also with Christ, who "loves the darkness of night because he does not want sinners – who are represented by darkness – to die but to be converted and live" (Night-owl, Aberdeen Beastiary). Owls' nocturnal lives also associate them with magical sight, dreams, and wisdom, and in many cultures they are powerful spirits, affording protection in this world and a tangible, living connection with the world to come.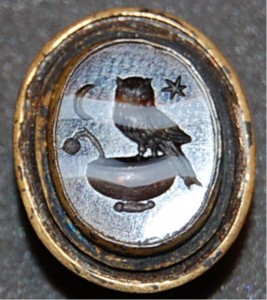 Onyx gemstone engraved with owl, bowl, and poppy. Imperial Rome, 1st-3rd century CE.


In this Roman onyx gemstone the owl references sleep and death – it sits on a bowl, probably for a sleeping draught, containing a poppy, the opium-producing flower that was also symbolic of death.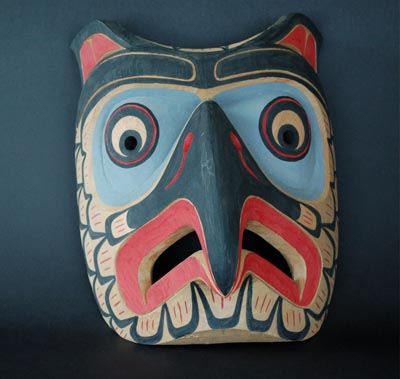 Kwakiutl cedarwood owl mask. Tom Patterson, British Columbia, 1983.


Many indigenous communities in North and Central America have revered owls. "One of the Pawnee four sacred birds, the owl's powers were linked with darkness and night. The Kiowa believed that the shaman became an owl after death. The Ojibwa called the bridge over which the dead pass the "Owl Bridge" and buried owl feathers with the dead to facilitate their journey… in Mesoamerica owls were closely associated with liminal passages into the underworld abode of the dead. Owl images appear on cave walls, and owls appear on mirrors, which, like caves, act as thresholds between the natural and supernatural worlds" (Werness, The Continuum Encyclopedia of Animal Symbolism in World Art, p. 306).

Masks are particularly important to First Nation communities of British Columbia, where they are connected with beliefs about the transformational nature of humans and animals. The example above was carved by Tom Patterson, a member of the Nuu-Chah-Nulth tribe of Vancouver Island.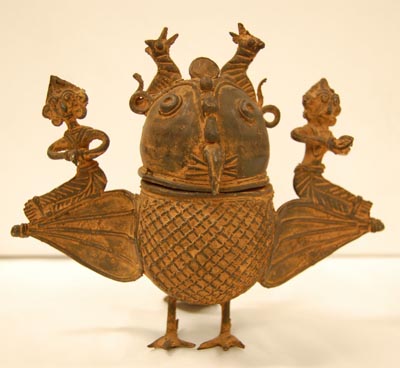 Metal vessel in the shape of an owl with other human and animal figures. Bengal, India, 20th century.


Owls are often associated with feminine powers, from the wisdom of Athena to the witchcraft of early modern Europe. In Hindu mythology an owl serves as the Vāhana, or mount, of Lakshmi, the goddess of fortune and prosperity.

[...]

Read the full article at: materialcultures.com




---
Transforming Owl Takes on Different Forms