Office Building Explosion at Pemex headquarters; 25 dead, 80 injured


An explosion at the main headquarters of Mexico's state-owned oil company in the capital killed 14 people and injured 80 on Thursday as it heavily damaged three floors of the building, sending hundreds into the streets and a large plume of smoke over the skyline.

There were reports that people remained trapped in the debris — as many as 30 according to civil protection and local media — from the explosion, which occurred in the basement of an administrative building next to the iconic, 52-story tower of Petroleos Mexicanos, or Pemex.

Ana Vargas Palacio was distraught as she searched for her missing husband, Daniel Garcia Garcia, 36, who works in the building. She last heard from him at 1 p.m.

"I called his phone many times, but a young man answered and told me he found the phone in the debris," Vargas. The two have an 11-year-old daughter. His mother, Gloria Garcia Castaneda, collapsed on a friend's arm, crying "My son. My son."

There was no immediate cause given for the blast, which also damaged the first and second floors of the auxiliary building in a busy commercial and residential area. But in a Tweet, Pemex said it had evacuated the building as a precautionary measure because of a problem with the electrical system.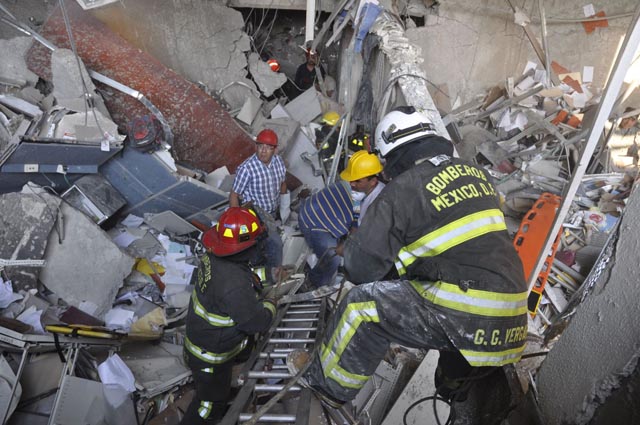 The company later tweeted that experts were analyzing the explosion and any reports of a cause were speculation.

"It was an explosion, a shock, the lights went out and suddenly there was a lot of debris," employee Cristian Obele told Milenio television, adding that he had been injured in the leg. "Co-workers helped us get out of the building."

The tower, where several thousand people work, was evacuated. The main floor and the mezzanine of the auxiliary building, where the explosion occurred, were heavily damaged, along with windows as far as three floors up.

"Right now they're conducting a tour of the building and the area adjacent to the blast site to verify if there are any still trapped so they can be rescued immediately," Interior Ministry spokesman Eduardo Sanchez told Milenio.

A reporter at the scene saw rescue workers trying to free several workers trapped. Television images showed people being evacuated by office chairs, and gurneys. Most of them had injuries likely caused by falling debris.

"We were talking and all of sudden we heard an explosion with white smoke and glass falling from the windows," said Maria Concepcion Andrade, 42, who lives on the block of Pemex building. "People started running from the building covered in dust. A lot of pieces were flying."

[...]

Read the full article at : news.yahoo.com





---


Recent video suggests 25 deaths: