Oil platform bursts into flames off La. coast; crew rescued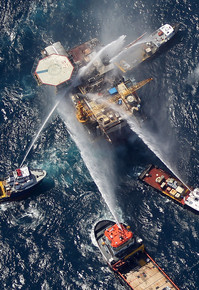 A fire on a Mariner Energy Inc. oil and natural-gas platform in the Gulf of Mexico has been extinguished in an event that may prolong the U.S. drilling moratorium imposed after BP Plc's record crude spill.

The fire was put out at approximately 3:30 p.m. local time, and U.S. Coast Guard vessels and aircraft are scanning the sea around the platform to detect any signs of oil, Coast Guard Captain Peter Troedsson said today at a press conference in New Orleans.

All 13 workers were rescued by an offshore supply vessel and were transported to shore from a platform 90 miles (145 kilometers) off the Louisiana coast, Troedsson said. No injuries were reported, he said.

Mariner, which agreed in April to be acquired by Apache Corp., tumbled as much as 16 percent in New York trading in the hours after the accident.

The incident on the platform was a fire on or near upper- deck living quarters, which were unoccupied, and not an explosion, Patrick Cassidy, a spokesman for Mariner Energy, said in an e-mail. The event was reported as an explosion this morning, said Petty Officer Casey Ranel of the U.S. Coast Guard.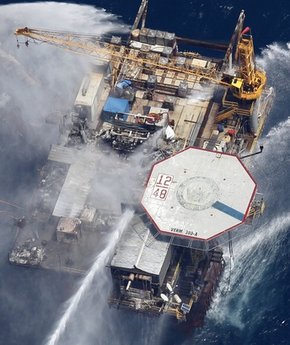 AP/Gerald Herbert


Dashed Hopes?

The incident may dash oil-industry efforts to resume deep- water exploration less than five months after a rig explosion killed 11 workers and triggered the biggest offshore oil spill in U.S. history, said Gianna Bern, president of Brookshire Advisory & Research Inc. The Mariner fire involves a platform, not a rig, and is in water 15 times shallower than the site of the BP well that caused the record spill.

"This incident will increase pressure on the federal government to prolong the moratorium," said Bern, a former BP crude trader whose Flossmoor, Illinois, firm provides risk- management advice to oil producers. "I don't think it's going to matter much to regulators that this wasn't a deep-water installation and that nobody got hurt. Scrutiny of the whole industry will intensify."

A mile-long (1.6-kilometer), 100-foot-wide (30-meter) sheen of oil was sighted near the burning Vermilion 380 platform, which stands in less than 400 feet of water, the Coast Guard said earlier today, citing a report from Houston-based Mariner.

Dispatching fire-fighting boats and other response vessels to the Mariner incident won't interfere with efforts to permanently plug BP's Macondo well, about 200 miles to the east, Louisiana Governor Bobby Jindal said in a televised meeting with reporters.

Oil Rises

The Vermillion 380 field is less than one-ninth the size of London-based BP's Macondo discovery.

Oil and gas futures rose on concern the incident will prompt a federal crackdown on offshore production. The Gulf supplies 30 percent of domestic oil output and 13 percent of U.S. gas production.

Production platforms tend to be less prone to blowouts or spills than drilling rigs because they're tapping into geological formations that have already been tamed with steel piping, concrete and pressure-control devices, said Arthur Berman, a consultant and geologist who lives near Houston.

Rigs drill into unexplored layers of rock, salt and sand laced with pockets of high-pressure, explosive gas. The only thing drillers have to hold unexpected pressure surges at bay are heavy drilling fluid and a stack of valves on the seafloor, Berman said.

Read the full article at: bloomberg.com

Mariner Energy Oil - Gulf Rig Explosion Sep. 2, 2010

Video from: YouTube.com