Open-air quantum teleportation performed across a 97km lake
Sending signals through fiber optic cable is reliable and fast, but because of internal absorption and other effects, they will lose photons—which is a problem when the number of photons being sent is small. This is of particular concern in quantum networks, which typically involve a small number of entangled photons. Direct transmission through free space (vacuum or air) experiences less photon loss, but it's very difficult to align a distant receiver perfectly with the transmitter so that photons arrive at their destination.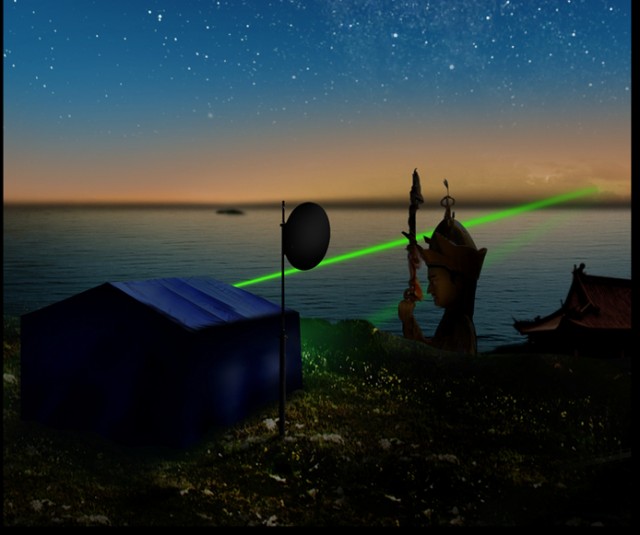 Photo illustration of the beacon laser, used to track an entangled photon signal across Qinghai Lake. The statue is Padmasambhava at the Lotus Temple at Gangcha.



A group in China has made significant progress toward solving that problem, via a high accuracy pointing and tracking system. Using this method, Juan Yin and colleagues performed quantum teleportation (copying of a quantum state) using multiple entangled photons through open air between two stations 97 kilometers apart across a lake. Additionally, they demonstrated entanglement between two receivers separated by 101.8km, transmitted by a station on an island roughly halfway between them.

Though the authors do not make this clear in the paper, their method is currently limited to nighttime communication. Nevertheless, their results achieved larger distances for multi-photon teleportation and three-point entanglement than before, and the tracking system used may even enable ground-to-satellite quantum communication—at least if it happens at night.

Quantum communication requires transmitting an arbitrary quantum state between two points, similar to how ordinary communication sends bits (voice or other data) across distances. However, a quantum state is a small amount of information, typically carried by a single photon, so many methods used in ordinary communication are out of the question (including broadcasting).

[...]

Read the full article at: arstechnica.com





---


Padmasambhava - Wikipedia:


Padmasambhava (Means The Lotus-Born), was a sage guru from Oddiyāna who is said to have transmitted Vajrayana Buddhism to Bhutan and Tibet and neighboring countries in the 8th century.

He is considered an emanation of Buddha Amitabha and traditionally even venerated as "a second Buddha".

Padmasambhava said:

My father is the intrinsic awareness, Samantabhadra. My mother is the ultimate sphere of reality, Samantabhadri. I belong to the caste of non-duality of the sphere of awareness. My name is the Glorious Lotus-Born. I am from the unborn sphere of all phenomena. I act in the way of the Buddhas of the three times.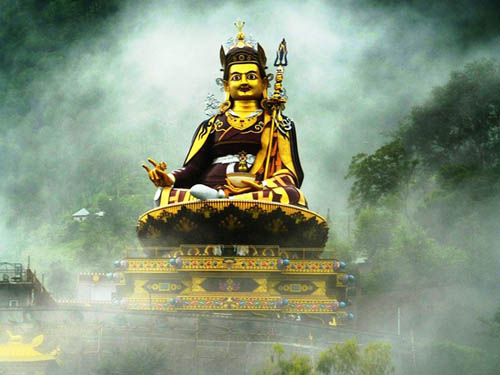 Statue of Padmasambhava 123 ft. (37.5 m) high in mist overlooking Rewalsar Lake, Himachal Pradesh, India.