Party like it's 1986: Operation El Dorado Canyon


"Since the United Nations Security Council passed Resolution 1973 calling for "all necessary measures" to protect Libyan civilians on Friday, the operation has seen air strikes by French, American and British fighter jets as well as artillery barrages from offshore warships." Source

And while it's not difficult to draw glaring parallels between these moves against Libya and Colonel Gaddafi himself, and the war in Iraq, we should also recall this isn't the first time that Libyans have experienced foreign fighters in their airspace raining bombs on their heads.

"The 1986 United States bombing of Libya, code-named Operation El Dorado Canyon, comprised the joint United States Air Force, Navy and Marine Corps air-strikes against Libya on April 15, 1986. The attack was carried out in response to the 1986 Berlin discotheque bombing." Source


After December 1985 Rome and Vienna airport attacks, which killed 19 and wounded around 140, Gaddafi indicated that he would continue to support the Red Army Faction, the Red Brigades, and the Irish Republican Army as long as the European governments supported anti-Gaddafi Libyans.[3] The Foreign Minister of Libya also called the massacres "heroic acts".[4]

After years of occasional skirmishes with Libya over Libyan territorial claims to the Gulf of Sidra, the United States contemplated a military attack to strike targets within the Libyan mainland. In March 1986, the United States, asserting the 12-nautical-mile (22 km; 14 mi) limit to territorial waters according to international law, sent a carrier task force to the region. Libya responded with aggressive counter-maneuvers on March 24 that led to the Gulf of Sidra incident.

On 5 April 1986, Libyan agents bombed "La Belle" nightclub in West Berlin, killing three people and injuring 229 people who were spending the evening there. West Germany and the United States obtained cable transcripts from Libyan agents in East Germany who were involved in the attack.

More detailed information was retrieved years later when Stasi archives were investigated by the reunited Germany. Libyan agents who had carried out the operation from the Libyan embassy in East Germany were identified and prosecuted by Germany in the 1990s.[5]

After several days of diplomatic talks with European and Arab partners, President Ronald Reagan ordered a strike on Libya on April 14. Eighteen F-111F strike aircraft of the 48th Tactical Fighter Wing, flying from RAF Lakenheath supported by four EF-111A Ravens of the 20th Tactical Fighter Wing, from RAF Upper Heyford in England, in conjunction with fifteen A-6, A-7, F/A-18 attack aircraft and EA-6B Prowler Electronic Warfare Aircraft from the aircraft carriers USS Saratoga, USS America and USS Coral Sea on station in the Gulf of Sidra, struck five targets at 02:00 on April 15, with the stated objective that their destruction would send a message and reduce Libya's ability to support and train terrorists. Reagan warned that "if necessary, [they] shall do it again."
(Wikipedia)


Ronald Reagan: Operation El Dorado Canyon (april 1986)

Video from: YouTube.com

Operation EL DORADO CANYON 1986 Libya

Video from: YouTube.com

"Despite the use of precision bombing methods, some weapons landed off-target in a number of city areas. There were civilian casualties - perhaps as many as 300."

During the strikes, "the French embassy was hit." One wonders if that taught the French not to deny airspace overfly rights to the U.S.

France's Sarkozy was the first to officially recognize the Libyan rebel group, and France pushed to get g8 accord on a Libyan no-fly zone.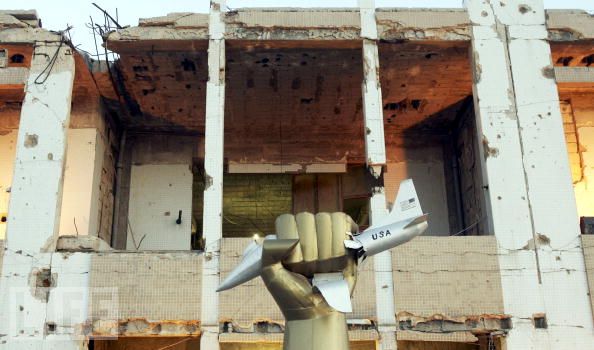 TRIPOLI, LIBYA - A badly damaged presidential palace of Libyan President Muammar Khadafi is seen on November 24, 2004 in Tripoli, Libya. The palace was damaged in an air strike by the US in 1986. Photo: Pascal Le Segretain/Getty Images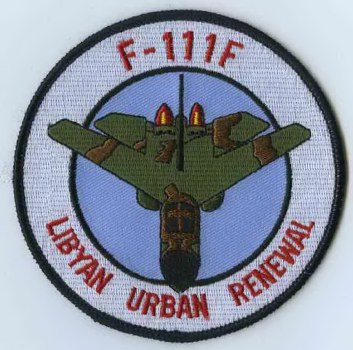 Military Patch: On 15-16 April 1986, under the code name El Dorado Canyon, the United States launched Air Strikes against ground targets inside Libya. The timing of the attack was such that while some of the strike aircraft were still in the air, President Reagan was able to address the U. S. public and much of the world. He emphasized that this action was a matter of U. S. self defense against Libya's state-sponsored terrorism.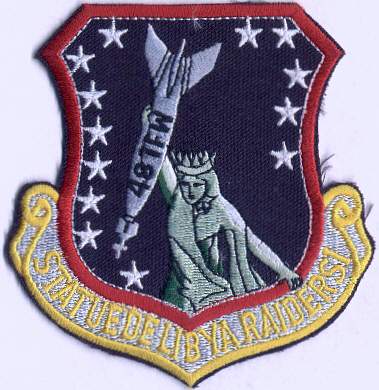 Operation El Dorado Canyon Military Patch



The April 1986 bombings took place at 2 in the morning and lasted 12 minutes, with 60 tons of munitions dropped.

In 2011 the air strikes have already surpassed the 12 minute mark, and total casualties, including civilians, will undoubtedly mount.

While it is right to condemn Gaddafi's actions against Libya's citizens and abhor the killing of innocents, will this transform into another endless war theatre in what some might describe as attempts to control strategic territory and resources like oil, under the guise of "humanitarian intervention"?

Oil reserves in Libya are the largest in Africa and the ninth largest in the world.


---


~On May 28, 2008, the United States began negotiations with Libya on a comprehensive claims settlement agreement to resolve outstanding claims of American and Libyan nationals against each country in their respective courts.

~On August 4, 2008, President George W. Bush signed into law the Libyan Claims Resolution Act, which had unanimously passed Congress on July 31. The Act provides for the restoration of Libya's sovereign, diplomatic, and official immunities before U.S. courts if the Secretary of State certifies that the United States Government has received sufficient funds to resolve outstanding terrorism-related death and physical injury claims against Libya.

~On August 14, 2008, the United States and Libya signed a comprehensive claims settlement agreement. Full diplomatic relations were restored between the two nations.

~In June 2009, during a visit to Italy, Colonel Gaddafi criticized American foreign policy and, quizzed as to what the difference was between al-Qaeda attacks and the US bombing of Tripoli in 1986 he commented: "If al-Qaeda leader Osama Bin Laden has no state and is an outlaw, America is a state with international rules."

~March 17, 2011, UN approves air strikes against Libya. Coalition Intervention. Libya War called "Operation Odyssey Dawn"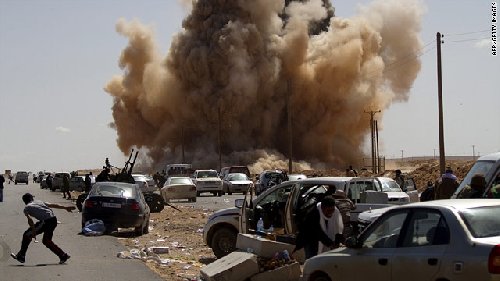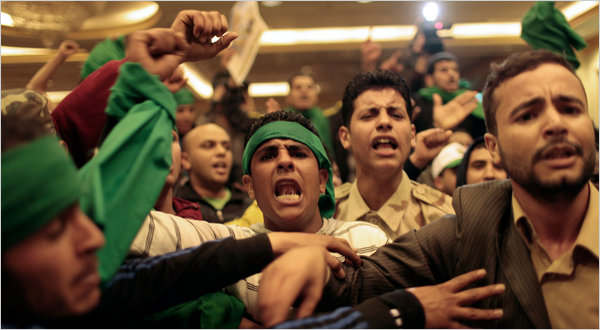 Photo:Moises Saman for The New York Times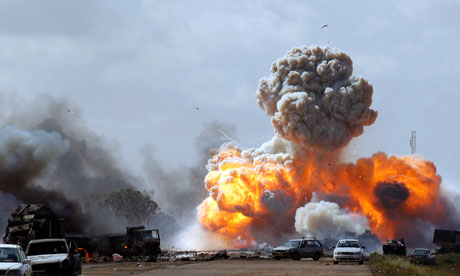 Vehicles belonging to loyalist forces explode after an air strike by coalition forces, along a road between Benghazi and Ajdabiyah. Photograph: Goran Tomasevic/Reuters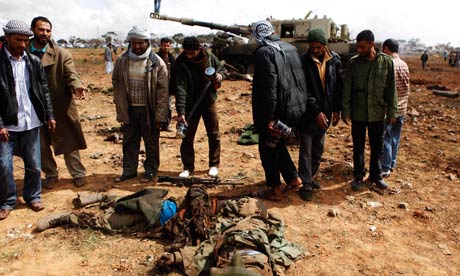 People look at the bodies of Muammar Gaddafi loyalist soldiers killed in a French airstrike on the outskirts of Benghazi, Libya. Photograph: Finbarr O'Reilly/Reuters



~E