Pope Francis: Argentina's Cardinal Jorge Mario Bergoglio is new Catholic leader


Argentine Cardinal Jorge Mario Bergoglio was elected the first non-European pope in more than 1,000 years on Wednesday, signaling the beginning of a new era for a church combating scandal and internal strife.

Described as a conservative with "great compassion," the 76-year-old will be known as His Holiness Pope Francis. He will be installed at the Vatican on Tuesday.

The new pontiff named himself after the humble Catholic friar St. Francis of Assisi. President Barack Obama hailed the new leader of the world's 1.2 billion Catholics as a "champion of the poor."

The first Latin American pope was introduced from the balcony of St. Peter's Basilica.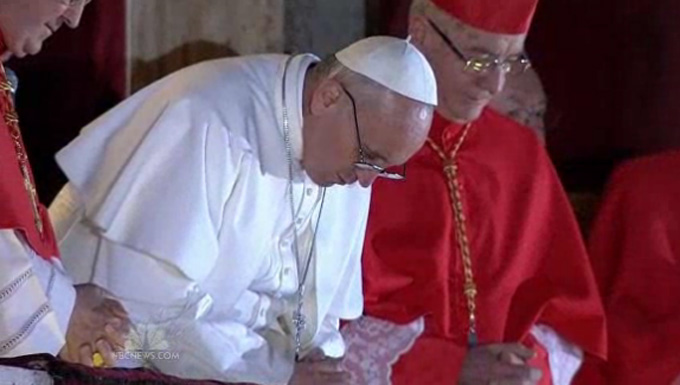 There was an audible gasp from the rain-soaked crowd - an indication that he had not been a widely tipped choice - followed by a roar and wild applause.

In Italian, he seemed to address his outsider status by joking: "As you know the duty of the conclave is to give Rome a bishop. It seems that my brother cardinals went almost to the end of the world."

"Pray for me and I will see you soon," he added, asking Catholics to also pray for his predecessor Benedict XVI, who abdicated on Feb. 28. "Have a good evening and rest well."

His first act on Thursday will be to visit his predecessor, the Pope Emeritus, New York Cardinal Timothy Dolan told reporters later.

A vocal advocate for Argentina's poor during the economic crises that struck the country during the 1970s, Francis is the first Jesuit pope.

Read the rest here