Rare albino snail makes an appearance in New Zealand
Hikers were stunned when they stumbled upon a rare albino snail in New Zealand.

Typically, snails blend in with their surroundings - but a group of hikers in New Zealand stumbled upon one mollusc that prefers to stand out.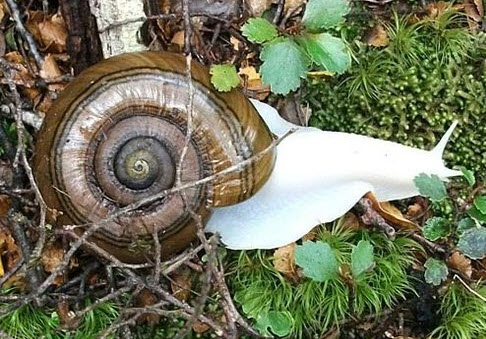 A pure white albino snail is a rare occurance in nature (Image: Maria Brooks)



Earlier this month, hikers were stunned when they discovered a carnivorous albino snail in New Zealand's Kahurangi National park.

"We had seen and photographed other ... giant native snails [in this area]," says Maria Brooks, the hiker who made the discovery. "But their bodies are normally a brownish-grey colour."

The previous night had been rainy, and the damp bushes are likely what prompted the snail to make its public appearance. Snails prefer wet weather because the conditions make it easier for them to find food.
An albino snail is a rare occurrence in nature. They've only been spotted a handful of times since the first recorded sighting in 1988.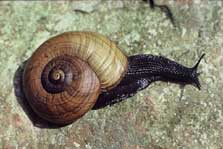 "One member of our group has seen a [white snail] before," Maria says, "but it had streaks of grey through it rather than having a milky white look."

Despite its bright appearance, the recently-discovered albino snail has been sucessful in elduing its predators. Experts believe it's about ten years old and in good health.

Large, carnivorous land snails are an endangered species. This particular breed - called the Powelliphanta - has no natural defence against possums, an introduced species that can eat up to 60 snails in one night.

Article from: theweathernetwork.com





---


Think snails are slow? Think again!
"Native snails in NZ are big, mean and carnivorous. They hunt their prey by stealth. When the attack comes, it is sudden, ruthless and fatal."

Video from: YouTube.com

"Powelliphanta, common name amber snails, is a genus of large, carnivorous land snails, terrestrial pulmonate gastropod molluscs. As a group their survival status is endangered." Source

Giant Killer Snail! (Video)