Red Ice Radio Censored by Apple's iTunes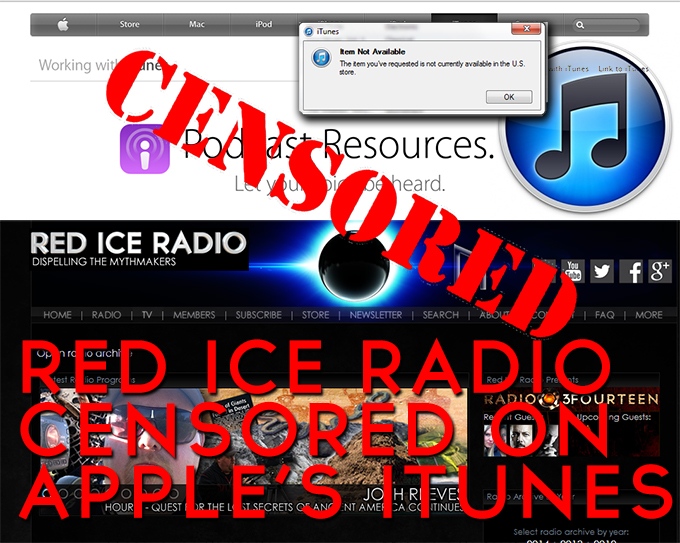 Red Ice Radio has been censored on iTunes by Apple! Radio 3Fourteen was also censored in April 2015.

We have not been given a reason why. Our feed was just removed.

This used to be the link to our podcast on iTunes:
itunes.apple.com/us/podcast/red-ice-radio/id419073986. If you click it and attempt to open it in iTunes, you'll see that it is no longer available.

Fear not however, if you want the podcast to your Apple devices. please follow these instructions:

Click here to subscribe with iTunes (This opens your iTunes and subscribes to the feed).

Those of you who already subscribed to the feed in iTunes will continue to get the new programs as they are released, as the feed still functions. New listeners can no longer search and find the feed in the iTunes podcast catalog.

The Members Radio feeds are available here: www.redicemembers.com/rss/

Find a podcast app, such as Downcast, for your iPhone here and for your iPad here.

RSS Podcast Help


Why were we censored?

Simple answer is, we don't know. It was just removed. We are however glad to be able to confirm that we are doing a lot of things right! You always come up against opposition when you are approaching the topics that the real power in this world doesn't want you to know about.


"To learn who rules over you, simply find out who you are not allowed to criticize." - Voltaire

"To find out who is oppressed, simply find out who you are not allowed to support." - Kyle Hunt

"The truth is only hate speech to those who hate the truth." - Unknown


Also remember that you can still subscribe manually to our radio RSS feed(s) with iTunes on your computer. Here if you are not a member and here if you are a member.

From there, once shows are downloaded you can sync the content from iTunes on your computer to your iPhone or iPad.

Truth will out!

Keep supporting suppressed and censored independent media. Thank you for your support!