School Textbook: "There's No Such Thing as Reverse Racism" Only White People can be Racist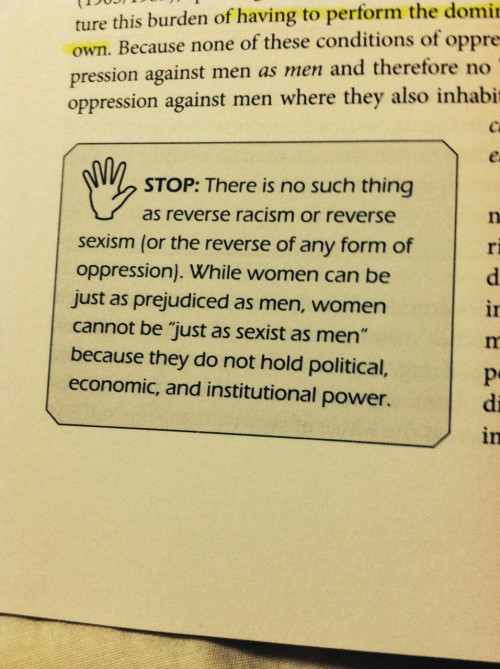 Only white people can be racist.

A school textbook teaches students that "there is no such thing as reverse racism" and that women can never be as sexist as men.

The passage, which appears to be taken from a "multicultural education series" book entitled Is Everyone Equal, states, "STOP: There is no such thing as reverse racism or reverse sexism (or the reverse of any form of oppression). While women can be just as prejudiced as men, women cannot be "just as sexist as men" because they do not hold political, economic and institutional power."

In a sense, the text is correct, there is no such thing as reverse racism. Racism is racism, whether the target is white, black or brown.

However, that's not the message being communicated. The book is teaching students that only white people can be racist and that only men can be sexist because….patriarchy!

Twitter users reacted to the controversy;



@GamerCatHenri @shoe0nhead Also by their logic, does that mean black people can't be racist against asian people, or Mexican people?




— Maggie Hager (@Battybuddy) March 1, 2015
@Battybuddy @shoe0nhead "reverse" implies that the norm is whites for racism. Racism can exist without white ppl in the equation.




— MachoManxRandySavage (@GamerCatHenri) March 1, 2015
@shoe0nhead It's true though. This is why there has never been a female world leader and all the homeless people you see are women.




— Floyd Spooner (@FloydSpooner) March 1, 2015
@Battybuddy Thought policing. I'm not even kidding, that's exactly what this is.





— king_ruckus (@king_ruckus) March 1, 2015
@shoe0nhead Also, most voters are women. So the people holding political power are the ones most women feel best represent them.




— Mr. Eff (@josephf5) March 1, 2015
@GMShivers @shoe0nhead I dunno if I laff or cry at their low level attempt at indoctrination. They don't even try to sound smart anymore




— TinyTurtle (@RMZeal) March 1, 2015
.@shoe0nhead Hilarious to see how these people are perfectly ok w/ saying women are powerless, and that prejudice is somehow less bad?




— 8 Bits of Sound (@8bitsofsound) March 1, 2015
@shoe0nhead They equate motive with action: Oppressing someone is what you DO. racism could be one reason WHY. The powerless can be racist.




— SCROB TV (@scrobTV) March 1, 2015



This warped argument is also one repeatedly made by prominent social justice talking heads such as MSNBC's Michael Eric Dyson, who once argued that it is impossible for black people to be racist.

Dyson disproved his own claim in July 2013 when he said during a discussion on the George Zimmerman trial that Americans would not understand racism until white kids were being killed in the same numbers as blacks.

"White Americans and others will feel that this was a justifiable verdict, this is how things happen. Not until, and unless, the number of white kids die that approximate the numbers of black and other kids who die, will America see," said Dyson, failing to mention that 94 per cent of all black murder victims in the United States are killed by other black people.

Meanwhile, homeschooling in the United States is more popular than ever before and with kids being taught this kind of nonsense in schools, is it really any surprise?

Source: infowars.com

Comment from White Rabbit Radio.net:
We have been saying for some time that Anti-Racism is just a Code Word for #antiWhite. And the anti-Whites continuously prove us correct. Paul Joseph Watson is correct to call attention to the hypocrisy. However he is incorrect in believing non-Whites can be racist. The term has never ever applied to non-Whites. For the better part of one century, Anti-Racist organizations (folks devoted to fighting "racism") have only operated in WHITE Countries. They have been busy finding racism in White Countries, Schools, Churches etc. Can you name one anti-Racist organization that chases non-Whites around for Racism? How many anti-Racist organizations like the Southern Poverty Law Center exist in countries like Saudi Arabia or China? The Answer for both questions is .....ZERO.





---
Tune into Red Ice Radio and Radio 3Fourteen:

Tim Murdock - PSYOP Memes: Ancient Aliens, Egyptian Moses & Non-Indigenous Whites
Tim Murdock - The Managerial Class vs. The Establishment
Tim Murdock - The War on Whites