Scientists claim new geoglyph find in Nazca, Peru
Two scientists from Yamagata University in Japan reported finding two new geoglyphs in southern Peru's Nazca province, Andina reported.

The new geoglyphs depict a human head and an animal figure that the researchers have yet to identify, state news agency Andina reported. According to the archaeology faculty chief at Yamagata, Yoichi Watanabe, the drawing of the human head is 4.2 meters long and 3.1 m wide. The geoglyphs have most probably not been identified in aerial surveys before because of their small size, Watanabe said.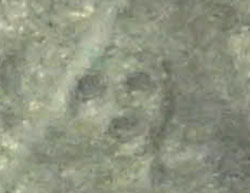 Are these new Nasca geoglyphs? Japanese archeologists say yes. (Photo: Yamagata University)


The researchers are continuing with their work and will submit a final report to Peru's Culture Ministry outlining the findings, Ica department's regional director of culture, Americo Baiocchi, said.

"They are still in the [research] phase. What they have reported is likely an advance that they have sent to the university," Baiocchi said. "They still need to determine the period that the geoglyphs belong to." The research team, headed by Masato Sakai, also found close to a hundred other geoglyphs in 2006, lines and triangles carved into the desert.

The geoglyphs are located close to the Nazca Lines, one of Peru's most popular attractions where tourist planes routinely fly over the ancient geoglyphs of monkeys, hummingbirds and spiders. The Lines are a UNESCO world heritage, created between 500 B.C. and A.D. 500, and are among the world's greatest archaeological enigmas.

Article from: livinginperu.com


---


Ancient Mysteries - Nazca Lines

Video from: YouTube.com