Scientists Developing Man-Made Artificial Milk, No Cows Involved
Would YOU drink a pint of man-made cows' milk? Scientists are developing artificial beverage that could spell the end of dairies
Imagine a world where milk is not only artificially produced, but also free of lactose and cholesterol.

That's the dream of three bio-engineers in the US who are preparing to produce a proof-of-concept of their cow-free milk.

Ryan Pandya, Perumal Gandhi and Isha Datar are the founders of biotech start-up Muufri, and by next year they're expecting to have made the first batch of their potentially revolutionary beverage.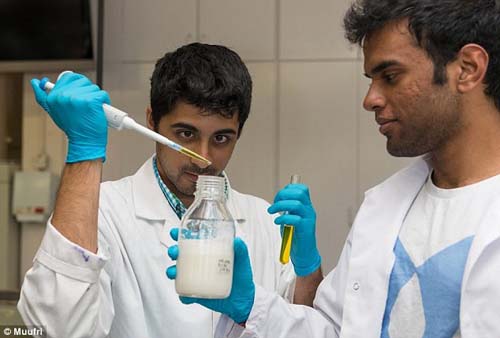 The purpose of the company is not just to produce a beverage that can be enjoyed by 75 per cent of the world's population, who are lactose-intolerant.

They also want to reduce our dependence on animals, and developing this product would be an important step in that regard.

Muufri will be part of the Synthetic Biology Accelerator, sponsored by SOSVentures, and the team is making their product at University College Cork in Ireland.

The team believes producing the key components of milk in yeast culture will make it possible to provide consumers and food manufacturers with the same products they know and love, but through a more sustainable, healthy and humane process.

'It hasn't been done yet because no one has made milk from scratch before,' the team tells MailOnline.

They explain how the idea for the project came about by the huge industrial farming operations in North America.

'It's upsetting to us because it results in a reduced quality of milk and causes so many issues in terms of environmental damage, greenhouse gases and water pollution.

'These are big problems that start to happen when you crowd animals together.

'We asked ourselves, what is the product? It's not the cow, it's the milk the cow produces.'

So the team went away and did some research on the composition of milk, and they were surprised to find that it was remarkably simple.

[...]

Read the full article at: dailymail.co.uk




---
"It's made out of people!" Making meat from celebrity tissue samples