Secretive Blue Origin Reveals New Details of Spacecraft Plans
The curtain of secrecy is being raised by Blue Origin, a private entrepreneurial space group designing both suborbital and orbital vehicles.

Backed by Amazon.com mogul Jeff Bezos, the Kent, Wash.-based Blue Origin group has completed wind tunnel testing of its next-generation craft, simply called the "Space Vehicle." It would transport up to seven astronauts to low-Earth orbit and the International Space Station. Though the company has been stingy on public information in the past, new details of the recent work have been released.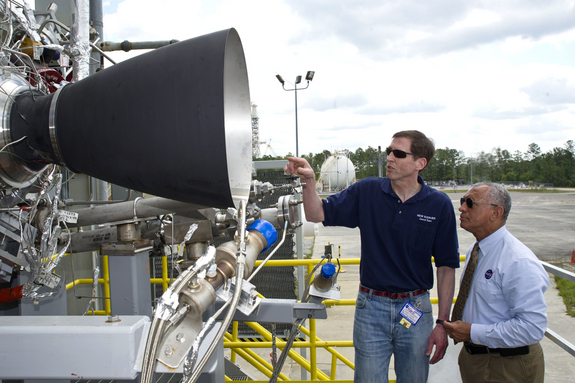 Steve Knowles, Blue Origin project manager (left) points out details of Blue Origin's BE-3 engine thrust chamber assembly to NASA Administrator Charles Bolden. Blue Origin is one of NASA's partners developing innovative systems to reach low-Earth orbit. Image: Griffin Communications Group



Blue Origin's spacecraft sports a biconic shape, with its design refined by more than 180 wind tunnel tests and extensive computational fluid dynamics analysis. To help validate the spacecraft's shape and body flap configuration, tests were recently carried out over several weeks at Lockheed Martin's High Speed Wind Tunnel Facility in Dallas.

The testing was conducted as part of Blue Origin's partnership with NASA, under the agency's Commercial Crew Development (CCDev) program, which awarded the company $22 million in 2011 to develop the vehicle.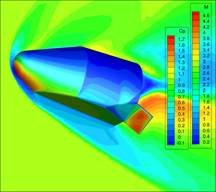 Computational Fluid Dynamics (CFD) image of Blue Origin's next-generation Space Vehicle. Photo By Blue Origin/Griffin Communications Group



"Our Space Vehicle's innovative biconic shape provides greater cross-range and interior volume than traditional capsules without the weight penalty of winged spacecraft," said Rob Meyerson, president and program manager of Blue Origin.

"This is just one of the vehicle's many features that enhance the safety and affordability of human spaceflight, a goal we share with NASA," Meyerson said in a statement.

[...]

Also, the company's "pusher" launch abort system is headed for testing later this summer. Those appraisals will spotlight an ability to control the flight path of a subscale crew capsule using a thrust vector control system.

"The pusher escape system for our suborbital system [called New Shepard] means you can get the capsule and the people away at anytime, for any reason," Alexander said.

[...]

Read the full article at: scientificamerican.com