South Africa police defend shooting 34 miners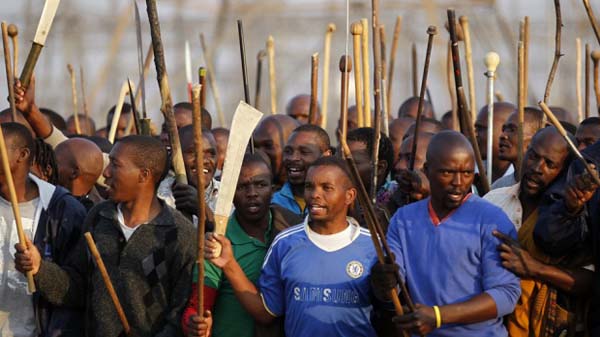 South Africa's national police commissioner says 34 miners died and another 78 were wounded when police opened fire on striking miners outside a platinum mine, 90 kilometres northwest of Johannesburg.

Mangwashi Victoria Phiyega told a news conference Friday that her officers acted to protect their own lives after strikers armed with "dangerous weapons" charged them Thursday. She said the strikers had not dispersed earlier, despite police use of water cannon and stun grenades.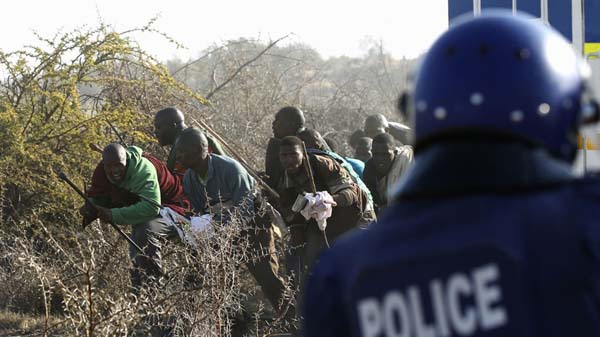 A policeman, right, fires at protesting miners outside a South African mine in Rustenburg, northwest of Johannesburg.



The South Africa Police Service defended the officers' actions, saying in a statement they were "viciously attacked by the group, using a variety of weapons, including firearms. The police, in order to protect their own lives and in self-defence, were forced to engage the group with force."

It was one of the worst police shootings in South Africa since the end of the apartheid era, and came as a rift deepens between the country's governing African National Congress and an impoverished electorate confronting massive unemployment and growing poverty and inequality.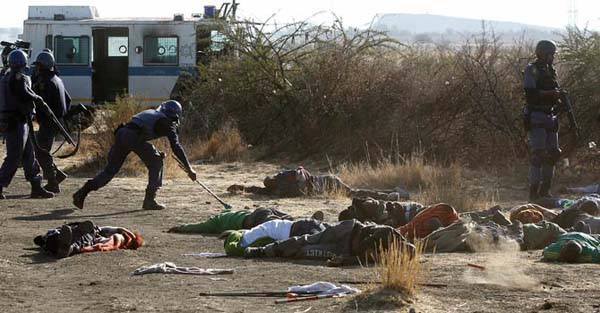 A policeman collects weapons of protesting miners after they were shot outside a South African mine in Rustenburg, 100 km (62 miles) northwest of Johannesburg, August 16, 2012.



The shootings "awaken us to the reality of the time bomb that has stopped ticking — it has exploded," The Sowetan newspaper said in an editorial. "Africans are pitted against each other ... fighting for a bigger slice of the mineral wealth of the country. In the end the war claims the very poor African — again."

Police ministry spokesman Zweli Mnisi on Friday said an investigation into the shooting in Rustenburg is underway.

[...]

Read the full article at: cbc.ca