Space invaders: How advertising penetrates people's lives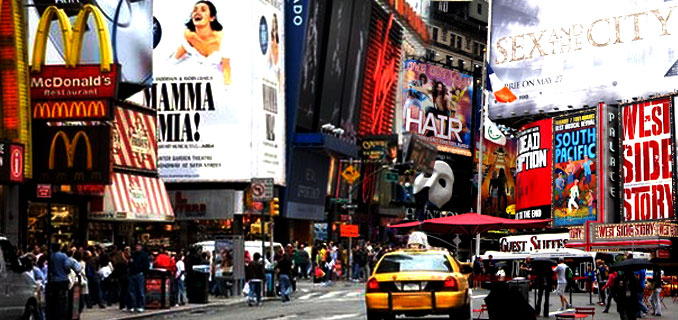 Jordan Seiler loathes outdoor advertising.

"If you live in a city, your right to the public space and how it is used is an innate feature of your habitation of that environment," says Mr Seiler, an activist with the PublicAdCampaign.

Many agree, he says.

"I find an exasperated public who would like to see less or no advertising at all," he says.

"And then there is a group of entrepreneurs, real estate owners and advertising business owners who enjoy the current system of exploitation of public space."

Protective public

Public space differs from personal space, which most narrowly defined can be seen as "the emotionally-tinged zone around the human body that people feel is 'their space'," according to University of California Prof Bob Sommer.

Public space, by contrast, consists of shared, open areas such as streets or parks or, arguably, shops or restaurants.

A growing number of people are trying to protect both.

People try to shield their private space, in the broadest sense, with tools such as Baby on Board badges in cars, Keep Out signs on their garden gates or No Junk Mail signs on their front doors.

Preventing electronic intrusion or nuisance calls is more complicated, so people tend to resort to companies for help.

Junk mail filters are offered by software providers, while millions of people use telecoms services to block unsolicited sales or marketing calls.

Control and charge

The public's disquiet does not deter companies from trying to make money from controlling space, however.

Take London's hotel sector, where those with the most money are offered the most space, ranging from £11 a night in a 22-sq-m, 14-bed, mixed-sex dorm, to £14,000 for a night in The Lanesborough's 380-sq-m signature suite.

Free space, such as bars, is invariably part of a broader package aimed at attracting particular customers.

Legoland Hotel in Windsor, for instance, has an open bar area for the adults, overlooking the central stage and children's play area.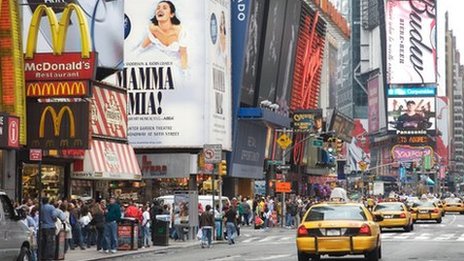 Ears, nose and eyes

But companies are not content with charging for space, or with pushing unwanted leaflets through your door or calling you while you are in the bath.

In public spaces all over the world, companies are gunning for consumers' attention, intruding through their ears, nose and eyes, constantly assaulting them with sounds, smells and visual props.

All the senses can be manipulated to attempt to alter consumer mood, and in turn purchasing interest and perception of the quality of a product.

Some 83% of marketing budgets are focused on the eyes, according to Martin Lindstrom's book Brand Sense.

Stimulate two senses and the brand impact increases by 30%, rising to 70% when a third is added.

Utilised senses

The way companies use smell and sound in addition to visual tools such as advertising posters is not obvious.

The sense of smell, "has a direct connection to the emotional brain, unlike the other senses", according to Andreas Keller, research associate at The Rockefeller University.

"Evolutionarily, the emotions elicited by smells are disgust and fear - and whatever the opposites of these emotions are - and social or sexual emotions.

"Associated with these behaviours are very basic value judgements - 'safe to touch', 'good to eat', 'safe to be around', 'good to have sex with'."

Wake up and...

Companies know this well.

US company Inscentivation, for example, owns a scent that increases betting on slot machines in casinos by 45%, while UK company Bodywise treats its bills with an odour that makes them 17% more likely to be paid, according to Aroma, a book by Constance Classen, David Howes and Anthony Synnott.

Mr Keller says it is likely that other companies do similar things, though he has "no evidence that Apple, Starbucks, Abercrombie & Fitch, or casinos are using smells - other than that I can smell it".

"Apple is not going to tell you what odour they use and how it affects their bottom line, because then you could just spray any computer with their smell and turn it into an Apple computer."

[...]

Read the full article at: bbc.co.uk





---


Scent, a powerful sense, is manipulated by marketers to generate and control emotions in the targets:




Disney Imagineers have added a fifth sense to the newest attractions at Epcot Center. The sense of smell will be added to scores of other special effects in a new generation of Disney shows now being designed for Future World and the World Showcase pavilions.

Working with the Imagineers at WED Enterprises in California, Bob McCarthy has developed "a smellitzer machine", to add the aroma of everything from an erupting volcano in the Universe of Energy show to the tantalizing smell of a barbecue of the fragrance of orange blossoms. Each will be keyed to a particular show scene to enhance the realism of experiences in the Future World and World Showcase.

WED designers are collecting scents from suppliers all over the world and blending them to produce the desired effect. So far, more than 300 odors have been tried, but more than 3,000 will be tested before the final choices are made. The smellitzer operates like an air cannon, aiming the scent up to 200 feet across a room toward an exhaust system. Guests traveling on the moving vehicles will pass through the scene as the appropriate scent drifts across their path. Regulated by computer, the scent can be triggered for a fresh aroma just prior to each vehicle's arrival.

According to McCarthy, the use of smell has fascinated the entertainment industry for a long time. "Back in the fifties, Mike Todd developed a process called 'smell-a-vision'," McCarthy said. "The idea was to release certain scents into the theatre as the visual counterpart was shown on the screen." McCarthy, who worked with Todd on the project, claims there were many problems with "smell-a-vision." "The main problems was that odors tended to linger in the air, and after a while they all blended together," he said. "We couldn't get the scents in and out of the theatre quickly enough." At Epcot Center, the situation will be different because the audience will be moving through each of the many experiences in each pavilion.

Some of the most unusual scents will be in the Land pavilion at Epcot Center. Here, the visitors will experience tropical vegetation, rain forests, deserts; some of the great terrain found on Earth. Of course, Disney "Imagineers" plan to supply all the appropriate smells. Guests traveling through a farming scene may detect a faint animal smell. In another scene, an orange grove will smell like the real thing. Still another effect calls for the smell of damp earth.

Some of the smells will hardly be noticeable to most people. The aroma will be there, but the sensory perception may not be a conscious one. The WED engineers have learned how to regulate the strength or intensity of the odors used. A whole generation of unique techniques, special effects and transportation systems are being developed for Epcot Center.

Source
---
Also tune into Red Ice Radio:
Michael Tsarion - The Marketing Industry, Teenagers & The Subversive Use of Sacred Symbolism in the Media
Eldon Taylor - Mind Programming & How to Break Free from the Spell
M.G. Lord - The History of the Barbie Doll
Ben Singleton - Pseudoccult Media
Eldon Taylor - Subliminal Programming, Media Persuasion & Mind Control
Dominick Ohrbeck - Reptilian Marketing vs. The HeartBrain Model
---
Red Ice TV:
Episode 4 - Symbolism in Logos