Starbucks Supports Pro-GMO Company
Another reason why you should not go to Starbucks.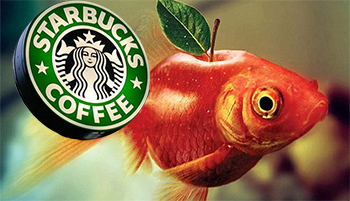 Starbucks has an image of being a socially responsible, environmentally friendly company (Really?). In 2013, 95 percent of their coffee was ethically sourced, and their goal is to reach 100 percent by 2015.1

Other goals include reducing water consumption by 25 percent in their company-operated stores by 20152 and mobilizing their employees and customers to contribute 1 million hours of community service per year.3

They even removed all the high fructose corn syrup and artificial trans fats, flavors, and dyes from their entire menu… so the news that this forward-thinking company might be supporting Monsanto, the world leader in genetically modified (GM) crops and seeds, in their bid to block a GMO labeling bill in Vermont might seem strange.

Is Starbucks really in cahoots with Monsanto? Are they really trying to keep you in the dark about what kinds of genetically modified ingredients are in your food and beverages? Absolutely, albeit by proxy.

It Started with Vermont's Historic GMO Labeling Bill…

On April 16, 2014, the Vermont Senate passed the first no-strings-attached GMO labeling bill (H.112) by an overwhelming margin—28-2. The bill sailed through a House/Senate conference committee and was approved by the House of Representatives on April 23.

On May 8, Governor Peter Shumlin signed the historic bill into law, which will require any genetically modified food sold in Vermont to be labeled by July 1, 2016.4 Foods containing GM ingredients would also not be allowed to be labeled "natural."

Read the rest: mercola.com

Howard Schultz is the chairman and CEO of Starbucks. He bought it from Jerry Baldwin, Gordon Bowker and Zev Siegl who founded Starbucks in Seattle in 1971.