Swedish Artist Dan Park Jailed 6 Months For 'Race Hate' Pictures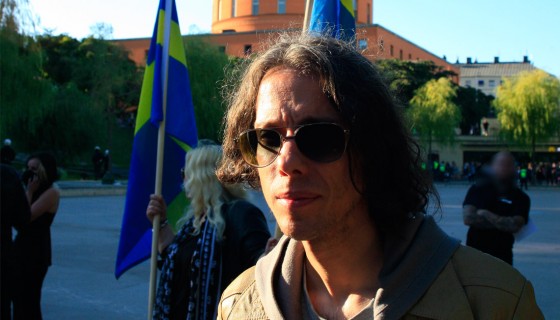 A Malmö court has sentenced Swedish street artist Dan Park to six months in jail for incitement to racial agitation and defamation against Momodou Jallow, Monika Kaldaras-Columber, Erland Nikolizsson Kaldaras-Columber and Yusupha Sallah.

The court also ordered him to pay a total of 60,000 kronor ($8,700) in damages to four people depicted in his pictures.

Gallery chief Henrik Rönnquist, who exhibited Park's pictures, was also found guilty of racial agitation. He was given a suspended sentence and fined.

The charges related to pictures deemed "offensive" to African and Roma (Gypsy) people.

The court said it had taken into account the fact that Park had several previous convictions for racial agitation. Earlier this year he was twice found guilty and sentenced to a total of four months in prison. He has appealed both of the earlier verdicts.

Park shot to infamy in 2011 when he created and distributed posters with a picture of Jallow Momodou of the National Afro-Swedish Association superimposed on the image of a naked man in chains.

Park was arrested when the exhibition was opened at the Rönnquist & Rönnquist art gallery. Police seized nine of the more than thirty paintings. By only including nine of the paintings in the indictment, the impression was that Dan singled out a few groups of people, when in reality the exhibition included pictures of all races and groups. This was also pointed out by the defense to no avail.

Still no one has brought attention to the fact that many of the paintings are very humorous ... but art humor is not something that the state, angry prosecutors nor those seeking to squeeze free money out of this situation want to recognize.

Also in connection with the judgment of the District Court of Malmö the decision was made that the paintings are to be destroyed.

We are kept wondering if even the low educated communists that have been violently going after Dan Park and throwing stones into Henrik Ronnquist's gallery are in a position where they understand that these activities, of destroying art, is something that they usually accuse the National Socialists in Germany of doing. They called it Entartete Kunst or in English "degenerate art."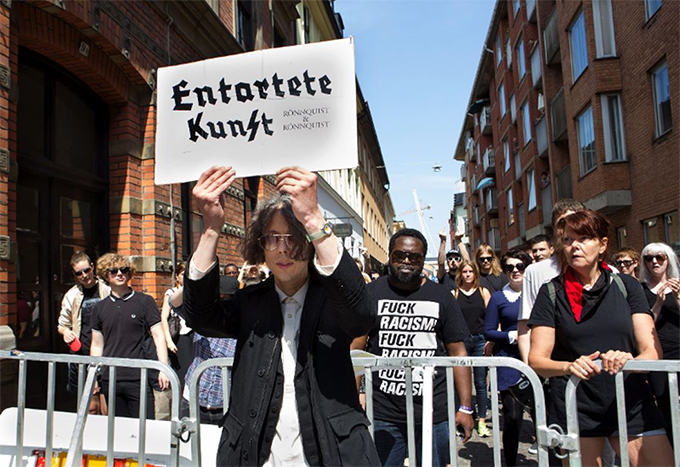 Dan Park making light of the situation, on the day of his arrest. Right behind Dan, behind the "security" fence the police erected you see Momodou Jallow (the "offended" one) with a T-Shirt that says: Fuck Racism, Fuck Racism, Fuck Racism. (Yes, three times in a row. He really means it!
Behind him you'll see all the idiot Swedes lined up in support of state enforced censorship. True rebel Viking stock there!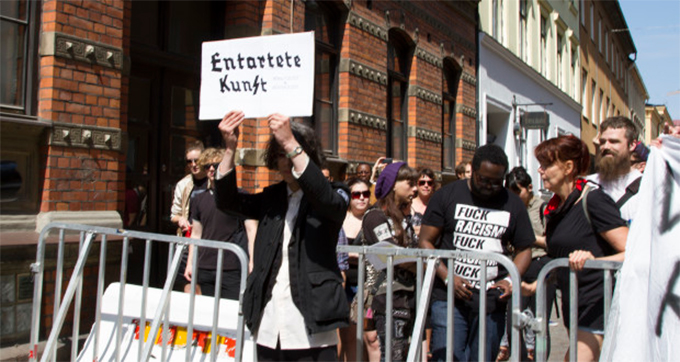 Jallow quickly got bored and switched focus to his cell phone.



It seems that the totalitarian leftism in Sweden is now in full swing. Watch your back or you'll might end up in the gulags.

The controversial artist singled out Momodou for having reported a student "jungle party" in Lund in 2011, during which three people with blackened faces and ropes around their necks were led into the party by a "slave trader" and later sold as part of a reenactment of a Caribbean style theme party.

During the trial, Momodou claimed the posters were racist and offensive, while Park argued that the purpose of the posters was to highlight the issue of free speech.

At the time of his initial arrest in 2011, Park told The Local that he thought the prosecutors were overreacting.

"Was I surprised to be charged? Yes and no. I think it is a waste of tax payers' money mainly. It wasn't a big deal. And no one should be able to tell me what kind of art I can create," he said.

"We all have different tastes and people often get upset, but that is what art is about - creating reaction."

Sources: thelocal.se
realisten.se

Foundation to help Henrik and Dan

In a more recent correspondence with gallery owner Henry Rönnquist, he told Red Ice that he has set up the Foundation for Freedom of Art and Speech in order to support Dan Park, the gallery and everyone that might end up in a similar situation in the future, for making a piece of art that might "offend" someone.

As the situation get's worse and worse and as Swedish freedom of speech is destroyed, please consider donating to this fund to help both Dan and Henrik to continue this fight. This is an abuse of freedom of art, expression and speech. They are determined to continue to fight throughout Scandinavia and Europe for the right to create the kind of art that you want and resist the totalitarian tyranny that is being imposed on native born Swedish people.

Foundation for Freedom of Art and Speech

Donate via PayPal
art@ronnquist.com

Donations within Sweden:

Danske Bank 13590456841

Bankgiro: 561-4540

Donations from abroad

IBAN: SE6012000000013590456841

Swift: DABASESX

For more on this story tune in to our interview with Dan Park:


Download here: Dan Park - Sweden's Soviet Style Art Censorship & Dying Freedom of Speech

Here is recent interview with Henrik Rönnquist, before the trial:



Download here: Henrik Rönnquist - Art Censorship Swedish Style: Gallery Owner Charged with "Hate Crime"