The Alcohol Industry's Plan to Give America a Giant Drinking Problem
Industry giants are threatening to swallow up America's carefully regulated alcohol industry, and remake America in the image of booze-soaked Britain.

England has a drinking problem. Since 1990, teenage alcohol consumption has doubled. Since World War II, alcohol intake for the population as a whole has doubled, with a third of that increase occurring since just 1995. The United Kingdom has very high rates of binge and heavy drinking, with the average Brit consuming the equivalent of nearly ten liters of pure ethanol per year.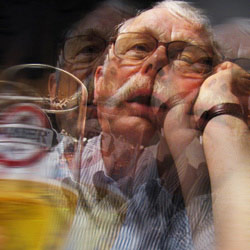 It's apparent in their hospitals, where since the 1970s rates of cirrhosis and other liver diseases among the middle-aged have increased by eightfold for men and sevenfold for women. And it's apparent in their streets, where the carousing, violent "lager lout" is as much a symbol of modern Britain as Adele, Andy Murray, and the London Eye. Busting a bottle across someone's face in a bar is a bona fide cultural phenomenon—so notorious that it has its own slang term, "glassing," and so common that at one point the Manchester police called for bottles and beer mugs to be replaced with more shatter-resistant material. In every detail but the style of dress, the alleys of London on a typical Saturday night look like the scenes in William Hogarth's famous pro-temperance print Gin Lane. It was released in 1751.

The United States, although no stranger to alcohol abuse problems, is in comparatively better shape. A third of the country does not drink, and teenage drinking is at a historic low. The rate of alcohol use among seniors in high school has fallen 25 percentage points since 1980. Glassing is something that happens in movies, not at the corner bar.

Why has the United States, so similar to Great Britain in everything from language to pop culture trends, managed to avoid the huge spike of alcohol abuse that has gripped the UK? The reasons are many, but one stands out above all: the market in Great Britain is rigged to foster excessive alcohol consumption in ways it is not in the United States—at least not yet.

[...]

Read the full article at: alternet.org