The Beauty of Modern Art, It Makes You Want to Puke
For some, art is in the eye of the beholder. For Millie Brown, it's in the stomach.

Dubbed the 'vomit painter', Millie Brown starves herself for a few days, and then drinks brilliantly coloured milk, which she vomits onto a canvas and then hangs it on her wall. Some critics have compared her work to renowned abstract expressionism artist Jackson Pollock (who used paint).
Her work has caught the attention of Lady Gaga, and Brown is featured vomiting on the star in Gaga's video "Exorcist Interlude".

Critics of her work warn of the popularization and glamorization of bulimia - a dangerous eating disorder characterized by binge eating and purging :

She recognizes what she is doing and shrugs off criticism and well-being for the sake of art. Her impact on contemporary art may become legendary—who knows; however, for now she is glamorizing bulimic behaviors and giving an artistic allure to a harmful, destructive act. I find Millie Brown's contribution to art as bulimic devaluation with a pinch of Two-Girls-One-Cup–style publicity grabbing.
Source
(No, we're not linking you to Two-Girls-One-Cup.)

As Red Ice Radio discussed with musician, artist and writer Gavan Kearney: "the cult of personality around empty artists [...] have put focus on rot and death. Art is degenerating into nothing but sensationalism. The success of modern art is judged by how much attention it can get and consequently the more subversive, disgusting and pornographic it is, the more the attention it gets by the "critics" and media pundits. Shock factor is mistaken for greatness."

Click to Listen: Gavan Kearney - Hour 1 - The State of the Art, Corrosive Counter-Culture & Attack on Beauty

More, if you can stomach it, from Mail Online....

Warning, the following images (as well as the concept) are graphic and nauseating to some.

---
Vomit Painter artist throws up on canvas to create Jackson Pollock-style splatter paintings that Lady Gaga loves
By Bianca London | Mail Online

We all know that some artists put their blood, sweat and tears into their creations, but one woman has taken it one step further - by using her own vomit.

Cutting edge artist, Millie Brown, began pushing the boundaries of the art world after becoming sick - literally - of using more traditional methods of painting.

The eccentric artist - whose unique work features in Ripley's Believe it or Not! - uses a selection of dyed soy milk in a mixture of colours which she then swallows at various intervals, one at a time, before vomiting it onto a white canvas.

But despite the regular retching, Millie, 27, insists it doesn't affect her health. She said she maintains a healthy vegan lifestyle and always leaves a one month rest period between each performance.

Although some find the Londoner's work somewhat hard to swallow, the artist has received positive recognition with critics comparing her to that of abstract expressionist, Jackie Pollock, who was known for his unique style of drip painting.

Despite having a general idea of what each canvas should look like, Millie prefers to improvise heavily throughout each performance.

Millie said 'I don't eat for two days prior to performing so that I clean my stomach of any food, that way the only liquid that comes up is beautiful and of pure colour.

'I can drink anything from one pint to four litres depending on if I'm doing a live performance or creating a canvas piece.

'I time each drink so that each colour doesn't mix in my stomach and try to space out my performances so that my body can recover properly.

'It's very much about timing, I find the whole process fascinating and the long meditative fast can be very inspiring.

'I often set out with an idea of what I'd like to create but I enjoy the uncontrollable element of my work and just go with it.

'Filming can be exhausting, it can be an entire day of vomiting which leaves you with migraines but generally I feel good after performing, it's like a cleanse for your body and mind.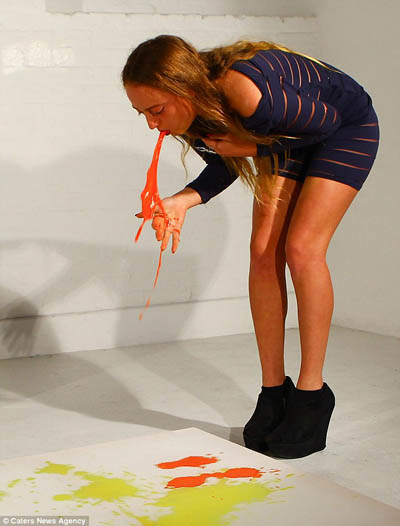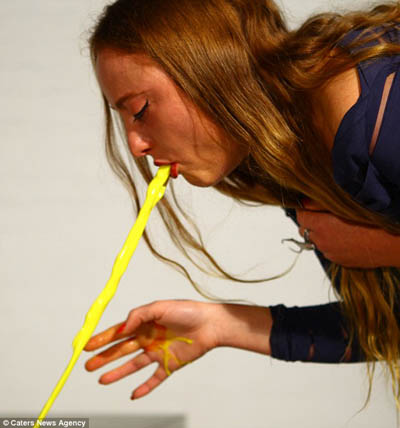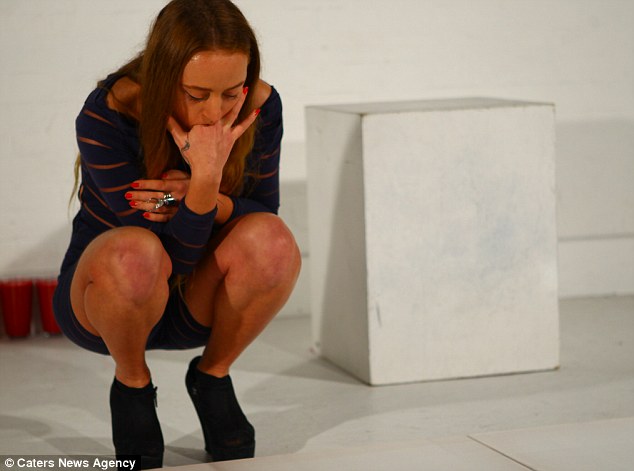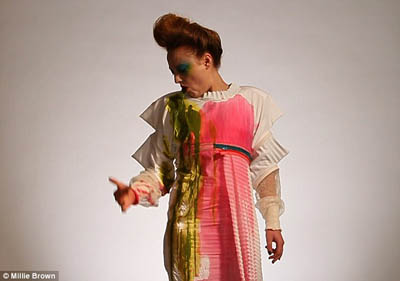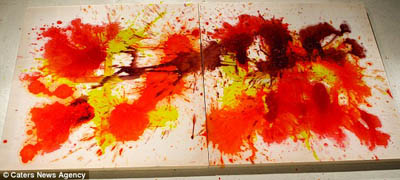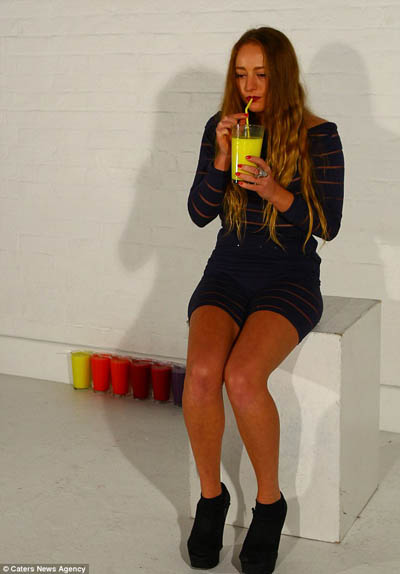 [...]

Read the full article at: dailymail.co.uk