The EarthScraper: An Inverted Pyramid 65 Storeys Deep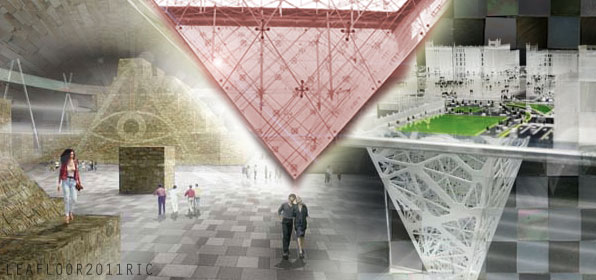 The folks over at Mexican architecture group BNKR Arquitectura call this thing an "earthscraper," and the reason why should be obvious: it's a monstrous, beautiful, 65-story inverted skyscraper that hides a mini city underground.

Designed to be built smack-dab in the center of Mexico City, BNKR's Earthscraper wouldn't ruin the skyline there (though, really, who would object to something that looks like this?) and is designed in such a way that it would incorporate Mexico's history in its design. The top ten floors — which, here, would be the "bottom" ten — is a museum and cultural center dedicated to the Aztecs. Below that you've got retail space, then apartments and finally, deep underground, businesses. Because, you know, that's where business do their best work. It all terminates some 300 meters below the surface.

Our favorite detail: the interior of the structure is actually hollowed out, and there are bridges that extend out into the center of it so you can look down. Think the Grand Canyon's Skywalk.

We've got plenty more for you down in the gallery below, but this gorgeous cross-section deserves its own spot, and will let you see how the structure breaks down by the floor: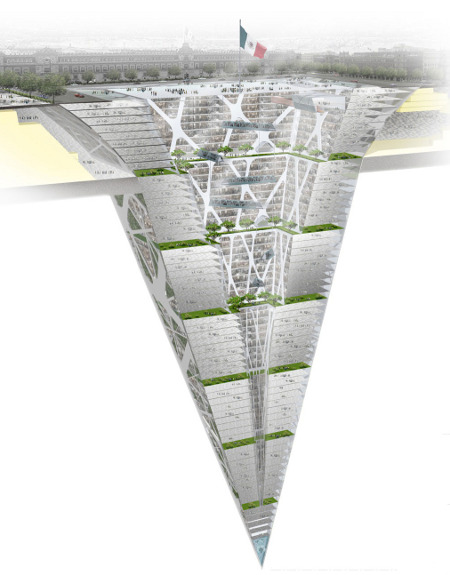 Full-res cross-section HERE.



[Ed Note: So, if we take a look at the usual symbolism of a pyramid, the base represents the supporting structure, and as you travel to the top, or the apex, there rests the most important point or aspect.
So in this inverted scenario, the human culture and history of Mexico (least important?) are at the 'base', and then much further down, the apex of this is "business" (most important?) What is that apex eye peering at so deeply underground?
~E ]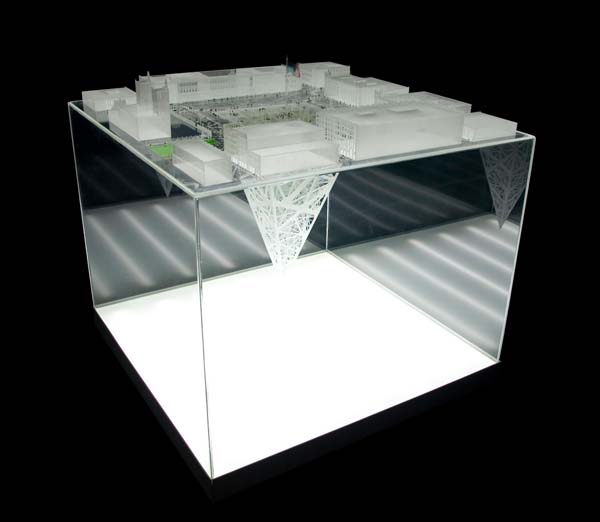 A model made of BNKR's Earthscraper concept.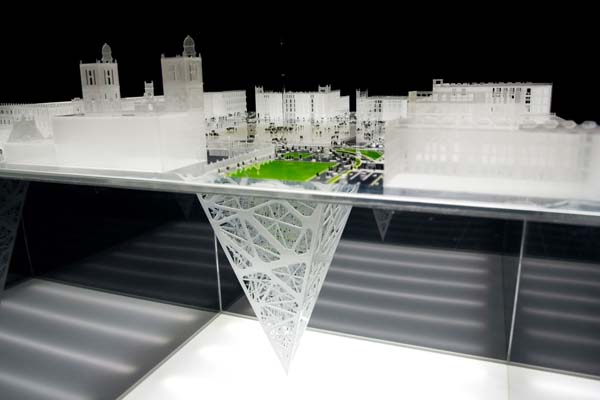 Earthscraper model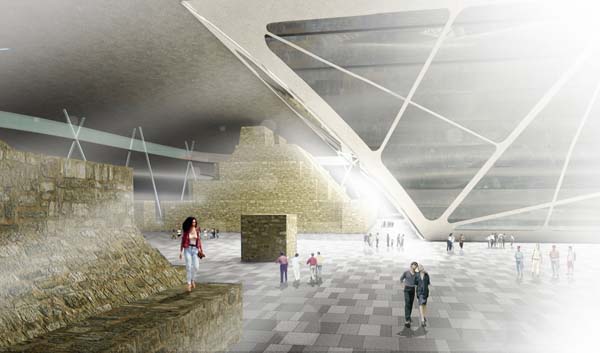 Gallery of Images

Article from: dvice.com


---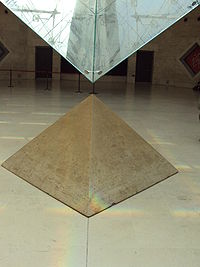 "La Pyramide Inversée" Wikipedia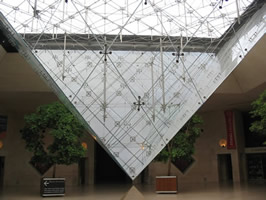 La Pyramide Inversée (the Inverted Pyramid) is a skylight constructed in an underground mall in front of the Louvre Museum in France. It may be thought of as a smaller sibling of the more famous Louvre Pyramid, yet turned "upside down." Its upturned base is easily overlooked from outside.

The Inverted Pyramid rose to sudden fame in recent years due to its prominent role in the concluding pages of Dan Brown's international bestseller The Da Vinci Code. The following article compares the description and interpretation of La Pyramide Inversée in the novel with its design and meaning in reality.

La Pyramide Inversée was designed by the architects I.M. Pei, Cobb Freed and Partners, and installed as part of the Phase II government renovation of the Louvre Museum, which included the main glass pyramid. The Inverted Pyramid was completed in 1993.

In 1995, the Inverted Pyramid was a finalist in the Benedictus Awards, described by the jury as "a remarkable anti-structure... a symbolic use of technology... a piece of sculpture. It was meant as an object but it is an object to transmit light."

In The Da Vinci Code, Robert Langdon reads esoteric symbolism into the two pyramids: The Inverted Pyramid is perceived as a Chalice, a feminine symbol, whereas the stone pyramid below is interpreted as a Blade, a masculine symbol: the whole structure could thus express the union of the genders.

Another writer on Masonic architecture, Dominique Stezepfandt, sees the two pyramids as suggesting "the compass and square that together form the Seal of Solomon".
Source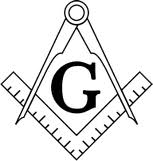 Masonic Compass Square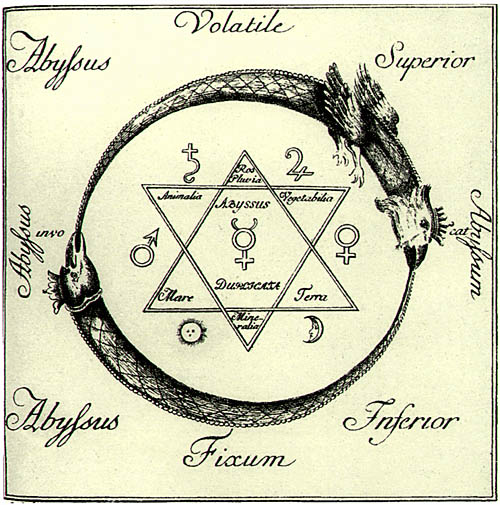 Seal of Solomon, Wikipedia
---


Also tune into:

Red Ice TV - Episode 4 - Symbolism in Logos

Red Ice TV - Episode 3 - Illuminati Symbolism in Hollywood Movies

RedIce Radio:

Richard Sauder - Underground Bases and Tunnels

Kathleen McErlain - Too Many Secrets, Humanity's Fight to Expose The Secret Underground Worlds

Andrew Collins - Beneath The Pyramids, Giza Cave System Rediscovered

Scott Onstott - Secrets In Plain Sight, Quadrivium, Metrology & 33

Michael S. Schneider - Constructing The Universe with 1 through 12, Nature's Numerical and Geometric Language

Dan Winter - Fractal Geometry & The Golden Mean

Alex Putney - Human Resonance, Sacred Sites, Pyramids & Standing Waves

Robert Bauval - Talisman, The Master Game, The Enlightenment, Egypt, Paris, USA & Scottish Rite Freemasonry

John Kale - The Masonic Star Map of Charleston

Robert Hieronimus - The United Symbolism of America, All Seeing Eye Origins, Freemasons & The Enlightenment