The Killer…of a Military Suicide Victim
The military's suicide woes are profound enough without a sailor adding to them. Yet that's just what Petty Office 2nd Class Paul Bricker did. He helped a superior, Chief Petty Office Gerard Curran, kill himself. Their goal: mask Curran's suicide as a murder, so that Curran's family could collect military benefits it might be barred from getting if he had killed himself.

"I've never had a case like this," Judge H. Thomas Padrick Jr. said Monday before sentencing Bricker to five years imprisonment on a manslaughter charge, according to the Virginian-Pilot. "What kind of a person does this?"

It's a sad and fascinating case, the details of which we'll get to in a minute.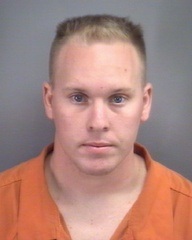 Petty Office 2nd Class Paul Bricker

But beyond the particulars are the bigger questions it raises: how can two sailors with such warped minds find one another – one eager to die, and the other willing to help him? And what does it say about the essence of command: when a superior tells you to do something in the military, the subordinate's default response is to follow orders.

The case happened in 2009, when Curran, who had moved out of the home he shared with his wife and two sons, had begun drinking heavily. He eventually implored Bricker to help make Curran's suicide look like a murder so that Curran's family would receive all military benefits (generally, that happens even in the case of suicides, but sometimes some benefits are denied if the death is deemed due to misconduct, including alcohol abuse).

[...]

Cases like this are rare, thankfully. But they betray a laissez-faire attitude toward suicide that can be deadly, despite the military's best efforts to combat it. "Even the most severely depressed person has mixed feelings about death, wavering until the very last moment," the Navy tells its sailors. "Most suicidal people are open to a helpful intervention, sometimes even a forced one, to show them that their circumstances will not last forever and that Life Is Worth Living."

Navy suicides haven't gotten the attention of those of the Army and Marines, whose troops have borne the brunt of the fighting in the nation's post-9/11 wars. But its rate has jumped from 10 per 100,000 sailors in 2001 to 14.5 in 2011 – a jump of 45% and the highest annual rate recorded on the Navy's suicide-prevention website.

[...]

Read the full article at: time.com