The Media Murder Two Police Officers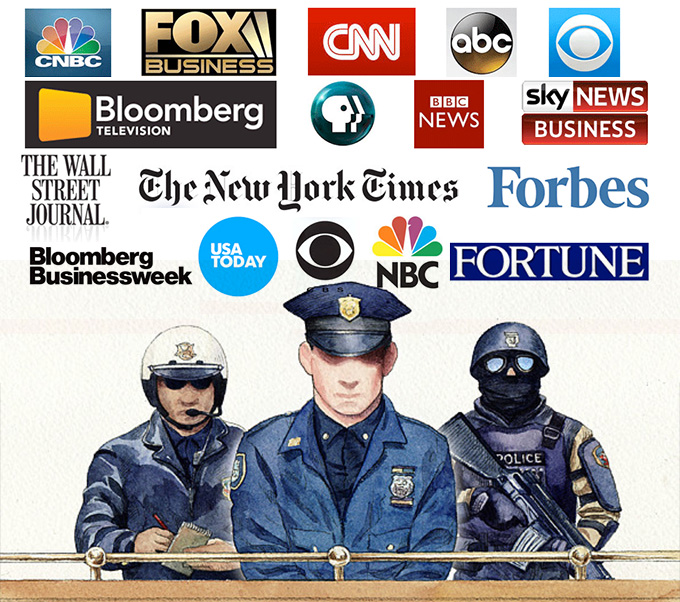 Criminal reporting and rabid politicians fuel anti-white hysteria
Yesterday afternoon, a 28-year-old black thug named Ismaaiyl Brinsley shot two police officers to death in the Bedford-Stuyvesant area of Brooklyn. In Internet postings earlier that day, he said he was going to kill policemen to avenge the deaths of Eric Garner and Michael Brown: "They Take 1 Of Ours . . . Let's Take 2 of Theirs." The two officers probably never even saw Brinsely before he shot them from behind. He then ran into a subway station, where he shot himself when he saw cops coming. One local who walked up to the crime scene later said that "a lot of people were clapping and laughing," saying "serves them right."
Ismaaiyl Brinsley pulled the trigger, but those two officers were just as surely murdered by the media. From the start, the American and world press have treated two cases of unfortunate but by-the-book police work as if they were acts of vicious racism that discredit every American police department.
Not one major media organization–tell us if we missed something–ever stated that it was not police error or bias but the lawless actions of Brown and Garner that killed them. Not one major media organization ever pointed out that white criminals who attack the police or resist arrest get rough treatment, too, and that there is nothing in either incident to suggest race mattered to the officers at all. The press helped whip up an atmosphere of hateful self-righteousness in which even the most obvious facts were brushed aside with mindless chants of "Hands up," and "I can't breathe." The press treated thugs and simpletons as if they were servants of a noble cause. If the media had not fueled this hysteria, those two New York cops would still be alive.
The Economist is one of the most widely read and respected magazines in the world. Here is how it helped kill those officers in a cover article called "America's Police on Trial:"
First, Michael Brown, a black teenager was shot dead in murky circumstances in Ferguson, Missouri, just after he robbed a shop, and then Eric Garner, a harmless middle-aged black man guilty only of selling single cigarettes on the streets of New York, was choked to death by a policeman while five cops watched . . . .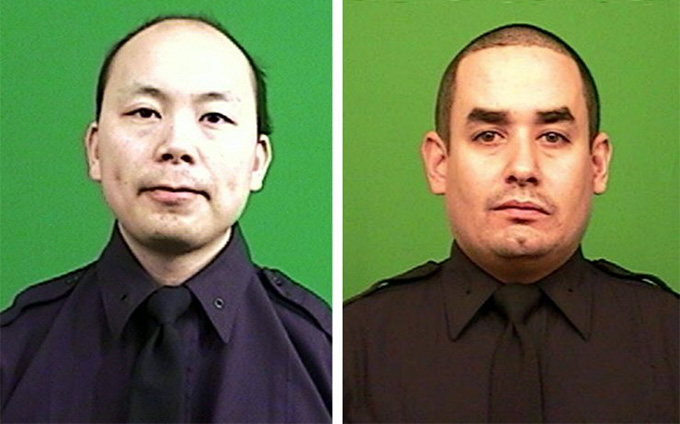 The two NYPD officers slain in Brooklyn on Dec. 20: Wenjian Liu, left, and Raphael Ramos.
Thousands of pages of grand jury testimony in the "murky" Brown case were available if The Economist had wanted to read them. And there is nothing "murky" about what happens if you attack a police officer and try to take his gun.
But what The Economist says about Garner is even more criminal. He was not guilty merely of selling untaxed cigarettes on the street–a crime for which he had been arrested eight times before. He was violently resisting arrest, which is a felony. Nor was he "choked to death."
He weighed 350 pounds, which is obese even for someone who is 6-feet 3-inches tall. He had asthma so severe he couldn't walk a block without stopping to rest. He had heart disease and diabetes. He didn't even die at the scene. He had a cardiac arrest in the ambulance that was taking him to the hospital. The New York City medical examiner's office said Garner died because of "compression of chest and prone positioning during physical restraint by police." He was probably having a hard time breathing because of his asthma, and if the officer had really been choking him he couldn't have spoken a word.
And what about those five cops who stood and watched? The arrest was ordered by a black officer and supervised by a black sergeant. And the grand jury that refused to indict the officer? Nine of the 23 members were non-white and at least five were black.
The Economist's scurrilous account of the arrest makes it sound as though Garner's wife was right to say that "it was like a modern-day lynching. They had it out for him." This is typical of the contemptible reporting that has now left two police officers dead.
Of course, politicians played their part. Eric Holder couldn't even wait for his own investigation of the Ferguson police department to finish before saying the town's policing needed "wholesale change." And, of course, he has ordered a federal investigation of Garner's death, too. Nothing a black attorney general could do shows greater contempt for white officers than to send the feds sniffing for racism despite full local investigations and formal grand jury proceedings that have found the officers acted properly.
New York Mayor Bill de Blasio also made police furious when he sympathized with demonstrators after Garner's death, and said his mulatto son had to be especially careful around the police. Now, of course, he is wailing that the shootings are "an attack on all of us. . . . an attack on everything we hold dear."