The Promise of Heaven - Just Pie in the Sky

Next time you hear it, you'll know the strange tale behind it.

From Phrases.org.uk: "pie in the sky"

Meaning - A promise of heaven, while continuing to suffer in this life.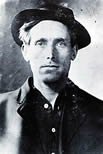 Origin - This is an American phrase and was coined by Joe Hill in 1911. Hill was a Swedish-born itinerant labourer who migrated to the USA in 1902. He was a leading light of the radical labour organisation The Industrial Workers of the World - known as the Wobblies, writing many radical songs for them.

The phrase appeared first in Hill's The Preacher and the Slave, which parodied the Salvation Army hymn In the Sweet Bye and Bye. The song, which criticized the Army's theology and philosophy, specifically their concentration on the salvation of souls rather than the feeding of the hungry, was popular when first recorded and remained so for some years.




Long-haired preachers come out every night,
Try to tell you what's wrong and what's right;
But when asked how 'bout something to eat
They will answer with voices so sweet:

Chorus:
You will eat, bye and bye,
In that glorious land above the sky;
Work and pray, live on hay,
You'll get pie in the sky when you die.

The starvation army they play,
They sing and they clap and they pray
'Till they get all your coin on the drum
Then they'll tell you when you're on the bum:

Holy Rollers and jumpers come out,
They holler, they jump and they shout.
Give your money to Jesus they say,
He will cure all diseases today.
If you fight hard for children and wife
Try to get something good in this life
You're a sinner and bad man, they tell,
When you die you will sure go to hell.

Workingmen of all countries, unite,
Side by side we for freedom will fight;
When the world and its wealth we have gained
To the grafters we'll sing this refrain:

You will eat, bye and bye,
When you've learned how to cook and to fry.
Chop some wood, 'twill do you good,
And you'll eat in the sweet bye and bye.


The phrase wasn't taken up until the Second World War, when it began to be used figuratively to refer to any prospect of future happiness which was unlikely ever to be realized.

From: phrases.org.uk

Unfortunately, the story of Joe Hill (also known as Joseph Hillström) doesn't end happily. Through a series of misadventures, Hill was arrested and convicted of murder in a controversial trial in 1914.

From Wikipedia:

In 1914, John G. Morrison, a Salt Lake City area grocer and former policeman, and his son were shot and killed by two men. The same evening, Hill arrived at a doctor's office with a gunshot wound, and briefly mentioned a fight over a woman. Yet Hill was reluctant to explain further, and he was later accused of the grocery store murders on the basis of his injury. Hill was convicted of the murders in a controversial trial. Following an unsuccessful appeal, political debates, and international calls for clemency from high profile people and workers' organizations, Hill was executed in November, 1915.


Tragically, it was later shown there was doubt over Hill's guilt.


According to the biography, Joe Hill and his friend and fellow countryman, Otto Appelquist, were rivals for the attention of twenty-year-old Hilda Erickson, a member of the family with whom the two men were lodging. In a recently discovered letter, Erickson confirmed her relationship with the two men, and the rivalry between them. The letter indicates that when she first discovered Hill was injured, he explained to her that Appelquist had shot him, apparently due to jealousy.

[...]

...13-year-old Merlin Morrison, the victims' son and brother, [said] "That's not him at all" upon first seeing Hill, but later identified him as the murderer. The jury took just a few hours to find him guilty of murder.


Almost as a testimony to his coined phrase, it would seem that Joe Hill suffered in this life, with a dream of salvation being just 'pie in the sky'.

Not to leave this earth without having the last word, just before Hill was executed by firing squad he wrote to Bill Haywood, an Industrial Workers of the World leader, saying, "Goodbye Bill. I die like a true blue rebel. Don't waste any time in mourning. Organize... Could you arrange to have my body hauled to the state line to be buried?
I don't want to be found dead in Utah."

By Elizabeth Leafloor , RedIceCreations.com