The Stock Market In Japan Is COLLAPSING
Did you see what just happened in Japan? The stock market of the 3rd largest economy on the planet is imploding. On Tuesday, the Nikkei fell by more than 610 points. If that sounds like a lot, that is because it is. The largest one day stock market decline in U.S. history is only 777 points. So far, the Dow is only down about 1000 points during this "correction", but the Nikkei is down more than 2,300 points. The Nikkei has dropped more than 14 percent since the peak of the market, and many analysts believe that this is only just the beginning.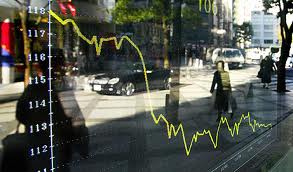 Those who have been waiting for a full-blown stock market collapse may be about to get their wish. Japan is absolutely drowning in debt, their central bank is printing money like crazy and the Japanese population is aging rapidly. As far as economic fundamentals go, there is very little good news as far as Japan is concerned. So will an Asian financial collapse precede the next great financial crisis in the United States? That is what some have been predicting, and it starting to look increasingly likely.

What happened to the Nikkei early on Tuesday was absolutely breathtaking. The following is how Bloomberg described the carnage...

At the end of January 2013, Japanese stocks trailed only Portugal for the biggest rally among developed markets. Now the Nikkei 225 Stock Average is leading declines, slumping 8.5 percent last month and today capping a 14 percent drop from its Dec. 30 peak.

Losses snowballed in Tokyo during a global retreat that has erased $2.9 trillion from equity values worldwide this year amid signs of slower growth in China and stimulus cuts by the U.S. Federal Reserve.

[...]

Read the full article at: activistpost.com




---
READ:
How bad will the Nikkei meltdown get?