The U.S. Army's main Web site is down - and the Syrian Electronic Army is claiming credit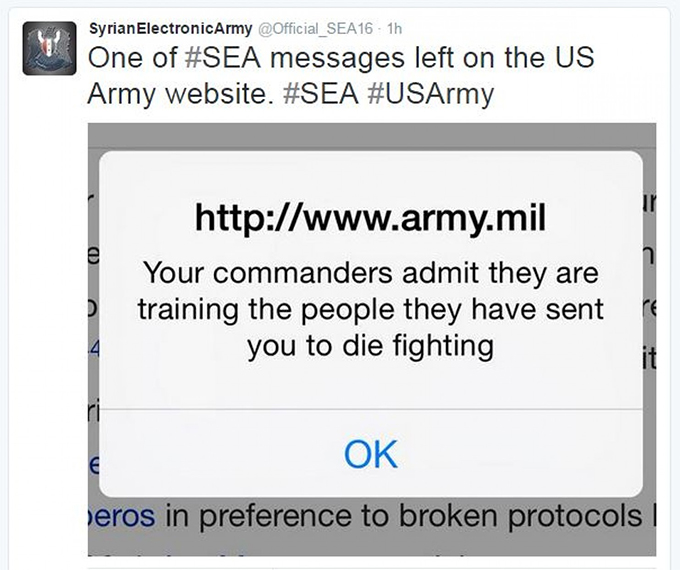 The Syrian Electronic Army hacked the official Web site for the U.S. Army, a Twitter account apparently associated with the hacktivist group claimed Monday. The site was down in the afternoon, while screenshots posted on the social network by the group purported to show messages of support for beleaguered Syrian President Bashar al-Assad on the site earlier in the day.

The Army confirmed the site outage. "Today an element of the Army.mil service provider's content was compromised," Brig. Gen. Malcolm B. Frost, an Army spokesman, told The Post in a statement. "After this came to our attention, the Army took appropriate preventive measures to ensure there was no breach of Army data by taking down the Web site temporarily."

The statement did not address the SEA army claims of responsibility. However, the official Facebook page for Fort Bragg in North Carolina warned people to "avoid" using the Army's Web site because it was down "reportedly from being hacked by the Syrian Electronic Army."





The Syrian Electronic Army, also known as SEA for short, has made a name for itself by targeting high-profile Web sites for defacement -- including The Washington Post and other media organizations. Its attacks often work by targeting third-party plugins used on sites rather than targeting the systems of a victim directly.

It seems unlikely that sensitive data was compromised in the act of digital vandalism. But the apparent hack attack comes less than a week after OPM disclosed a massive breach of its systems that may have exposed information about roughly 4 million current and former federal workers.

Source: washingtonpost.com