Thousands Stranded as Snow and Cold Catches the South Unprepared


From snow in Egypt for the first time in 112 years, to record breaking low temperatures in North America, and deep-feeze conditions in Europe in 2012 that resulted in over 800 deaths, recent winters around the globe have been chaotic.

Now the traditionally hot American south is experiencing frigid weather.

It's global warming you know ;)

More from NBCNews...

---
Thousands still stranded on Atlanta highways after snow catches South unprepared
By Erin McClam | U.S. News

Thousands of drivers were hopelessly stuck for a second day Wednesday, many without food and water, on paralyzed interstates around Atlanta after a winter storm appeared to take the city by surprise.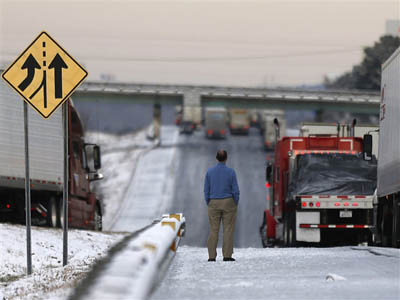 State and local authorities had no estimate for how many people were stuck, but they said jackknifed 18-wheelers were causing a problem on freeways that were still slick with ice.

Gov. Nathan Deal ordered the National Guard to clear the way for school buses that were carefully delivering schoolchildren back to their homes after thousands of them were marooned overnight. National Guard troops were distributing blankets and 200 cases of military-style MREs, or meals ready to eat, along Interstate 20.

Churchers, groceries and home-improvement stores opened their doors to the stranded. Neighbors took in neighbors and strangers. At least one baby was born in a car, helped by a police officer.

Aerial pictures made the highways look like parking lots, and there was no indication of when or how the roads would be cleared.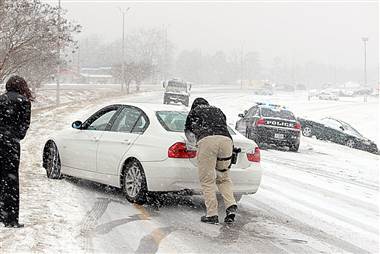 [...]

Most of the storm's worst had passed by Wednesday morning, but a winter storm warning was still in effect from the Florida Panhandle to Ocean City, Md., and a hard-freeze warning stretched from Texas through Alabama.

Read the full article at: nbcnews.com