Toxic Toothbrush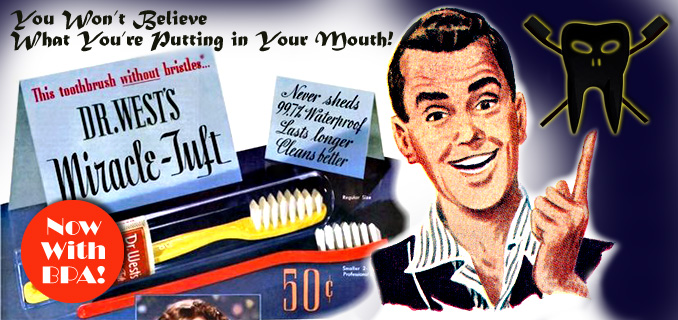 While mainstream news has brought attention to the toxic effects of bisphenol A (BPA), they still fail to mention about a thousand other toxins lurking right under our nose every day, one of which being your toothbrush.

Before toothbrushes, people used rough cloth and water to clean their teeth. They would also rub things like salt and chalk across their teeth to try to get rid of the grime.

The ancient Egyptians made a sort of brush by splitting the end of a twig. And the ancient Chinese chewed on twigs with a special flavor to freshen their breath.
Sometimes a powder was made of the ashes of ox hooves and burned eggshells. The ancient Greeks and Romans used materials such as crushed oyster shells and bones.

The Chinese are believed to have made the first natural-bristle toothbrush in the 1400s by using bristles from pigs' necks. The bristles were attached to a handle made of bone or bamboo.

Indigenous people, who typically possess a mouthful of flawless teeth, use herbs, twigs and roots to clean their teeth. Even the skulls of cavemen depict a mouthful of nearly flawless teeth. Our ancestors were using something natural to clean their teeth. Perhaps, something such as licorice root which is also an antibacterial herb that reduces plaque and has anti-cavity functions.

French dentists were the first Europeans to promote the use of toothbrushes in the seventeenth and early eighteenth centuries.

The first toothbrush that resembles the one you use today was made in England in the 1770s. A man named William Addis who supposedly came up with the idea while he was in prison, put there for having started a riot. He didn't think the rag he was given was cleaning his teeth well enough, so he saved a small bone from a meal. He put tiny holes in it and used glue to attach pig bristles he had gotten from a prison guard.

The first patent for a toothbrush was by an American dentist named H. N. Wadsworth, in 1857 (US Patent No. 18,653). Mass production in the United States started in 1885. The rather advanced design had a bone handle with holes bored into it for the Siberian boar hair bristles. This toothbrush was non-toxic made of natural materials.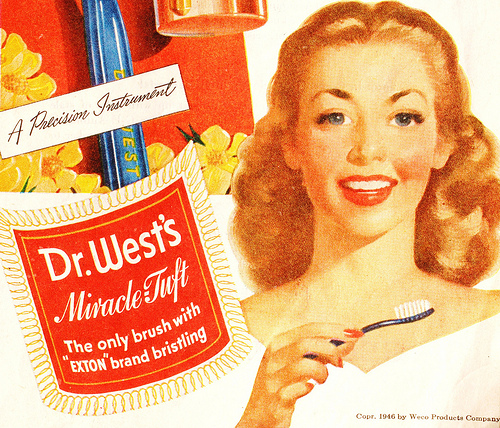 Wallace Hume Carothers was an American chemist, inventor and the leader of organic chemistry at DuPont, credited with the invention of nylon. In 1938, DuPont manufactured the first nylon bristle toothbrushes. As of the turn of the Twenty-First Century, nylon had come to be widely used for the bristles. The handles were usually molded from thermoplastic materials.

Nylon is a toxic plastic made from petroleum. What nature provided for humans to clean their teeth with for thousands of years before nylon bristles worked just fine. In fact, many people find their gums bleed brushing with nylon bristles. If you have a cavity or sensitive gums, the last thing you should be doing is scrubbing nylon bristles against your teeth and gums.

Another factor to consider is the handle of the toothbrush most often made of plastic containing BPA, PVC and phthalates, all of which are toxic to humans and the environment.

Dental floss is almost always made from nylon, derived from petroleum products. Petrochemicals pose innumerable health risks. But they also negatively affect the soil, ground water, surface water and ecosystems of the planet. The majority of dental floss has a coating made from polytetrafluoroethylene (PTFE, or Teflon), which is manufactured from perfluorooctanoic acid (PFOA).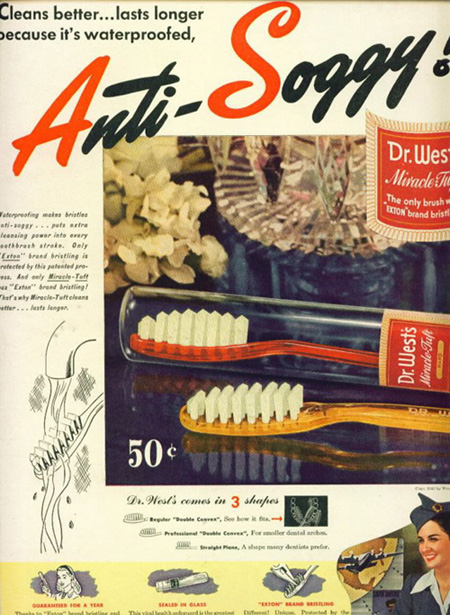 DuPont, the manufacturer of the first toxic toothbrush is an American chemical company that was founded by Eleuthère Irénée du Pont in 1802 as a gunpowder mill. To try and understand Dupont's mindset, in 1910 DuPont published a brochure entitled "Farming with Dynamite." Today they are creating genetically modified monster seeds. DuPont also established two of the first industrial laboratories in the United States.

Irénée du Pont was a descendant of Eleuthère Irénée du Pont. He was president of the DuPont company, head of the Du Pont trust and sat on the board of directors of DuPont until he retired in 1958. He was a proponent of elitist eugenics just as the Rockefellers who supplied oil to the DuPonts to create petrochemical based products.

Following World War II, the elite like to say that it was a time of great scientific advancement. Natural fibers, rubbers and steel were replaced with inventions of nylon, rayon, plastic and other toxic man made products.

And in the United States, brushing teeth did not become routine until after World War II, when American soldiers had to clean their teeth daily. U.S. soldiers brought the daily habit back home with them from abroad, and that helped make the practice popular. That's not all they brought back with them…

American soldiers who entered Germany at the end of World War II made the liberating of POW camps a priority. At camp after camp, they found stockpiles of fluoride stored near the water supply. When they asked what the fluoride was used for, they were told that the Germans used the substance as an additive to the prisoner's water, to make them docile. This is the first known incidence of intentionally fluoridating drinking water.

This practice was soon adapted to American use. By the time General Patton took his Third Army to Berlin, the US Army was adding it to the soldiers water to keep them calm and passive.

Fluoride was first added to toothpastes in the 1890s. "Tanagra", containing calcium fluoride as the active ingredient, was sold by Karl F. Toellner Company, of Bremen, Germany, based upon the early work of chemist Albert Deninger.

Sodium Fluoride is a hazardous waste by-product of the nuclear and aluminum industries. In addition to being the primary ingredient in rat and cockroach poisons, it is also a main ingredient in anesthetic, hypnotic, and psychiatric drugs as well as military nerve gas. Fluoride is also a key chemical in atomic bomb production.

Despite the research of fluoride's toxicity and it's ineffectiveness to prevent tooth decay, in 1955, Procter & Gamble's Crest launched its first clinically proven fluoride-containing toothpaste. Procter & Gamble is the world's #1 maker of household products, made of toxic substances linked to cancer, birth defects, infertility and more. Proctor & Gamble was founded by Clarence Gamble, another eugenicist. And with help from the Rockefeller Foundation and their scientific dictatorship, fluoride propaganda was accepted across America.

Unnecessarily, the vast majority of toothpastes on the market contain three main ingredients: abrasives, fluoride, and detergents all of which are toxic. Most tubes even say "one should seek medical attention after swallowing toothpaste containing fluoride." None of these ingredients belong in your mouth! Alternative exist but read labels, look up ingredients and know what you are putting in your mouth.

In 1896, Colgate & Company Dental Cream was the first to make collapsible toothpaste tubes. They were made of lead.

In 2006, Colgate/Palmolive bought the popular alternative toothpaste called Tom's of Maine. Look out and read the ingredients because several varieties of Tom's of Maine contain Sodium Lauryl Sulfate (and fluoride), known to be toxic.
On an interesting side note, William Colgate was a devout Baptist who helped found the Baptist Education Society in 1817 with 13 men, 13 dollars, 13 prayers, and 13 articles. This organization later evolved into Colgate University located at 13 Oak Drive in Hamilton, NY, 13346. As part of Colgate tradition, alumni are encouraged to wear Colgate apparel every Friday the 13th. Many secret societies around the world also have the 13 bug, such as the Illuminati who believe this number is unique and the most correct number of all.

In 2002 Alan Solomon brought national attention to a brickwork symbol build on the wall of one of William Colgate's most valuable properties on 211 Pearl Street in downtown New York. The early 1800's was during the Anti-Masonic movement out of which some claim was born the 2nd Great Awakening. Baptists at that time were at the forefront of the Anti-Masonic movement. William Colgate was a devout Baptist, yet the symbol on his building appears to be a Masonic like symbol. Alan Solomon has interviewed Masons, Christians and symbologist and no one can figure out the symbol. To this day it remains a mystery. So who was William Colgate and what did he really know?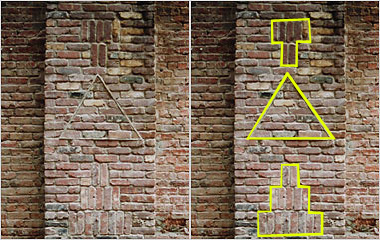 DuPont and Proctor & Gamble are giant monopolies with big pockets to lobby for political influence and power. It is no surprise that after numerous years of research and grant money within the dental industry, few have spoken out about the toxicity of the modern toothbrush and toothpaste. And few have pointed out the mouth to body connection, but that is another subject.

And while the "green movement" says use recycled plastic toothbrushes, we say don't use plastic and nylon at all!

Please see links below for recommended natural, non-toxic toothbrushes.

Recommended Toothbrushes:

Brooks Pearwood Boar Bristle Toothbrush

swisscollc.com

environmentaltoothbrush.com.au

lifewithoutplastic.com - Plasticfree Wooden Toothbrush

naturaltoothbrush.com

By Lana Lokteff, Red Ice Creations

More Health Articles

Red Ice Radio

Paul Connett - Hour 1 - The Fluoride Fraud

Walter Graham - The Dangers of Fluoride