TV2 Denmark Documentary on HPV Vaccine Shows Lives of Young Women Ruined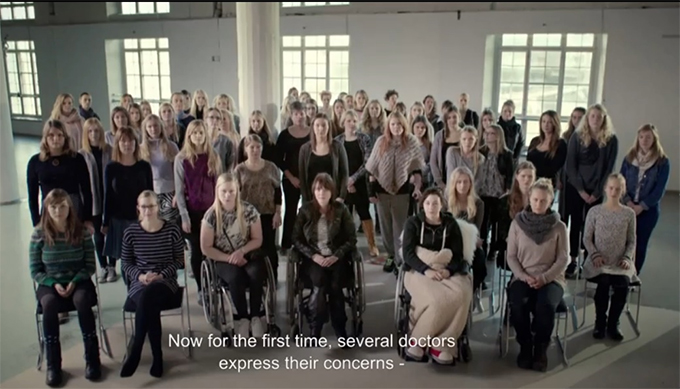 TV2 Denmark has done something no mainstream media network in the United States will dare to do: look into the controversial HPV vaccine that many have claimed has ruined the lives of so many young women, and publish an investigative report.

In December of 2013 Katie Couric did a show on the HPV Gardasil Vaccine where she dared to interview the mother of a young woman who died shortly after receiving the vaccine. Couric's program was hardly pro-vaccine, as she gave both sides of the controversy, with a huge emphasis on the pharmaceutical side claiming the vaccine was safe, but she was viciously attacked by the mainstream media anyway and forced to apologize for even asking questions about the possible risks of the HPV vaccine.

With such censorship so obvious in the U.S. mainstream media, it is refreshing to see the Danish media make this documentary available with English subtitles for the rest of the world to watch. Families and doctors are interviewed, and the tough questions are not censored. Similar to the U.S., these vaccine-damaged girls can find no help from their government since the vaccine injuries are vigorously denied by their government, leaving them and their parents feeling "betrayed."



Commentary on this documentary by Norma Erickson, of SaneVax.org:

Thursday, March 26, 2015, TV2 one of Denmark's national television stations aired a documentary on HPV vaccines entitled, The Vaccinated Girls – Sick and Betrayed. It focused on the condition of 3 girls suffering from serious new medical conditions after being vaccinated against HPV with Gardasil. The one thing they have in common with thousands of other girls around the world is they were healthy before they got the vaccine – now, they are seriously ill.

All three girls have been examined from head to toe with no conclusive diagnosis and no help with their symptoms, much like the girls in other countries where HPV vaccines are being used.

During the documentary, two Danish doctors from Frederiksberg Hospital said they have never seen anything similar to this during their entire careers. Both doctors said they had sent correspondence to the Danish Health and Medicines Authority a total of four times during the last year to warn them of possible adverse events after HPV injections.

Dr. Louise Brinth of Frederiksberg Hospital has personally examined around 80 girls whom she suspects may be suffering adverse effects of HPV vaccinations. She states:


They are all dizzy, they pass out, and so the vast majority of them severe headache – often chronic headaches. They have abdominal pain and nausea. They have weird muscle movements, they cannot control. And they're very tired….

We see a pattern that screams to heaven, and that should be examined by some solid research.


Danish Director of Health, Henrik G. Jenson agrees but stated:


Yes, there is a pattern, but it is not the same as saying that there is a connection. When we see a pattern in how some reports, there is a basis for making some more explanations, and delve into this stuff. Now, the fact that the vaccine is approved by the European Medicines Agency EMA, and that is, they are the ones who make the safety assessment.

While conducting research prior to the production of this documentary, TV2 requested the Danish Health and Medicines Authority to provide full disclosure of all documents pertinent to the HPV vaccination program in Denmark. Unfortunately, Director Henrik G. Jenson and his staff 'forgot' to supply the news team with any information regarding the four warnings the Danish Health and Medicines Authority had received from medical professionals in their country.

This HPV vaccine documentary made a huge impact

A closed Facebook page set up for suspected victims of adverse reactions to Gardasil in Denmark reported having 398 members before this documentary was aired. A short two weeks later membership had increased to 938. Because each request for membership is contacted personally by the administrators of the group for verification, there are an additional 40 people currently waiting to be granted membership.

Much to the credit of the Danish health authorities, they are making efforts to respond in an appropriate manner to the crisis they are facing in the wake of their HPV vaccination program. Denmark is divided into five healthcare regions. They have established a single point of entrance in each one of these regions to accept and examine anyone suspected of having a negative reaction to Gardasil. So far there is no official protocol established for the analysis and treatment of those admitted.

Danish health authorities realize that the side effects are extremely serious and want to do more research. Unfortunately, it will take months (if not years) of research to discover exactly what has happened to these girls much less develop successful protocols to treat them without cooperation on a global scale. Where does this leave the survivors in the meantime?

Should the HPV vaccination program be halted until this research is completed?

Are those in charge of the Danish Health and Medicines Authority willing to risk the 2500 serious adverse reactions per 100,000 Gardasil recipients disclosed in Merck's latest prescribing information packet to try and avoid 12.1 cases of cervical cancer per 100,000?

Are the women of Denmark willing to accept the same risk? Do the women of Denmark think it is reasonable to trade 2500 potentially devastating medical conditions to save 12 people per 100,000 users from the diagnosis of a very treatable cancer?

As a matter of fact, Gardasil was introduced in Denmark in 2009. In 2008, the youngest woman to die of cervical cancer in Denmark was 30 years old. Three years after the introduction of Gardasil (in 2012), the youngest woman to die of cervical cancer was only 20. Why is this?

[...]

Read the rest: healthimpactnews.com