U.S. ambassador to Libya killed in attack
The U.S. ambassador to Libya and three embassy staff were killed as they rushed away from a consulate building in Benghazi, stormed by al Qaeda-linked gunmen blaming America for a film that they said insulted the Prophet Mohammad.

Gunmen had attacked and set fire to the U.S. consulate in the eastern city of Benghazi, the cradle of last year's uprising against Muammar Gaddafi's 42-year rule, late on Tuesday evening as another assault was mounted on the U.S. embassy in Cairo.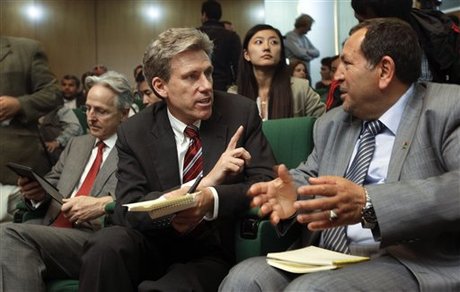 April 11, 2011 file photo, U.S. envoy Chris Stevens, center, accompanied by British envoy Christopher Prentice, left, speaks to Council member for Misrata Dr. Suleiman Fortia, right, at the Tibesty Hotel where an African Union delegation was meeting with opposition leaders in Benghazi, Libya. Libyan officials say the U.S. ambassador and three other Americans have been killed in an attack on the U.S. consulate in the eastern city of Benghazi by protesters angry over a film that ridiculed Islam's Prophet Muhammad. The officials say Ambassador Chris Stevens was killed Tuesday night when he and a group of embassy employees went to the consulate to try to evacuate staff. The protesters were firing gunshots and rocket propelled grenades.
The U.S. Consulate in Benghazi is seen in flames during a protest by an armed group.



The California-born ambassador, Christopher Stevens, was trying to leave the consulate building for a safer location as part of an evacuation when gunmen launched an intense attack, apparently forcing security personnel to withdraw.

"The American ambassador and three staff members were killed when gunmen fired rockets in their direction," a Libyan official in Benghazi told Reuters. Airport sources said the bodies were due to be flown from Benghazi to Tripoli.

The attack was believed to have been carried out by Ansar al-Sharia, an al Qaeda-style Sunni Islamist group that has been active in Benghazi, a Libyan security official said. Witnesses said the mob also included tribesmen, militia and other gunmen.

[...]

Read the full article at: news.yahoo.com