UFO mysteries: 'Nazca Lines' discovered in Kazakhstan
Media outlets as well as the official government website in Kazakhstan are reporting the surprise discovery of local geoglyphs or 'Nazca Lines'.

Geoglyphs are drawings created on the ground by arranging stones or removing the top layers of earth. These designs typically cover large areas.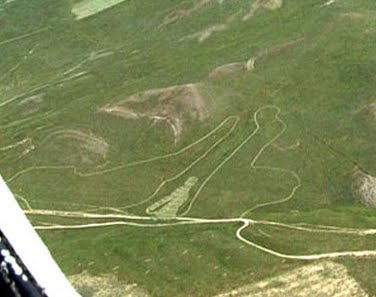 The Kazakh lines show a strange figure crouching between two structures.
Image by N. Dorogov


The most famous geoglyphs are those found in the Nazca desert in Peru. These show hummingbirds, spiders, monkeys, fish, sharks, llamas, and lizards.
The Kazakhstan Geoglyphs (photo above, thanks to photojournalist N. Dorogov) appear to depict a humanoid figure wedged between two unusual structures. The drawings are located in the remote Karatau Mountains in South Kazakhstan.

Geoglyphs are of interest to UFO researchers, some of whom believe they might be messages or markers created by ancient people for the benefit of visiting extraterrestrials. It is alleged by these UFO scholars that in times of distress these were a way of asking 'Star Gods' to return and Assist these early societies, however this hypothesis has not been proven.

It is expected that some scholars of extraterrestrial matters will claim that the being shown in the drawing might well depict an alien that once visited the area and interacted with the locals.

Kazhakstan is an area of intense UFO sightings and activity. Recently the Kazakhstan Government toyed with the idea of creating a UFO landing field and an alien embassy.

Article from: AllNewsWeb.com

---
Red Ice Radio
Cort Lindahl - Geomantic Information Systems
Daniel Tatman - The Bath Mystery's: Geomancy, Lay Lines & Organic/Fractal Architecture
Dan Winter - Fractal Geometry & The Golden Mean
David Flynn - The Giant's Geoglyphs of Tiahuanaco
Michael Tsarion - Irish Origins Part 1 - The West to East Movement of Civilization, Land Bridges & Age of atastrophe
Dan Winter - Fractal Geometry & The Golden Mean
Freeman - The Esoteric Adventures of Freeman
Rik Clay's interviews on Red Ice Creations – All Four Segments
Frank Albo - Freemasonry & Western Hermeticism
Lon Milo Duquette - Aleister Crowley, O.T.O. & The Thoth Tarot Deck
John Anthony West - Ancient Egypt
Hugh Montgomery - The God-Kings: Babylon, Ulvungar & Oden
Adrian Gilbert - The Orion Mystery & The Invisible College
Lucy Pringle - Crop Circles, Past & Present
Jake Kotze - UK Crop Circle Trip & Latest Comic Book Cycle Video Series
Andy Thomas - Crop Circles, The Era of Turmoil and the Energy of Hope
Geoff Stray - Crop Circles, Catastrophe, Sun Spot Cycles & the 2012 Connection