Violence Erupts in Sweden as Ethnic Groups Clash in Race Riots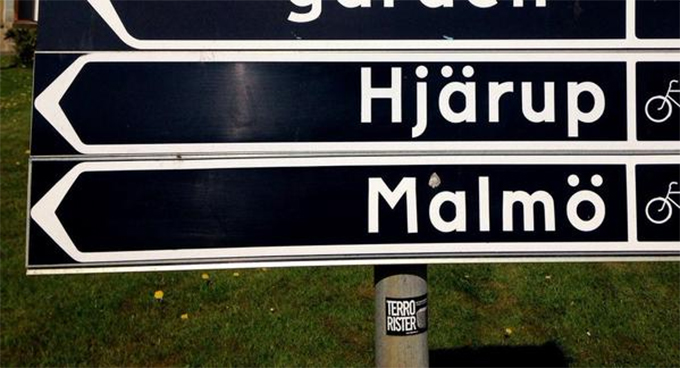 Sweden's third largest city, Malmö, has descended into chaos as police respond to a huge rise in racism and tensions between ethnic groups, involving bombs, hand grenades and guns.

It follows a spate of clashes between different ethnic groups in Malmö, in what police describe as a worrying rise in racial tensions dating back over a decade. It highlights tensions within Sweden due to the rise in migrants from many different ethnic groups coming in from Europe and elsewhere. The city also has a long history of anti-Semitic abuse.

Migrants are pictured sleeping at dawn in an open air camp after spending the night oustide, on June 19, 2015 in Paris

Police were called to the troubled suburb of Kroksbäck in Malmö after residents reported hearing explosions on Wednesday night. Emergency services discovered arrived to find several cars and a community center on fire. Two hand grenades were discovered near the fires. Seven people were arrested Thursday morning for criminal damage.

Two hand grenades were thrown towards an apartment block on the same road on June 20, but none of them exploded. One person was taken to hospital with non-life threatening injuries after a shooting in the Söderkulla square in Malmö. Police are also investigating a separate shooting on Ramel's street in the Rosengård area of Malmö on Monday morning.

Decades of Immigration and Ethnic Tensions

Malmö has experienced growing violence in recent years. Some of its inner-city areas and suburbs have a reputation for gun and gang-related crimes as well as race-related violence between different immigrant groups.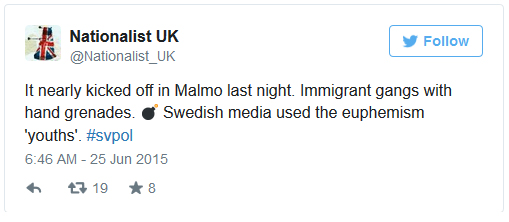 Since the early 1970s, immigration to Sweden has been mostly due to refugee migration and family reunification from countries in the Middle East and Latin America. In 2009, immigration reached its highest level since records began, with 102,280 people migrating to Sweden while the total population grew by 84,335. In Malmö, the ten largest groups of immigrants have arrived from: Iraq, Denmark, Serbia, Bosnia and Herzegovina, Lebanon, Iran, Poland, Turkey, Hungary and Romania.

Swedes expressed discontent with their government's immigration policies, after Prime Minister Stefan Lofven's announced he'd be glad to invite "all of Europe" to next year's Eurovision Song Contest.

Daniel Vesterhav, interim departmental head of Sweden's crime statistics agency Brottsförebyggande Rådet, said public shoot-outs between criminal gangs have become increasingly common in the past decade. "We're talking about easily offended individuals who, when they perceive themselves to be offended, take action to protect their honour.

"It could be a car deal that has gone awry, unpaid narcotics debts or something really trivial like someone spending too long talking to someone else's girlfriend," Vesterhav told TT newswire.

Patrik Johansson of the Malmö police told TT:

"The availability [of weapons] is something which worries us a lot, that it really is this simple to get hold of them."

The rise in race-related crime is not limited to different ethnic groups. In 2010, the Simon Wiesenthal Center, a leading Jewish Human Rights NGO, issued a travel advisory concerning Malmö due to harassment of Jewish citizens. Rabbi Abraham Cooper, the associate Dean of the Center said:

"Religious Jews and other members of the Jewish community there have been subject to anti-Semitic taunts and harassment. There have been dozens of incidents reported to the authorities but have not resulted in arrests or convictions for hate crimes."

According to the National Council for Crime Prevention in 2012, 66 anti-Jewish hate crimes were reported in Malmö compared with just 31 in Stockholm, and figures showed an increase in anti-Semitic incidents over the last years with a total of 44 reports over 2010 and 2011 combined.

Source: sputniknews.com