War crime : Gaddafi, his son and over 60 loyalists executed by rebel fighters
Libyan rebels abused and mass murdered Colonel Gaddafi, his son Mutassim, and 66 loyalists, after their capture a year ago, Human Rights Watch says. It calls for an investigation and prosecution of those responsible for what they slam as a war crime.

The 50-page report "Death of a Dictator: Bloody Vengeance in Sirte" details the last hours of Muammar Gaddafi's life on October 20, 2011, when he was caught trying to leave the city with his remaining supporters.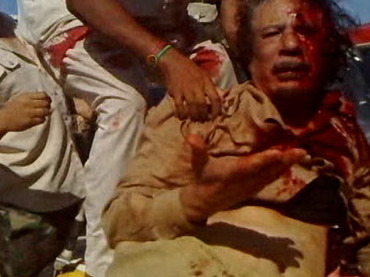 A National Transitional Countil (NTC) fighter pulls Libya's former leader Muammar Gaddafi onto a miltary vehicle in Sirte in this still image taken from video shot on October 20, 2011 and released on October 22, 2011.



HRW admits difficulty in reconstructing the final days of Libya's ex-leader since "he was surrounded by a small circle of trusted confidants and bodyguards, most of whom were killed in the attempted escape from Sirte," stated the report.

The report relies heavily on interviews with Mansour Dhao, a senior security official and head of the pro-Gaddafi People's Guard, and other surviving witnesses of the event. The interviews took place in Libya two days after Gaddafi's death.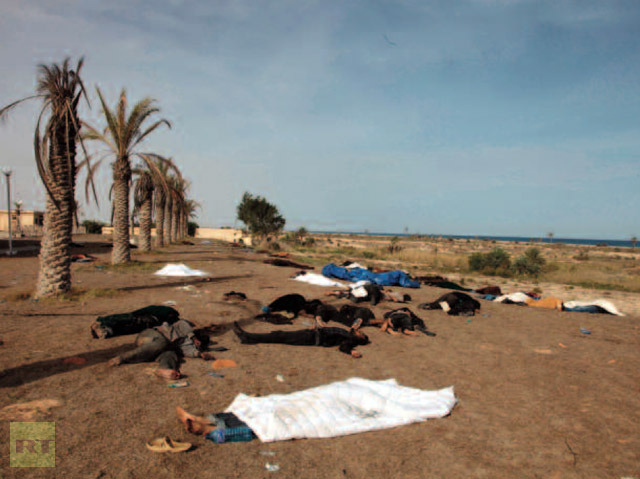 Bodies of apparent execution victims found at the Mahari Hotel in Sirte on October 21, 2011.



Capture, abuse, murder

Gaddafi is said to have fled Tripoli with a handful of his trustful men in the end of August to his hometown of Sirte, where he "spent most of his time reading the Koran and praying," Dhao told HRW.

"His communications with the world were cut off. There was no communication, no television, no news," he added.

On October 20, Gadaffi's son Mutassim deemed the situation unsafe and organized a 50-vehicle convoy for all to flee the city in the morning. The convoy consisted of 250 people, including civilians who supported Gaddafi.

As the cars were trying to make their getaway they were struck by a NATO air-fired missile, which exploded next to the car carrying Gaddafi. In defense, the convoy turned on to a dirt road, but was pinned down by militia fighters and then further bombed by NATO fighter jets.

After the bombings Gaddafi, accompanied by 10 other people, including his bodyguards, tried to take shelter by a drainage pipe, but was once again attacked by militia.

[...]

Read the full article at: rt.com





---
Report Exposes More War Crimes by Obama-backed Libyan Rebels