Who stabbed him in the back? Scan reveals 5,500-year-old mummy murder mystery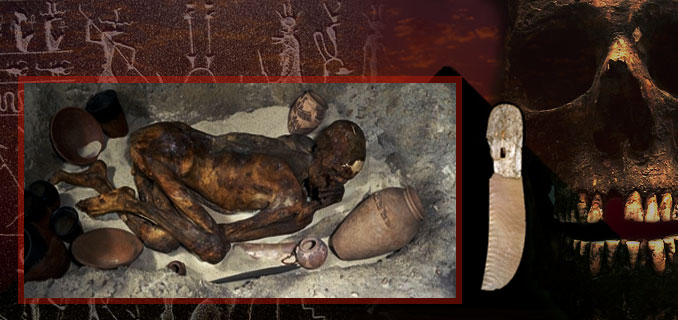 An ancient mummy who has been on display in the British Museum for over 100 years was a young man murdered by a killer who stabbed him in the back, new research shows.

Scans of the ancient Egyptian, known officially as Gebelein man but nicknamed Ginger for his red hair, show that a puncture just beneath his left shoulderblade was made by his murderer.

Forensic experts studied the scan on a 'virtual autopsy table' concluded that there is almost no doubt he was the victim of a deliberate, violent killing in peacetime.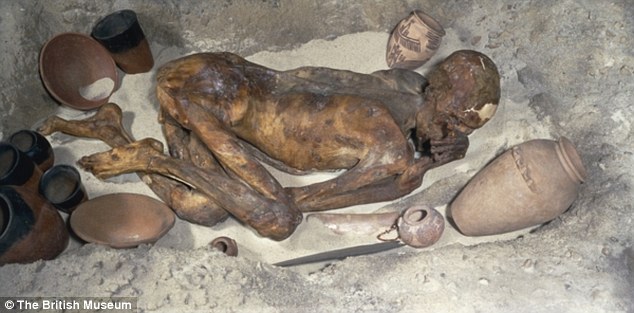 The Gebelein Man, also known as Ginger for his red hair, a 5,500-year-old mummy displayed in the British Museum. Researchers have found a wound on his back was caused by his murderer



Daniel Antoine, the museum's expert on human remains, told The Times: 'His left shoulderblade is slightly damaged.

'You can see that the rib immediately under the shoulderblade has been shattered in such a way that it has splintered into his tissue.

'This shows immense force.

'The force is such that the blade would have penetrated through his lung.'



Examinations also showed he was a young man, aged between just 18 and 20 when he was killed, and impressively muscled.

Mr Antoine said he believes a lack of defensive wounds suggest Ginger was the victim of a surprise attack.

A blade of copper or sharpened flint at least 5in long and 0.7in wide made the injury, he said.

The way that Ginger's shattered bones remained in the soft tissue surrounding them indicates the injury took place while he was alive.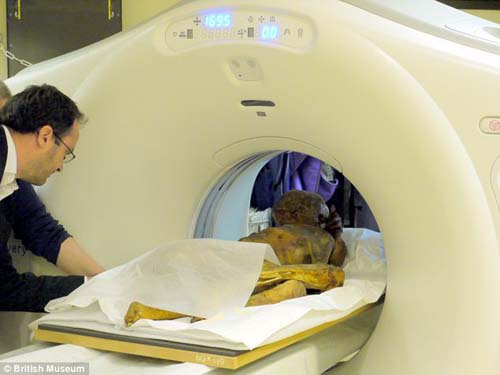 Forensic investigation: Scientists examined Ginger using a computer axial tomography (CAT) scanner, with just 30 seconds of scans giving them enough data for a detailed investigation of his insides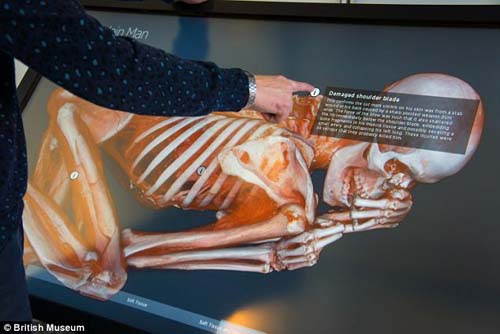 New display: From today visitors can use a touch screen to look inside Ginger's body to see if there are any other clues about his life and death



Professor Anders Persson of the Center for Medical Image Science and Visualization (CMIV), a Forensic Radiology expert, who also uses the virtual autopsy system for criminal and accident cases in Sweden, confirmed the British Museum's assessment that the force of the blow was such that it also shattered the rib immediately below the shoulder blade, embedding bone fragments into his muscle tissue, and injuring the left lung and surrounding blood vessels.

The absence of any signs of healing and the severity of the injuries suggest that this can be considered the cause of death.

The body, the London museum's most popular attraction after the Rosetta Stone, has rarely been moved since first being put on display in 1901.

[...]

For more photos and to read the full article, go to: dailymail.co.uk