Why seizing Assange could break international law
The British government could find itself hauled before an international court if it moves in on the Ecuadorian embassy where WikiLeaks founder Julian Assange has been granted political asylum.

"It's pretty simple under international law," Temple University international law professor Peter Spiro told CBC News. "Without the consent of the state whose embassy is implicated, the host state may not enter those premises."

"The U.K. has no right to enter the embassy. Even if Ecuador is violating some other obligation, that does not justify British authorities entering the premises without Ecuador's consent," Spiro said.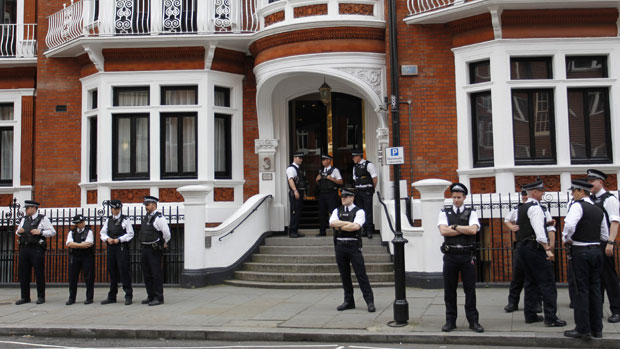 British police officers stand guard outside the Ecuadorian Embassy in central London after Ecuadorean Foreign Minister Ricardo Patino announced that he had granted political asylum to WikiLeaks founder Julian Assange


Assange, who has been holed up in Ecuador's embassy in London since June 19, is trying to avoid extradition from the UK to Sweden, where he is wanted for questioning for alleged sexual misconduct. On Thursday, Ricardo Patino, the foreign minister of Ecuador, announced the decision to grant Assange asylum.

But the story took on a new twist when Britain threatened it may invoke a 1987 law and revoke Ecuador's diplomatic protection.

International law

The rules governing the rights of foreign embassies were set out in the 1961 Vienna Convention on Diplomatic relations international treaty, of which Britain is a signator.

The treaty states that "the premises of the mission shall be inviolable" and that agents of the home country "may not enter them, except with the consent of the head of the mission."

Spiro said the strongest argument for a host country to infringe on that inviolability would be in rare circumstances where a physical threat may be emanating from the embassy — like a fire, or a sniper.

"But just having someone seeking asylum? No. Because historically there are lots of cases of folks seeking so-called diplomatic asylum in embassies and the host state just pretty much has to put up with it," Spiro said.

Even if one member of the embassy murdered another, the host country would still have no right to enter the premises, Spiro said.

D.C.- based attorney Clemens Kochinke, who operates the website Embassy Law, said there is a general misconception that the soil on which the embassy stands is foreign territory.

"That's not true. The soil on which the embassy is built belongs to the host country. The host by way of treaty and general principle of international law grants the embassy immunity."

This means if authorities of a host country decided to enter the embassy without permission, it would not be considered an act of war or invasion. Instead, it would be seen as a breach of an obligation that's owed under the treaty, Spiro said.

But in the Assange case, Britain has cited a little-known law, the Diplomatic and Consular Premises Act of 1987, which it said would allow it to arrest Assange within the embassy premises.

The law gives Britain the power to revoke the status of a diplomatic mission if the state in question "ceases to use land for the purposes of its mission or exclusively for the purposes of a consular post" — but only if such a move is "permissible under international law."

"We very much hope not to get this point," Britain wrote in a letter to Ecuadorean officials.

British legislation

The law was passed after the 1984 siege of the Libyan embassy in London, which was sparked when someone inside the building fatally shot a British police officer, Yvonne Fletcher. An 11-day standoff ended with Britain severing diplomatic relations with Libya and expelling all its diplomats.

But British legislation may be given little credence in an international court, where Ecuador could go to seek some sort of recourse.

"The downside for the U.K. if they are perceived as violating international law is that they are perceived as being an international lawbreaker and that has potential consequences in reciprocal situations," Spiro said.

"The next time the U.K. is protecting someone from a host state's jurisdiction, that country could barge right it in and say 'hey you guys did it in London, we're doing it here. It's going to be harder for the UK to invoke immunity if it has violated diplomatic immunity in a situation like this."

Article from: cbc.ca