Will Time be Replaced by Another Space Dimension?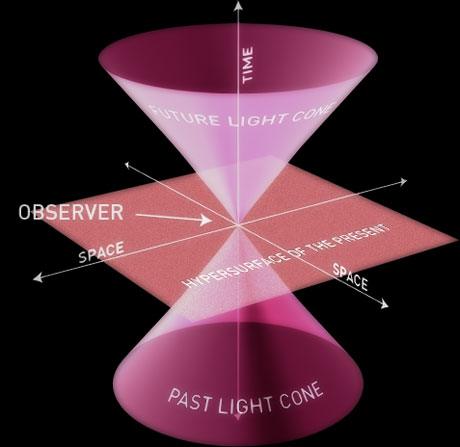 What if time disappeared? Yes, it sounds like a silly question - and if the cosmos sticks to the current laws of physics - it's a question we need never ask beyond this article. Writing this article would in itself be a waste of my time if the cosmos was that simple. But I'm hedging my bets and continuing to type, as I believe we have only just scratched the surface of the universal laws of physics; the universe is anything but simple. There may in fact be something to this crazy notion that the nature of the universe could be turned on its head should the fundamental quantity of time be transformed into another dimension of space. An idea like this falls out of the domain of classical thought, and into the realms of "braneworlds", a view that encapsulates the 4-dimensional universe we know and love with superstrings threaded straight through…

Brane theory is a strange idea. In a nutshell, a brane (short for "membrane") can be viewed as a sheet floating in a fifth dimension. As we can only experience three dimensional space along one dimension of time (four dimensional space-time, a.k.a. a Lorentzian universe), we cannot understand what this fifth dimension looks like, but we are fortunate to have mathematics to help us out. Mathematics can be used to describe as many dimensions as we like. Useful, as branes describe the cumulative effect of "strings" threading through many dimensions and the forces interacting to create the universe we observe in boring old three dimensional space. According to the "braneworld" view, our four dimensional cosmos may actually be embedded within a multidimensional universe - our cosmic version only uses four of the many possible dimensions.

Theorists contemplating braneworlds, such as Marc Mars at the University of Salamanca in Spain, now believe they have stumbled on an implication that could, quite literally, stop cosmologists in their tracks. The time dimension could soon be disappearing to be replaced by a fourth space dimension. Our familiar Lorentzian universe could turn Euclidean (i.e. four spatial dimensions, no time) and Mars believes the evidence for the change is staring us in the face.

"One of the interesting, and intriguing, properties of these signature-changing branes is that, even though the change of signature may be conceived as a dramatical event within the brane, both the bulk and the brane can be fully smooth. In particular, observers living in the brane but assuming that their Universe is Lorentzian everywhere may be misled to interpret that a curvature singularity arises precisely at the signature change" - Marc Mars, from Is the accelerated expansion evidence of a forthcoming change of signature on the brane?.
The observed expansion of the universe (as discovered by Edwin Hubble in 1925) may in fact be a symptom of a "signature changing" brane. If our brane is mutating from time-like to space-like, observers in the Lorentzian universe should observe an expanding and accelerating universe, exactly as we are observing presently. Mars goes on to detail that this theory can explain this ever increasing expansion, whilst keeping the physical characteristics of the cosmos as we observe today, without assuming any form of dark matter or dark energy is responsible.

It is doubtful that we can ever perceive a time-less cosmos, and what would happen to the universe should time go space-like is beyond our comprehension. So, enjoy your four dimensions while they last, time could soon be running out.

Article from: http://www.universetoday.com/2008/01/24
/will-time-be-replaced-by-another-space-dimension/