1.9-million year old fossil of human ancestor found in South African lab
Two years ago, scientists announced they had discovered partial skeletons from a new species of human ancestor in a South African cave.

Now, more remains have turned up — in a large rock about 3.3 feet (1 meter) in diameter hiding in plain sight in a laboratory at the University of Witwatersrand in South Africa, the university announced Thursday, July 12.

The rock was found almost three years ago, but the true value of what it contained didn't become apparent until early last month, according to the university.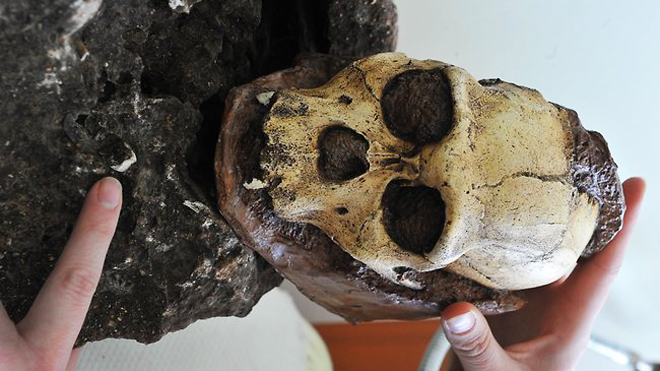 A South African scientist shows the tooth hidden in a rock excavated from an archeological site three years ago. The remains of a juvenile hominid skeleton, of the new Australopithecus (southern ape) sediba species, are the "most complete early human ancestor skeleton ever discovered." (AFP / Alexander Joe)



The rock has been scanned in CT scanner, a device typically used for medical purposes.

"We have discovered parts of a jaw and critical aspects of the body, including what appear to be a complete femur (thigh bone), ribs, vertebrae and other important limb elements," Lee Berger, a paleoanthropologist at the university, said in a statement.

Berger lead the team that discovered this species of early human ancestor in the Malapa cave north of Johannesburg and named it Australopithecus sediba,

Plans are underway to allow the public to watch, either in person or via a live Internet video feed, as the fossils come out of the rock. A laboratory studio, designed in collaboration with the National Geographic Society, is expected to be built at the Maropeng Visitor Centre in the heart of the Cradle of Humanity World Heritage Site in South Africa, according to the announcement.

[...]

Read the full article at: foxnews.com