13 Diabetics Implanted with VeriMed RFID Microchip at Boston Diabetes EXPO
Article picked up from davidicke.com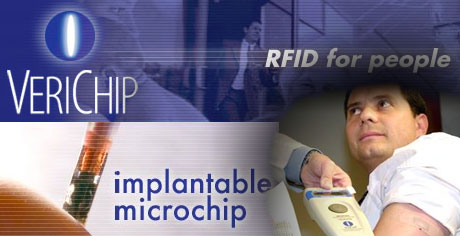 VeriChip Corporation continues to focus on diabetic patients to provide important identification and medical record information

VeriChip Corporation a provider of RFID systems for healthcare and patient-related needs, announced today it added 13 diabetic patients to its VeriMed Patient Identification System network at a Boston Diabetes EXPO sponsored by the American Diabetes Association (ADA).

At the Boston Diabetes EXPO, physicians implanted VeriMed RFID microchips in conference attendees who signed up for the voluntary
procedure. The VeriMed Patient Identification System, which utilizes an
implantable RFID microchip in combination with a handheld RFID scanner and a secure patient database, provides immediate access to important identification and health information for patients who arrive at an emergency department unable to communicate.

Scott R. Silverman, Chairman and CEO of VeriChip, commented,
"We continue to expand our presence at ADA events and focus on individuals with diabetes as we believe they, and other high-risk populations, may benefit greatly from the VeriMed Patient Identification System. Through the Atlanta and Boston Diabetes EXPOs, we have now enrolled 31 more patients in our system. Furthermore, these sign-ups by diabetic individuals underscore the importance of our planned future development efforts to commercialize a glucose-sensing implantable microchip, with our sister company Digital Angel, which was awarded a patent on this breakthrough product."
The Diabetes EXPO is a patient-driven tradeshow, including professional speakers and a variety of ADA program/event information, where exhibitors from pharmaceutical and medical device companies display beneficial products for diabetics. The Diabetes EXPO began in 1995 in Phoenix, Arizona, and has grown to 18, metro, major and mid-size cities around the U.S. The next event will be held in Chicago on April 28, 2007.

About VeriChip Corporation VeriChip Corporation, headquartered in Delray Beach, Florida, develops, markets and sells radio frequency identification, or RFID, systems used to identify, locate and protect people and assets. VeriChip's goal is to become the leading provider of RFID systems for people in the healthcare industry. VeriChip sells passive RFID systems for identification purposes and active RFID systems for local-area location and identification purposes. VeriChip recently began to market its VeriMed(TM) Patient Identification System for rapidly and accurately identifying people who arrive in an emergency room and are unable to communicate. This system uses the first human-implantable passive RFID microchip, the implantable VeriChip(TM), cleared for medical use in October 2004 by the United States Food and Drug Administration.

VeriChip Corporation is majority-owned by Applied Digital Inc., which also owns a majority position in Digital Angel Corporation. For more information on VeriChip, please call 1-800-970- 2447, or email info@verichipcorp.com. Additional information can be found online at http://www.verichipcorp.com. Statements about the Company's future expectations, including future revenues and earnings, and all other statements in this press release other than historical facts are "forward-looking statements" within the meaning of Section 27A of the Securities Act of 1933, Section 21E of the Securities Exchange Act of 1934, and as that term is defined in the Private Litigation Reform Act of 1995. Such forward-looking statements involve risks and uncertainties and are subject to change at any time, and the Company's actual results could differ materially from expected results. The Company undertakes no obligation to update forward-looking statements to reflect subsequently occurring events or circumstances. VeriChip Corporation, a provider of RFID systems for healthcare and patient-related needs, announced today it added 18 diabetic patients to its VeriMed Patient Identification System at an Atlanta Diabetes EXPO sponsored by the American Diabetes Association (ADA).

...

Article from: http://www.prnewswire.com/cgi-bin/stories.pl?
ACCT=104&STORY=/www/story/03-19-2007/0004548508&EDATE