2014 New Year Times Square Ball Ritual Features Socialist International Symbolism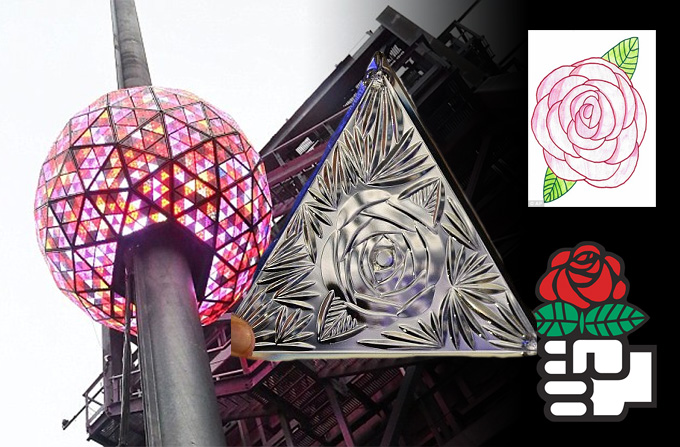 Irish firm Waterford replaces the 2,688 pyramid crystal panels on the six-ton Times Square New Year's Eve ball every year. This year, they chose an image almost identical to the logo of the Socialist International.

The "front story" that has been offered is that a former cancer patient, Coraliz Marintez, 12, designed the panel as a "rose of hope and positivity."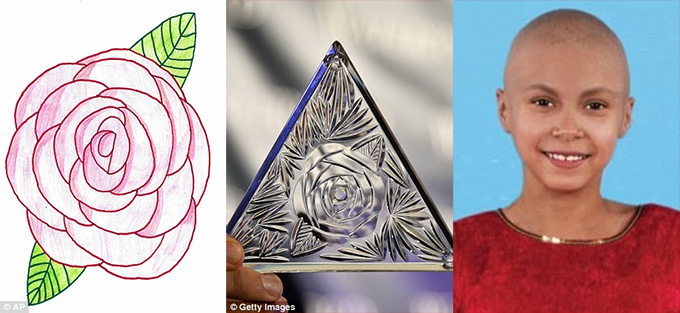 Coraliz most likely designed the rose with her best intentions at heart (if she actually did it), but considering that Waterford has THOUSANDS of submissions to choose from, we have to ask NOT why she drew it... but why they choose it? ..and how are they using it?

Not only did they put the image on the Crysal Time Ball itself, but they also feature this particular story in the Watford press release about the event and consequently this is what the media picked up on and it's this "heart warming" front story that people associate with event. There is something far more symbolically charged going here however.

A red rose with the two green leaves doesn't leave much for the imagination ...for those who understand the symbolism: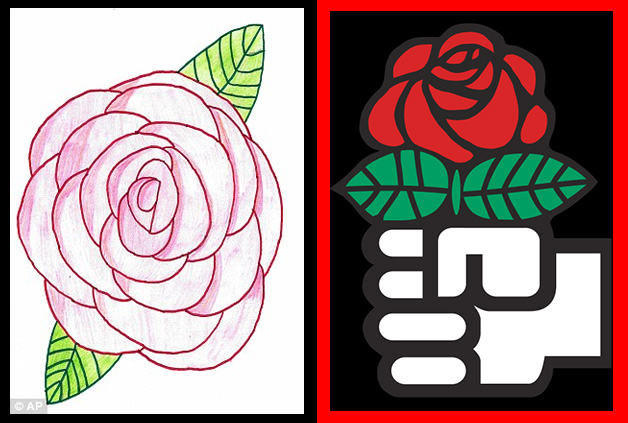 Logo of the Socialist International



The perspective of the rose is different however and this is important. You see it from above, so the hand holding the rose is hidden. This is very likely a reference to the "Hidden hand."

By the time the crystal panel is on top of time square and the time ball ritual is under way people will in effect be "under the rose" or Sub Rosa.

Sub Rosa is a The Latin phrase that means "under the rose" and is used in English to denote secrecy or confidentiality, similar to the Chatham House Rule. The rose as a symbol of secrecy has an ancient history. More: Sub rosa

The Sub Rosa meme was used in Norway, after Breivik's massacre as well. War of the roses. Rule by secrecy. The hidden hand.

So what? You might say. Well, Time Balls is an old timekeeping technique to enable sailors to check their marine chronometers, designating time and navigation. Where to go and when to go. Today it holds a bigger, more encompassing meaning. Since Time Square is in "the big apple," in the Empire State, it is from this place symbolically that the "course" for the rest of the world is set. Where the world of human affairs should go next, in other words.

It might sounds nebulous and it is just one very small component in a larger puzzle of control that those who made themselves captains of the vessel, have laid out for us. The "philosopher kings" (the elite) navigate the "the ship of state" wherever they want these days, while most people don't even understand that they are on this "vessel" at all.

Well you are, and we are sailing on the treacherous high seas of world domination.

This is what Times Square District Management Association, Inc. (those putting on the event) has to say about it:


Each year, millions of eyes from all over the world are focused on the sparkling Waterford Crystal Times Square New Year's Eve Ball. At 11:59 p.m., the Ball begins its descent as millions of voices unite to count down the final seconds of the year, and celebrate the beginning of a new year full of hopes, challenges, changes and dreams.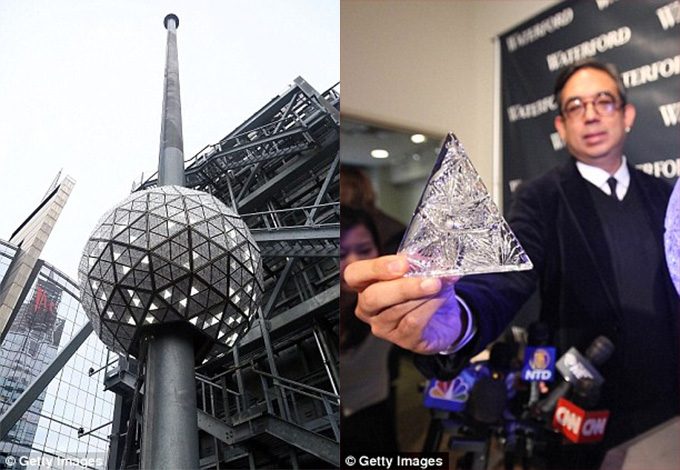 If we are to believe that rituals of this nature hold any influence over us at all, we would have to assume that it has to do with millions of people participating in the ritual and helping to strengthen the basic "message" of the Time ball, with the energy of their own hopes, desires and aspirations for the coming year.

"In what direction are we to go?"

Is this event an occult ritual designed to utilize energy from the countless masses that not only show up in person at time square, but also see this live on TV?

That is for you to decide, if you believe in such things .. or if it works at all.

Nonetheless, not to interpret the symbolic richness that these "mega-events" hold would be naive. This is not THE way we are being controlled, but it's another small little piece in a bigger picture of social engineering and subtle (occult) psychological warfare, that the human race is subjected to.

These rituals occur on a very subtle energetic and symbolic level. It is probably more about programming our subconscious then it is about controlling us like a voodoo doll. But if it aids them in their quest, why wouldn't they do it?

"Use their own celebrations against them."

It might be that they have learned how to harness the energies of the masses and use the aspirations that people have for a "better world" in their direction. Maybe the elite are superstitious and they need to use these events to help reinforce their own position while they steer the ship of state down the path towards a one world international socialist government.

Contrary to what many people believe however, an international socialist government would not be something that would be beneficial to people. In fact, as we've seen from history - all previous attempts towards this goal have lead to mass-starvation, destruction of industry and production and mass-murder.

A one world government, one that works hand in glove with the monopoly corporate powers would be the worst enemy mankind could have. Decisions would be made "sub rose" (in secrecy) and the administrative power would be the new aristocracy in a global feudal state.

For those who want to go even deeper you could look into the numbers of LEDs used, the names of them and who it fits together with the overall triangle/hexagon design:

The Ball is illuminated by 32,256 Philips Luxeon Rebel LEDs (light emitting diodes). Each LED module contains 48 Philips Luxeon Rebel LEDs - 12 red, 12 blue, 12 green, and 12 white for a total of 8,064 of each color.

You have more specs in the Time Ball Fact sheet for 2014 (pdf).

So with that, we wish you a happy new 2014, free from a tyrannical international socialist world government.

From last year: NYC Times Square Ball Carries "Hope" for 2013



Child cancer patient designs 'rose of hope and positivity' to decorate Times Square New Year's Eve crystal ball



From dailymail.co.uk



Irish crystal firm Waterford replaces the 2,688 panels on the Times Square New Year's Eve crystal ball every year This year, they chose former cancer patient Coraliz Marintez, 12, to design one of the glass panels Coraliz used colored pencils to sketch a single red rose which was cut by Waterford's master sculptor onto a panel Workers finished installing all of the panels on the six-ton ball on Friday

For most people, New Year's Eve comes and goes without much more impact than a hangover, but getting to ring in 2014 is something 12-year-old Caroliz Martinez won't take for granted.

The Alabama girl was diagnosed with bone cancer in her left leg last year, but thanks to treatment she received at St Jude's Children's Research Hospital she is now in remission.

Getting to see a New Year will no doubt be a special occasion for the rest of her life, but this year will be really special since she got to design one panel of the thousands decorating the Times Square crystal ball.

Waterford, the Irish crystal firm that replaces the 2,688 glass panels on the ball every year started a new 'Greatest Gifts' program this year which will continue for through 2023 to showcase a new globally treasured theme on the ball each year.

For this first year, Waterford partnered with St Jude's to focus on the 'Gift of Imagination' with a goal of 'brightening the spirits of children around the world who are fighting cancer'.

They chose Coraliz as the artist and she used colored pencils to sketch a single red rose as her symbol of 'hope and positivity'.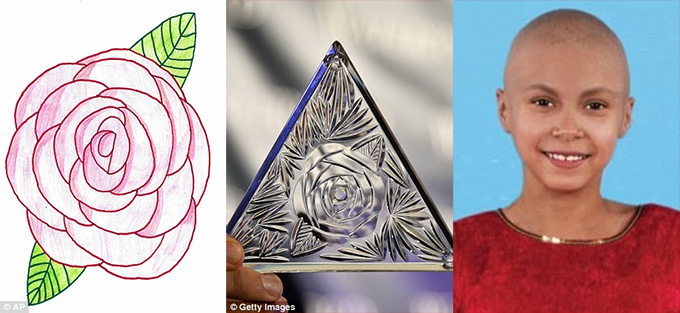 'Hope and positivity': Coraliz used colored pencils to sketch a single red rose that symbolized 'hope and positivity' to her. Waterford master sculptor Fred Curtis then traced it onto glass and cut the design with a diamond wheel, trying to get as 'close to her design as possible'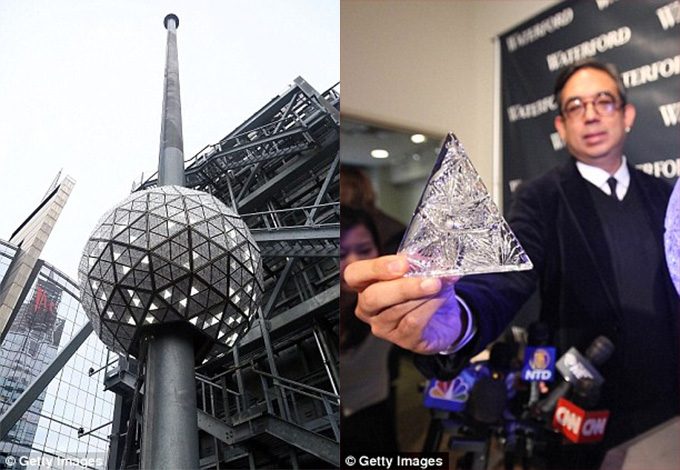 She says she wants to work at St Jude's one day so that she can help other children dealing with cancer.

Waterford's master sculptor Fred Curtis traced the design onto glass and cut it with a diamond wheel.

'I wanted to get as close to her design as possible,' Mr Curtis said.

It takes about a year for the Waterford craftsman to make the crystals and about two weeks for workers at Landmark Signs and Electric to install them on the six-ton crystal ball, which they finished last Friday.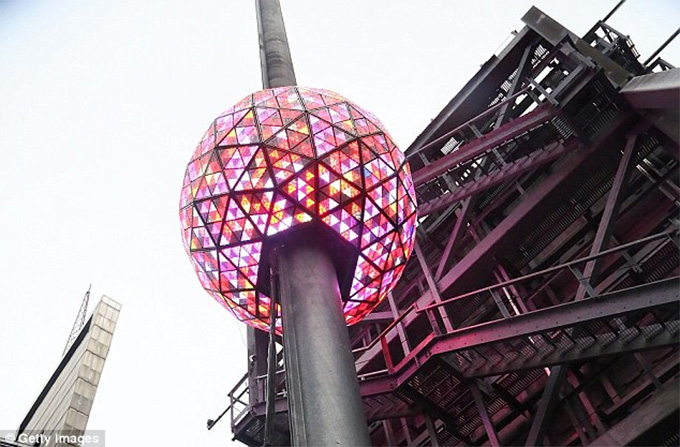 The company also maintains the electronic billboards in Times Square.
According to employee Nick Bonavita, who has worked at Landmark since 2009, they haven't dropped one panel yet.

'We have a perfect record so far,' Mr Bonavita said.

When the ball reaches the bottom of the poll at midnight in New York, it will flash 16 million colors, being lit from inside by 32,256 diodes.

Source: dailymail.co.uk

Press release:

2014 Waterford Times Square New Year's Eve Ball to include one crystal piece specially designed by St. Jude Children's Research Hospital patient

This year, Waterford and Times Square New Year's Eve invite revelers to share in the "Gift of Imagination," the first gift in the new, 10-year "Greatest Gifts" series that will decorate the Waterford Times Square New Year's Eve Ball for the next decade. Each annual edition of the series will depict a theme of global aspiration whose value is universally treasured. In the spirit of this year's gift, Waterford has teamed up with St. Jude Children's Research Hospital® to have a patient help design one special imagination crystal that will be installed on this year's Waterford Ball.

"Imagination is a celebration of curiosity and whimsy and has resulted in some of history's most significant innovations in science, literature and the arts. It can be found in its most pure and authentic form in the minds of children, which makes them the perfect designers for a unique Waterford Crystal triangle," said Waterford Vice President of Global Marketing, Regan Iglesia.

"We are truly grateful to Waterford for their partnership in allowing us to participate in this exciting undertaking," said Richard Shadyac Jr., CEO of ALSAC/St. Jude Children's Research Hospital. "By giving 12-year-old St. Jude patient Coraliz the opportunity to help design this year's imagination crystal, Waterford not only is giving a precious child a chance to live out a dream, they are brightening the spirits of children around the world who are fighting cancer."

The 2,688 crystal panels that decorate the Waterford Ball were designed and crafted by the world-renowned artisans at the Waterford factory in Ireland and feature a series of intricate wedge cuts that appear to be endless mirror reflections of each other, a signature of the brand. The "Greatest Gifts" concept was the last New Year's Eve series created under the leadership of the late Waterford Global Design Director and 50-year Waterford veteran Jim O'Leary, who passed earlier this year.

For nearly 15 years, dazzling Waterford crystal triangles have adorned the Times Square New Year's Eve Ball. Each year, Waterford designers introduce a new signature cut crystal pattern to become part of the current series of crystal sentiments. Premiering in 2014 and continuing through 2023, the "Greatest Gifts" collection marks the longest series to-date. The previous series, "World of Celebration," spanned from "Let There Be Light" in 2008 to "Let There Be Peace" in 2012.

The new Waterford Ball design is accompanied by the 2014 Waterford Times Square Holiday Collection, which mimics the new "kaleidoscope" cutting pattern in a crystal ball ornament, disk ornament, flute pairs (clear and red cased) coupe pair, vase (clear and red cased) and bowl, blown glass masterpiece and replica balls, and snow globe.