5 Amazing Properties of Sunlight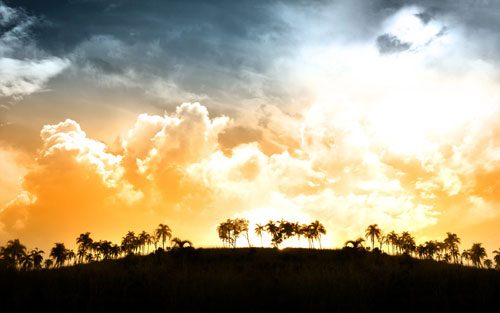 Sunlight is well-known to provide us vitamin D, but did you know that it kills pain, keeps us alert at night, burns fat and more...

Our biological connection and dependence to the sun is so profound, that the very variation in human skin color from African, melanin-saturated dark skin, to the relatively melanin de-pigmented, Caucasian lighter-skin, is a byproduct of the offspring of our last common ancestor from Africa (as determined by mitochondrial DNA) migrating towards sunlight-impoverished higher latitudes, which began approximately 60,000 years ago. In order to compensate for the lower availability of sunlight, the body rapidly adjusted, essentially requiring the removal of the natural "sunscreen" melanin from the skin, which interferes with vitamin D production; vitamin D, of course, is involved in the regulation of over 2,000 genes, and therefore is more like a hormone, without which our entire genetic infrastructure becomes destabilized.

While the health benefits of vitamin D are well-documented (GreenMedInfo.com has identified over 200 health conditions that may benefit from optimizing vitamin D levels: Vitamin D Health Benefits page, and Henry Lahore's Vitamin D Wiki has far more), the therapeutic properties of sunlight are only now being explored in greater depth by the research community.

Below are detailed five noteworthy properties of sunlight exposure:

1) Sunlight Has Pain-Killing (Analgesic) Properties: A 2005 study published in the journal Psychosomatic Medicine titled, "The effect of sunlight on postoperative analgesic medication use: a prospective study of patients undergoing spinal surgery," analyzed patients staying on the bright side of the hospital unit who were exposed to 46% higher-intensity sunlight on average. The patients exposed to an increased intensity of sunlight experienced less perceived stress, marginally less, took 22% less analgesic medication per hour, and had 21% less pain medication costs. [i]

2) Sunlight Burns Fat: A 2011 study published in The Journal of Investigative Dermatology revealed a remarkable fact of metabolism: The exposure of human skin to UV light results in increased subcutaneous fat metabolism. While subcutaneous fat, unlike visceral fat, is not considered a risk factor for cardiovascular disease, it is known that a deficiency of one of sunlight's best known beneficial byproducts, vitamin D, is associated with greater visceral fat.[ii] Also, there is a solid body of research showing that vitamin D deficiency is linked to obesity, with 9 such studies on our obesity research page.

One of them, titled "Association of plasma vitamin D levels with adiposity in Hispanic and African Americans," and which was published in the journal Anticancer Research in 2005, found that vitamin D levels were inversely associated with adiposity in Hispanics and African-Americans, including abdominal obesity.[iii] The point? Exposure to UVB radiation, which is most abundant two hours on either side of solar noon and responsible for producing vitamin D, may be an essential strategy in burning fat, the natural way.

3) Sunlight via Solar Cycles May Directly Regulate Human Lifespan: Published in 2010 in the journal Medical Hypotheses and titled, "The effect of solar cycles on human lifespan in the 50 United states: variation in light affects the human genome," researchers review the possibility that solar cycles directly affect the human genome. According to the researchers:


In the current study we report that those persons conceived and likely born during the peaks (MAX approximately 3 years) of approximately 11-year solar cycles lived an average 1.7 years less than those conceived and likely born during non-peaks (MIN approximately 8 years). Increased energy at solar MAX, albeit relatively a small 0.1% increase from MIN, apparently modifies the human genome/epigenome and engenders changes that predispose to various diseases, thereby shortening lifespan. It is likely that same energy increases beneficial variety in the genome which may enhance adaptability in a changing environment.


Sunlight exposure, therefore, may directly affect the length of our life, and may even accelerate genetic changes that may confer a survival advantage.[iv]

[...]

Read the full article at: activistpost.com