Arnon Milchan - Mossad's Hollywood Man in the Middle
If one considers the known evidence of Israeli prior knowledge of 9/11, the Odigo text messages and the five arrested Mossad agents, for example, as indicative of Israeli state involvement in the crime, the identity of the hidden power behind the cover-up is rather obvious. The "hidden hand" suppressing the information about 9/11 would have to be a high-level person in the Israeli political-military intelligence establishment who has very close relations with media kingpins like Murdoch, Levin, and Eisner. Arnon Milchan (a.k.a. Milchen) is such a person.

While millions of Americans have watched his films, such as Pretty Woman and JFK, very few know that Arnon Milchan is a "best friend" of Shimon Peres (born Szymon Perski in Wiszniewo, Poland) the Israeli president and godfather of Israel's nuclear arsenal.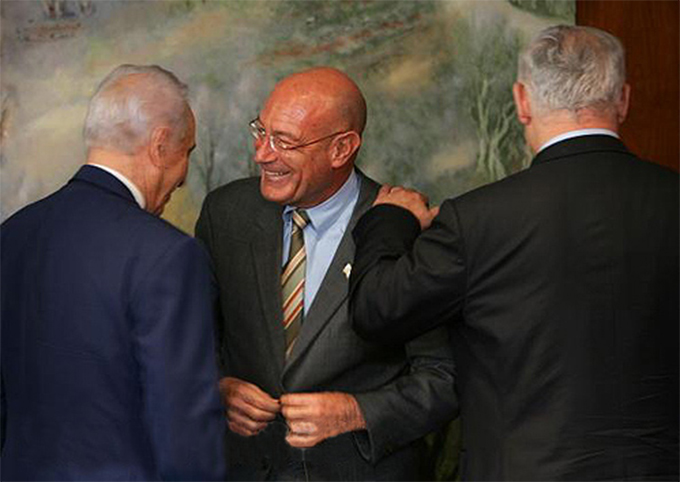 iThe Israeli movie producer Arnon Milchan (between Peres and Netanyahu) is a close friend of Israel's president Shimon Peres ("his first letter he wrote as president went to me"), Defense Minister Ehud Barak, and Likud Party leader Binyamin ("Bibi") Netanyahu. Milchan, who began his career with the fertilizer/chemical company Milchan Brothers, reportedly owns 30 companies in 17 countries involved in plastics, electronics, communications, and pharmaceuticals.



Milchan's 40-year friendship with Peres, the man who oversaw the illegal development of Israel's nuclear weapon program, is key to understanding Milchan's career as an undercover operative, weapons procurer, and film producer. The fact that Milchan, the Hollywood producer, has been Israel's "foremost weapons procurer" for decades, brokering deals for "everything from nuclear triggers to rocket fuel to guidance systems," is seldom mentioned in the U.S. news media.

This is probably due to the fact that Milchan is also a "best friend" and business partner of Rupert Murdoch. He is also a friend and business partner with Levin (Warner Brothers) and Eisner. "I consider him one of my best friends," Milchan said about Murdoch, "and I think vice versa. We're having a ball. He's a very cool guy."

"Kingpins like Warner Brothers' Gerald Levin and Disney's Michael Eisner are quick to return his calls," the American Jewish journalist Ann Louise Bardach wrote about Milchan in her article "The Last Tycoon" in April 2000.

In 1997, after a six-year relationship with Warner Brothers, Milchan became a partner with Murdoch, selling him twenty percent of his film company, New Regency Productions, for $200 million. Murdoch also invested another $30 million in Regency Television. Today, Murdoch's equity partnership with Milchan is close to fifty percent. "Milchan's deal with Fox also assures him a level of financial security," Bardach wrote. "With Murdoch's $200 million investment and a subsequent $600 million line of credit from a team of banks led by Chase Manhattan, Milchan is well into mogul territory. "Milchan's tony offices occupy most of Building 12, right next door to the Executive Building on the Fox lot," Bardach wrote. "And it is from this seat of power that Milchan is building an entertainment empire that could one day rival Murdoch's."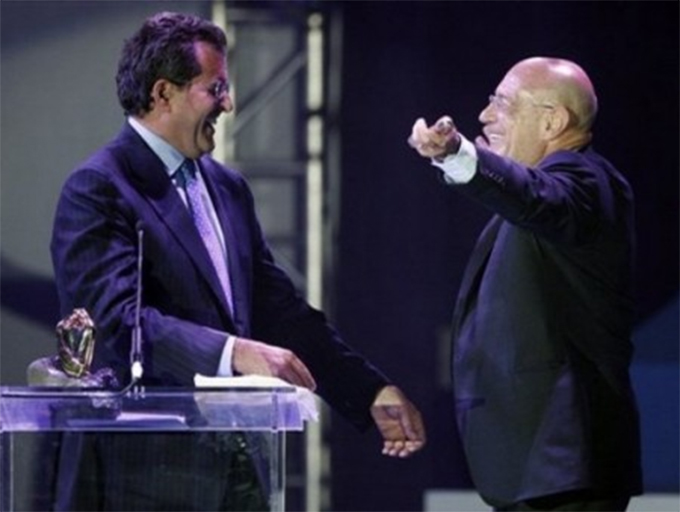 Peter Chernin, president and chief operating officer of Rupert Murdoch's News Corporation, left, presents Arnon Milchan with a lifetime achievement award at an event celebrating the 60th Anniversary of the state of Israel in Los Angeles on September 18, 2008. Chernin, Murdoch, and Milchan have worked together for many years.



The Milchan Influence

The Israeli influence in films and news media has profoundly affected the quality of news reporting and entertainment. Israeli attitudes and ideas are now disseminated through national media outlets which reach the entire U.S. population on a daily basis. Israeli-made films often reveal hints or clues about actual crimes or criminal plots the Israeli producers are aware of.

One such project, The Lone Gunmen, produced by Milchan's "best friend" Rupert Murdoch, bore an uncanny resemblance to the 9/11 attacks on the World Trade Center. Was this Milchan's influence? The Milchan-Murdoch partnership in television production may be key to understanding the genesis of the plot of the pilot episode of this short-lived television series. In the first episode a passenger airliner is hijacked by remote control and flown toward the World Trade Center. Disaster is narrowly averted at the very last second by over-riding the computer program that has hijacked the plane.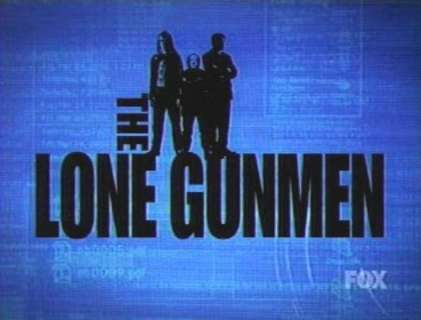 The Lone Gunmen, produced by Rupert Murdoch in 2000, revealed an extremely uncanny prescience of 9/11. During the year it was made, Milchan produced two television series in collaboration with Fox Television: Roswell, which aired on Warner Brothers network, and Malcolm in the Middle, which was aired on Fox. The Lone Gunmen pilot episode aired on FOX Television in March 2001.



Given the long, close, and extensive collaboration between Murdoch and Milchan, it seems fair to ask: Was Arnon Milchan the source of the plotline for The Lone Gunmen? Why were the people involved in the production of this episode not investigated by the media? Why did the media ignore its own uncanny prescience, The Lone Gunmen episode, which mirrored reality precisely six months later? Was the similarity between the Murdoch-produced show and reality too close for comfort? Was it too uncomfortable to discuss the origin of the idea for the show? Apparently so.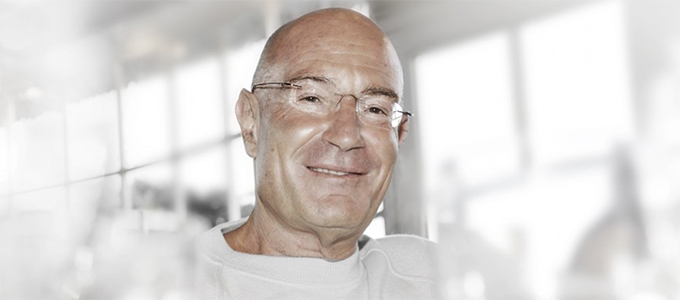 Was the Israeli chemical magnate Arnon Milchan the author of the plotline for The Lone Gunmen pilot episode in which a passenger airplane was remotely hijacked and flown into the World Trade Center?



In Milchan's highly-controversial film JFK (1991), directed by Oliver Stone, the assassination of President John F. Kennedy is ascribed to conspirators within the U.S. military-industrial complex. Whose idea was this? Why is Arnon Milchan's own connection with Itzhak Rabin, who was in Dallas on the day Kennedy was shot, not an issue here?

In his futuristic film Brazil (1985), directed by Terry Gilliam, terrorist explosions go off in cafes for no apparent reason, very much like the seemingly senseless terrorism that plagues occupied Iraq. Is this also Milchan's influence?

"Anyone closely associated with Peres pretty well must be satanic," Barry Chamish, a Canadian-Israeli wrote, "but Milchan produced a film that shows he has insider information." Chamish advises his readers to watch The Devil's Advocate with Al Pacino to "understand the implication."

"Milchan runs his company like a family business. Heading up New Regency Productions for him is his childhood friend David Matalon, whose parents were best friends with Milchan's," Bardach wrote. "Daughter Alexandra [Milchan-Lambert] is vice president of production in Los Angeles." Matalon has served as president and CEO of New Regency Productions since 1995.

In 1986, Matalon, an Israeli co-founder of Tri-Star pictures, released a film entitled Iron Eagle, in which the aerial combat scenes were filmed entirely with the Israeli Air Force. The plot of this film is about how a few teenagers are able to steal U.S. military codes, aircraft, and information from under the noses of the military brass and run an entire military operation in which they bomb Libya without the knowledge of the military command. This film gives some indication of the kind of projects and ideas the Israeli military has collaborated on with their fellow Israelis in Hollywood.

The Secretive Mogul

"Averse to publicity and little known outside Hollywood" is how Arnon Milchan's biography begins. "My idea of a good profile is no profile," Milchan told Bardach. Murdoch, Levin, and Eisner have obviously respected the Israeli's wish, but why would a Hollywood mogul not want to be known? "Arnon Milchan has kept his secrets to himself," Bardach wrote.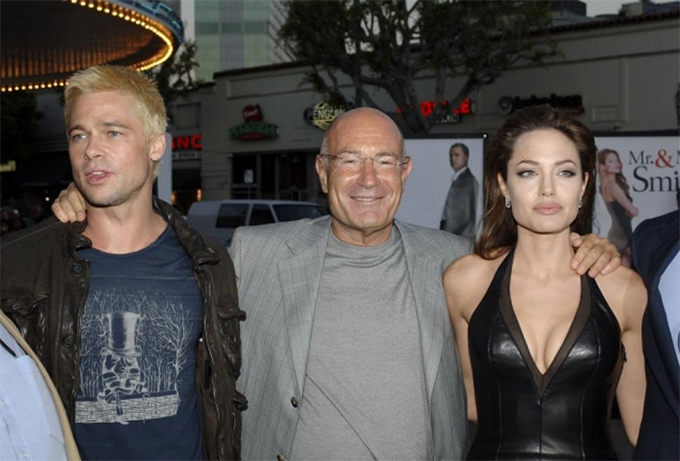 Arnon Milchan with Brad Pitt and Angelina Jolie



Indeed, very little is known about Milchan, Israel's super weapons agent, except that he spends more time in Tel Aviv and France than he does in his office on the 20th Century Fox lot in Los Angeles, according to Bardach. Now, why would a Hollywood movie producer spend more time in Tel Aviv, where no movies are being made, than in Hollywood?

[...]

Read the rest: bollyn.com