Boston Marathon bomber manhunt: One suspect dead, second on the run
---

RIC Ed Note: At this point the narrative is all over the place - it will probably be a week before they've decided what the 'official story' is. For now, it's more than strange that these Chechen suspects, presumably wanting to lay low, would strongly communicate their presence by remaining in the area, robbing a convenience store, shooting a MIT campus officer, and hijacking a car.

In the meantime, questions are left unanswered by officials about the reported third exploded device, the alleged drills that day, the unresolved issue with the 'fire' or 'explosion' in the JFK Library, the indisputable presence of hired military contractors (such as The Craft). If both suspects are killed during apprehension, we may not come anywhere near to answering these questions, nor even motives for the bombings.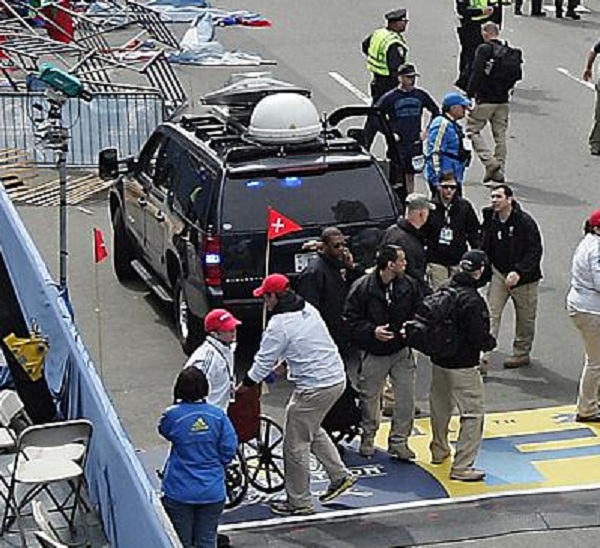 ---


[Updated at 7:10 a.m. ET]

BOSTON—A late-night police chase and shootout has ended with one marathon bombing suspect dead and another on the run, police here said, leaving a still-grieving city on edge. One police officer was killed and another was seriously wounded during the violent spree.

At sunrise, Gov. Deval Patrick ordered a shutdown of all public transit and residents on the edges of Boston to stay indoors as a massive manhunt for the second suspect was underway.

"This is situation is grave and we are trying to protect the public safety," said Massachusetts State Police Col. Timothy Alben, who ordered a lockdown of Watertown, Waltham, Belmont, Cambridge, Newton, Allston and Brighton.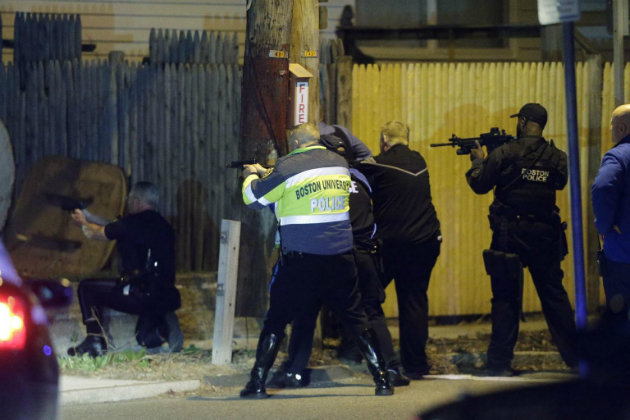 Federal agents swarmed Watertown after local police were involved in a car chase and shootout with the men identified Thursday by the FBI as Suspect 1 and Suspect 2. During the pursuit, officers could be heard on police radio traffic describing the men as having handguns, grenades and other explosives.

The Associated Press identified the surviving Boston bomb suspect as Dzhokhar A. Tsarnaev, 19, of Cambridge, Mass., and said that the suspects were brothers. The second bombing suspect is Tamerlan Tzarnaev, 26, according to NBC News, who said he was found with an IED on his body. The brothers are of Chechen origin, according to NBC, a volatile part of Russia's North Caucasus. Photographer Johannes Hirn took this photo essay of the older brother, a boxer. The captions suggest Tzarnaev came to America with his family as refugees after fleeing Chechnya for Kazakhstan.

The mayhem began at approximately 10:20 p.m. Thursday when police said the bombing suspects robbed a 7-Eleven store in Cambridge. Minutes later, police said, the men shot and killed an MIT campus officer responding to the robbery call. The terror suspects then carjacked a Mercedes-Benz with the driver inside and fled, eventually letting driver go. They were then spotted in Watertown where they exchanged dozens of rounds of gunfire with patrol officers.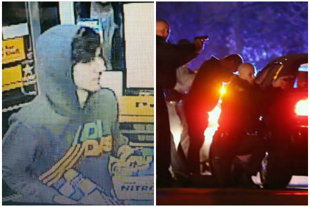 "Suspect 2" seen in 7-Eleven surveillance footage; police in Watertown


Tamerlan Tzarnaev was shot by police and brought to Beth Israel Medical Center. He arrived at the hospital under cardiac arrest with multiple gunshot wounds and blast-like injuries to his chest. The second suspect fled on foot, leading to the tense manhunt that is still underway at this hour.

"We believe this to be a terrorist," said Boston police Commissioner Ed Davis. "We believe this to be a man who has come here to kill people. We need to get him into custody."

A transit officer, Richard H. Donohue Jr., was seriously wounded during the exchange of gunfire, officials said.

The FBI has yet to publicly confirm a connection between the events in Watertown and the twin explosions that killed 3 people and injured 170 others at the Boston Marathon on Monday. But according to Boston police, the suspect who remained at large was the "one in the white hat" seen in the photos released by the bureau on Thursday.

In a radio alert sent issued to fellow officers, the suspect was described as a "white male with dark complexion ... with thick curly hair wearing a charcoal gray hooded sweatshirt ... possibly with an assault rifle and explosives." Police in Watertown, Newton, Brighton and Cambridge were put on high alert. "Units use caution," an officer said. "He might have an explosive object on his person."

Worried residents in Watertown, a suburb about 8 miles from downtown Boston, were ordered to stay indoors and turn off their cell phones out of fear that they could trigger improvised explosive devices.

[...]

Read the full article at: news.yahoo.com