Bug-Eared: Human and Insect Ears Share Similar Structures
In a noteworthy example of convergent evolution, Katydid ears have evolved components resembling those of humans, albeit on a much smaller scale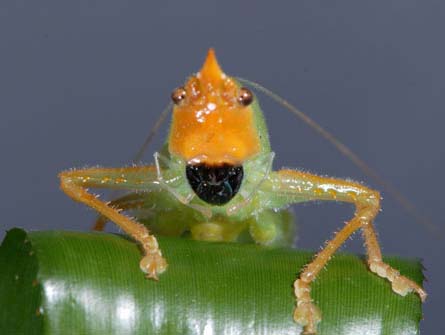 A rainforest katydid has ears that evolved to be remarkably like those of humans and other mammals. The insect's hearing organ, although tucked in the crook of its front legs, has components that echo the structures of our own middle and inner ear, researchers have discovered.

In humans the outer portion of the ear gathers sound waves and funnels them toward the thin membrane of the eardrum, also called the tympanic membrane. The eardrum's vibrations translate the pressure waves of sound to the three smallest bones in our body—the hammer, anvil and stirrup bones—which shake against a snail shell-shaped organ called the cochlea, whose curves are lined with sensory-cell hairs. The wiggling bones outside jiggle liquid inside the organ and trigger those cells, which send signals to the brain via the auditory nerve. Hair cells that respond to high frequencies are closest to the origin of wave propagation and cells that respond to low frequencies are located deeper within the cochlea.

Copiphora gorgonensis is a yellow-orange–faced katydid from Gorgona Island in Colombia. The insect's hearing organ comprises a tympanic membrane that connects to a thin cuticle plate. Sound waves rock the tympanum and thus the cuticle plate like a seesaw. But the seesaw is lopsided, with the fulcrum closer to one end. This setup translates larger movements from air pressure waves to smaller, more powerful motions in the cuticle plate. The plate creates ripples in a fluid-filled chamber akin to an unfurled cochlea. Inside this chamber sensory cells are arranged like a keyboard from high- to low-frequency sensitivity.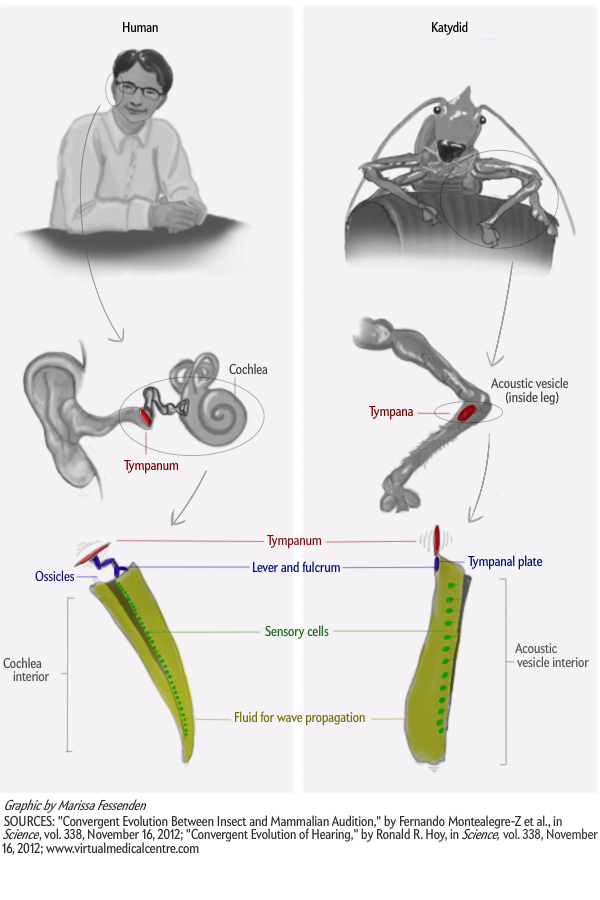 The cuticle plate plays the same role as the tiny hammer, anvil and stirrup of mammalian ears, but in miniature. The katydid's entire ear spans just 600 microns, a U.K.-based research team reports in the November 16 issue of Science. (A micron is one millionth of a meter.)

[...]

Read the full article at: scientificamerican.com