Chris Dorner's Wallet Found – Twice!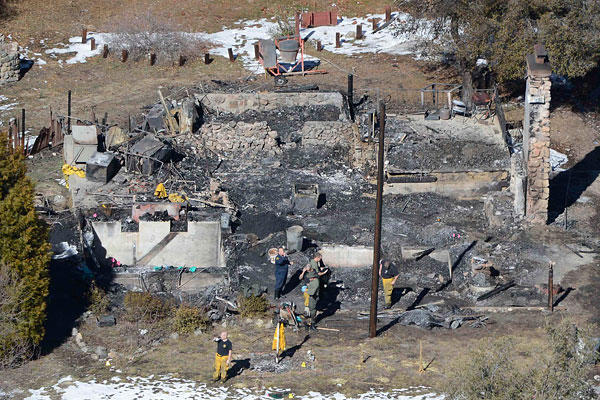 Chris Dorner's wallet has been found now....twice. First we learn from USA Today that Chris Dorner's wallet has miraculously been found within the charred remains of the cabin that he had been hiding out in and presumably died in. However, Chris Dorner's wallet was also found last Thursday, according to this story in the LA Times. This guy Dorner has the worst luck with losing his wallets! I'm sure the LAPD is thankful. First, from USAToday:
Investigators were picking through the rubble of a burned-out cabin in California's San Bernardino Mountains on Wednesday, trying to piece together details of the violent last stand for a fugitive former Los Angeles police officer whose life apparently ended hours earlier in a barrage of bullets and blazing fire.
The San Bernardino County Sheriff's Office said charred human remains were found in the rubble where Christopher Dorner is said to have been cornered Tuesday. "We have reason to believe that it is him," sheriff's spokeswoman Cynthia Bachman said.
A wallet with a California driver's license bearing the name Christopher Dorner also was found, the Associated Press reported, citing a law enforcement official who was briefed on the investigation but declined to be named because of the ongoing probe.

So, they've found Chris Dorner's wallet in the burned out cabin where they pinned him down. Fortunately for them, the wallet survived the fire somehow. This event is quite similar to the passport found in the charred rubble of the World Trade Center after 9/11:
"According to ABC News and the Associated Press, the passport of hijacker Satam Al Suqami was found a few blocks from the WTC."

Strangely enough, Christopher Dorner's wallet was also found last Thursday as well, after Chris allegedly tried to steal a boat in San Diego. From the LA Times story.:


Dorner allegedly attempted to steal a boat in San Diego and, after subduing the captain, said he was taking the vessel to Mexico, according to an affidavit filed with a criminal complaint in federal court in Los Angeles. Dorner is accused of telling the captain that he could recover his boat in Mexico.
"The attempt failed when the bow line of the boat became caught in the boat's propeller, and the suspect fled," according to the affidavit by inspector U.S. Marshal Craig McClusky.
After authorities interviewed the boat captain early Thursday, they found Dorner's wallet and identification cards "at the San Ysidro Point of Entry" near the U.S.-Mexico border. That same day, a guard at the Point Loma Naval Base told authorities he had spotted a man matching Dorner's description trying sneak onto the base, according to the court records.

Who and what are we to believe? The CIA's Anderson Cooper tells us Chris is dead. We've heard that his wallet was found in the fire from USA Today. He MUST have been inside the cabin when it burned to the ground if his wallet was inside, right? It's quite amazing to me that Chris's wallet survived the fire. Almost as amazing as them finding his wallet, twice.



Article from: beforeitsnews.com