Director Tony Scott jumps to death from bridge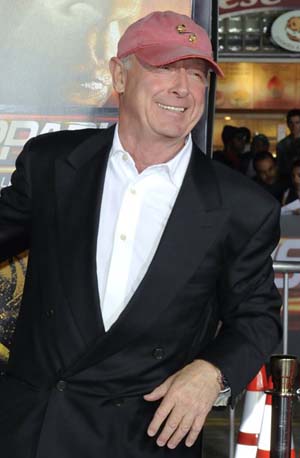 Tony Scott, respected film director and brother to "Alien" producer Ridley Scott, died Sunday after reportedly jumping from a bridge in Los Angeles county. He was 68.

The police are investigating Scott's death, which is so far being treated as a suicide.

British-born Tony Scott [left] was known for his popular films such as "Top Gun", and "Days of Thunder", both starring Tom Cruise. He also directed the action conspiracy thriller "Enemy of the State" with Will Smith, and "Spy Game" starring Brad Pitt and Robert Redford.
Most recently Tony and his brother worked together on "Prometheus", prequel to Ridely's 1979 science fiction horror film "Alien".

Tony and Ridley "ran Scott Free Productions and were working jointly on a film called "Killing Lincoln," based on the bestseller by Bill O'Reilly. Along with countless commercials, their company produced the CBS dramas "NUMB3RS" and "The Good Wife" as well as a 2011 documentary about the Battle of Gettysburg for the History Channel."

In NUMB3RS, a mathematician working with the FBI uses equations to help solve various crimes. Numerology and math ciphers in action:



On Scott's movie directing, Associated Press quotes:


"The biggest edge I live on is directing. That's the most scary, dangerous thing you can do in your life," Scott said in an interview for his 1995 naval adventure "Crimson Tide." ''The scariest thing in my life is the first morning of production on all my movies. It's the fear of failing, the loss of face and a sense of guilt that everybody puts their faith in you and not coming through."

Tony was the first of the Scott brothers to enjoy blockbuster success with "Top Gun," starring Tom Cruise, the top-grossing film of 1986 at $176 million. Scott teamed with Cruise again four years later on the hit "Days of Thunder." He also had a sequel to "Top Gun" in development.

But Ridley Scott later managed more and bigger hits than his brother and earned a level of critical respect never achieved by Tony Scott. "Gladiator" won the best-picture Academy Award for 2000 and earned Ridley Scott one of his three best-director nominations; Tony Scott never was in the running for an Oscar, and critics often slammed his movies for emphasizing style over substance.



Scott apparently jumped from the "Vincent Thomas Bridge spanning San Pedro and Terminal Island in Los Angeles Harbor," and a team of divers recovered his body several hours after witnesses called police.

Contact information was said to have been found on Scott, the BBC reports:


Lt Joe Bale, from the coroner's office, said the director was seen parking his car and jumping into the water at about 12:30 (19:30 GMT) on Sunday.
His body was recovered from the harbour less than three hours later. A note was found in his car and another in his office, but it is not clear what they contained.

"We will go where the facts take us. We have no reason to believe it was not a suicide," Lt Bale told the BBC.
He said a post-mortem had not yet been performed.


Certainly questions will be raised as yet another untimely death strikes Hollywood.

Further reading:

Tupac Shakur, Jewish Defense League extortion, and 'Hollywood Star Whackers'

Randy Quaid: "Star Whackers in Hollywood"

Randy Quaid and wife fear Hollywood "Star Whackers", seek asylum in Canada

Film Producer Dino De Laurentiis Dead

The Stanley Kubrick files

Hollywood's pedophilia and debauchery problems still ongoing

Case Closed? Police: Lone gunman responsible for Hollywood Publicist slaying

By Elizabeth Leafloor, RedIceCreations.com





---
Source articles:
Yahoo.com
BBC News
TheStar.com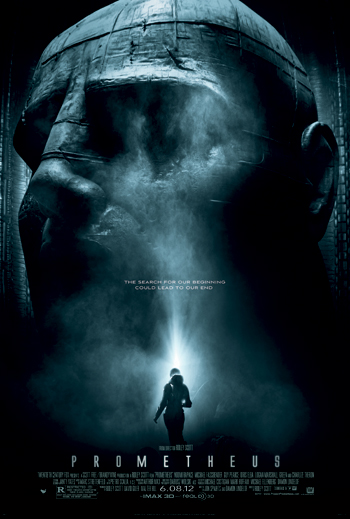 Theatrical release poster for Prometheus.
---
Tune into Red Ice Radio to hear more about Ridley Scott, Hollywood Star Whackers, Stanley Kubric, movie industry conspiracy, and more:
Mary Sean Young - Hour 1 - Blade Runner, Dune & Awakening to the Conspiracy
Jay Weidner - Hour 1 - Kubrick's Odyssey: How Stanley Faked the Moon Landings
Jay Weidner - Kubrick's Odyssey & The Brotherhood of Saturn
Kent Daniel Bentkowski - Eyes Wide Shut
Troy McLachlan - Hour 1 & 2 - The Saturn Death Cult: The Polar Configuration
Troy McLachlan - Hour 1 - The Crimes of The Saturn Death Cult
Bryce Zabel - Hour 1 - Dark Skies
Loren Coleman - Hour 1 - The Copy Cat Effect & The Aurora Shooting