'Doomsday shelters' being built below Kansas prairie where millionaires will be able to sit out the Apocalypse in style
When you buy a house, you end up feeling like you will be paying it off until the world ends.

Well, how about one of these luxurious condos, which come with all the mod-cons, as well as a pool, a movie theater and a library - oh, and a guarantee that it will survive Doomsday if and when that fateful day comes.

For these luxury flats, deep below the Kansas prairie in the shaft of an abandoned missile silo, are meant to withstand everything from economic collapse and solar flares to terrorist attacks and pandemics.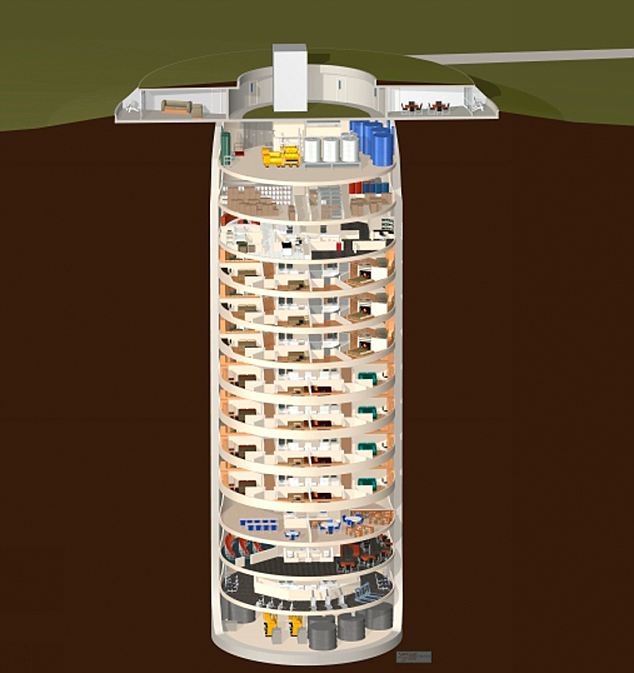 Safe from solar flares to economic collapse: And yours for a cool $7million.



Naturally, there will be no one around to phone if the guarantee fails - but at that point, the insurance will probably be the least of your worries.

So far, four buyers have thrown down a total of about $7million (£4.4m) for havens to flee to when disaster happens or the end is nigh. And developer Larry Hall has options to retro-fit three more Cold War-era silos when this one fills up.

Hall said: 'They worry about events ranging from solar flares, to economic collapse, to pandemics to terrorism to food shortages.'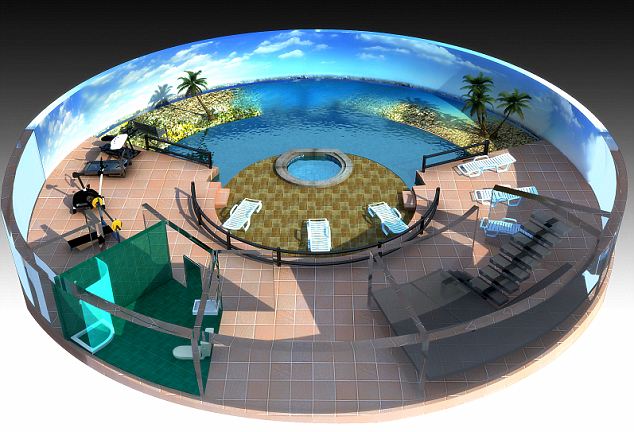 So far four buyers have thrown down a total of about $7million (£4.4m) for a haven under the prairie.



These 'doomsday preppers', as they are called, want a safe place and he will be there with them because Hall, 55, bought one of the condos for himself. He says his fear is that sun flares could wipe out the power grid and cause chaos.

He and his wife and son live in Denver and will use their condo mostly as a vacation home, he says, but if the grid goes, they will be ready.

Hall isn't the first person to buy an abandoned nuclear missile silo and transform at least part of it into a shelter.

Built to withstand an atomic blast, even the most paranoid can find comfort inside concrete walls that are nine feet thick and stretch 174 feet (53 meters) underground.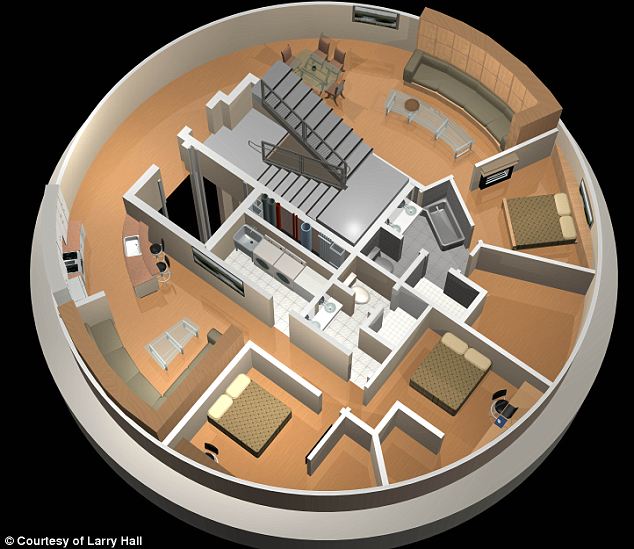 Instead of simply setting up shop in the old living quarters provided for missile operators, Hall is building condos right up the missile shaft.

Seven of the 14 underground floors will be condo space selling for $2 million a floor or $1 million a half floor. Three and a half units have been sold, two contracts are pending and only two more full units are available, Hall said.

For now, metal stairs stretch down to connect each floor but an elevator will later replace them. The units are within a steel and concrete core inside the original thick concrete, which makes them better able to withstand earthquakes.

[...]

More images

Interested buyers have included an NFL player, a racing car driver, a movie producer and famous politicians, he said, but he now requires all the money up front.

Four people who put down $250,000 deposits could not come up with the rest and he returned the deposits, but the economy is getting better and global warming, strange weather and disasters are stoking fears.

The recent earthquakes in Mexico prompted several calls from potential buyers, he said, predicting more bad things will happen and more silos will be waiting.

About 70 Atlas-F silos were built and he has options on three more of them, he said.

'One is an entire silo for one individual, but I won't know that until his check clears the bank,' Hall said.

[...]

Read the full article at: dailymail.co.uk