EmTech: Get Ready for a New Human Species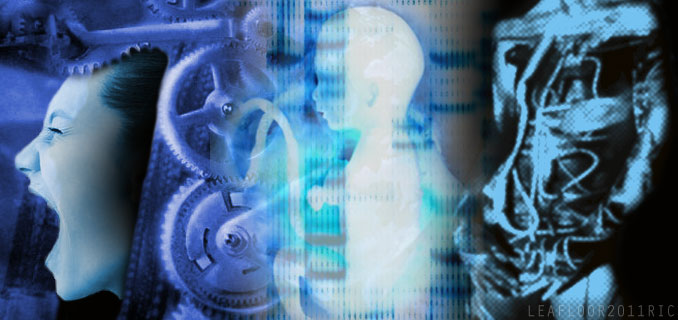 Now that we can rewrite the code of life, Darwinian evolution can't stop us, says investor Juan Enriquez.

The ability to engineer life is going to spark a revolution that will dwarf the industrial and digital revolutions, says Juan Enriquez, a writer, investor, and managing director of Excel Venture Management. Thanks to new genomics technologies, scientists have not only been able to read organisms' genomes faster than ever before, they can also write increasingly complex changes into those genomes, creating organisms with new capabilities.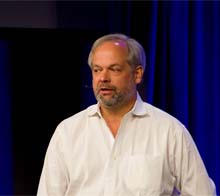 Enriquez, [left] who spoke at Technology Review's EmTech conference on Tuesday, says our newfound ability to write the code of life will profoundly change the world as we know it. Because we can engineer our environment and ourselves, humanity is moving beyond the constraints of Darwinian evolution. The result, he says, may be an entirely new species.

Enriquez is the author of the global bestseller As the Future Catches You: How Genomics & Other Forces Are Changing Your Life, Work, Health & Wealth. His most recent publication is an eBook, Homo Evolutis: A Short Tour of Our New Species.

Technology Review senior editor Emily Singer spoke with Enriquez after his talk.

TR: Why do you think there is going to be a new human species?

Juan Enriquez: The new human species is one that begins to engineer the evolution of viruses, plants, animals, and itself. As we do that, Darwin's rules get significantly bent, and sometimes even broken. By taking direct and deliberate control over our evolution, we are living in a world where we are modifying stuff according to our desires.

If you turned off the electricity in the United States, you would see millions of people die quickly, because they wouldn't have asthma medications, respirators, insulin, a whole host of things we invented to prevent people from dying. Eventually, we get to the point where evolution is guided by what we're engineering. That's a big deal. Today's plastic surgery is going to seem tame compared to what's coming.

How is this impending revolution going to shape the world?

Ninety-eight percent of data transmitted today is in a language almost no one spoke 30 years ago. We're in a similar period now. But this revolution will be more widespread because this is software that writes its own hardware.

People think this technology will just change pharma or biotech, but it's much bigger than that. For example, it's already changing the chemical industry. Forty percent of Dupont's earnings today come from the life sciences. It's going to change everything; it will change countries, who's rich and who's poor. It's going to create new ethics.

New ethics?

It will change even basic questions like sex. There used to be one way to have a baby. Now there are at least 17. We have decoupled sex from time. You can have a baby in nine months, or you can freeze sperm or a fertilized egg and implant it in 10 years or 100 years. You can create an animal from one of its cells. You can begin to alter reproductive cells. By the time you put this together, you've fundamentally changed how you reproduce and the rules for reproduction.

What does it take to make a new species?

We're beginning to see that it's an accumulation of small changes. Scientists have recently been able to compare the genomes of Neandertals and modern humans, which reveals just a .004 percent difference. Most of those changes lie in genes involved in sperm, testes, smell, and skin.

Engineering microbes alone might speciate us. When you apply sequencing technology to the microbes inhabiting the human body, it turns out to be fascinating. All of us are symbionts; we have 1,000 times more microbial cells in our bodies than human cells. You couldn't possible digest or live without the microbial cells inside your stomach. Some people have microbes that are better at absorbing calories. Diabetics have a slightly sweeter skin, which changes the microbial fauna and makes it harder for them to cauterize wounds.

One concern about human enhancement is that only some people will have access, creating an even greater economic divide. Do you think this will be the case?

In the industrial revolution, it took a lifetime to build enough industry to double the wealth of a country. In the knowledge revolution, you can build billion-dollar companies with 20 people very quickly. The implication is that you can double the wealth of a country very quickly. In Korea in 1975, people had one-fifth of the income of Mexicans, and today they have five times more. Even the poorest places can generate wealth quickly. You see this in Bangalore, China. On the flip side, you can also become irrelevant very quickly.

[...]

Read the full article at: technologyreview.com





---



Video from: YouTube.com

"Even as mega-banks topple, Juan Enriquez says the big reboot is yet to come. But don't look for it on your ballot -- or in the stock exchange. It'll come from science labs, and it promises keener bodies and minds. Our kids are going to be ... different"


Video from: YouTube.com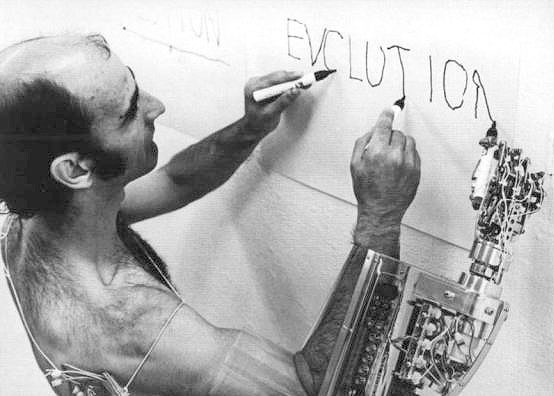 In the keynote talk from the recent Virtual Futures 2.0'11 event at Warwick, performance artist Stelarc talks about his work and the new possibilities for the technological augmentation of the human body. video
---

Also tune into:

Aaron Franz - The Philosophical Roots of Transhumanism

Aaron Franz - Technological Revolution, Hope & Dystopia

Aaron Franz - TransAlchemy, Save the Humans!

Aaron Franz - The Age of Transitions

George Kavassilas - Ascension and Beyond

William Henry - Stargate Technology & Transhumanism

Michael Tsarion - The Post Human World

John Lash - The Transhuman Con & Divine Transactions

John Lash - Artificial Technomania of the Archons

James Corbett - Transhumanism, Neofeudalism & the Green Movement





---


Red Ice Film

Longevity & The Grail