Ex-CIA Operative: Military Thwarted Obama's Plans To Nuke/EMP America This Fall!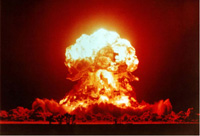 Dr. Jim Garrow, the same one that reported the death of Andrew Breitbart and Tom Clancy, came out as an ex CIA Agent recently. The same Jim Garrow that runs Pink Pagoda Girls that rescues young girls from death and abortion in China. He revealed in a November 18th Facebook message that among the top brass being purged, actually prevented President Obama from creating a series of "False Flag" events this fall. One of the incidents was to be nuclear, the other was make a calculated crippling of the infrastructure of our country.

On November 19th, the entire posts, reposts, and comments were totally scrubbed by social media networks.and outlets. That evening he appeared on Full Contact with Eric Rush.

You can see his scrubbed messages to Facebook here:

Three individuals have just saved 300 million lives in the past 2 weeks. They saved the 90% of the population that would be dead if Bathhouse Barry had not been stopped from using 3 nuclear devices against the American populace. 2 Army Generals and 1 Navy Admiral, whose duties included the safeguarding and oversight of the nuclear arsenal. Obama ordered that 3 nukes be transported in a major breach of protocol and safety regulations of long standing. He wanted it NOW, and these officers were made aware of what the intention was. The admiral had the one Navy nuke taken 200 miles off South Carolina and detonated deep in the ocean. The other 2 nukes disappeared thanks to the handiwork of the 2 Generals, the numbers 1 and 2 men in charge of the Army ordinance. These three men are heroes of the highest order. Look up the events of 2 Generals and 1 Admiral being dismissed in the past two weeks and you will find their names. They saved your lives and the lives of 300 million of your fellow citizens.

[...]

Read the full article at: thelibertydigest.com




---

For more on this issue, check out Red Ice Extra INSIGHT:

A Nuke in Charleston, SC? - September 11, 2013
"A military source, unknown to us, recently reported to Infowars a secret transfer of nuclear weapons from a base in Texas to the East Coast of the United States. Rumors are now that Charleston in South Carolina might be the target of a false flag nuclear event around the 12th anniversary of 9/11. John Kale, our correspondent who is in Charleston, reports to us via video what the last few uncertain days have been like in the tourist dense town. John attempts to add some more information to the story and share his observations on any out of the ordinary activity that would suggest that there is any truth to these rumors..."