Extraterrestrial Life: Exopolitics being discussed at Davos?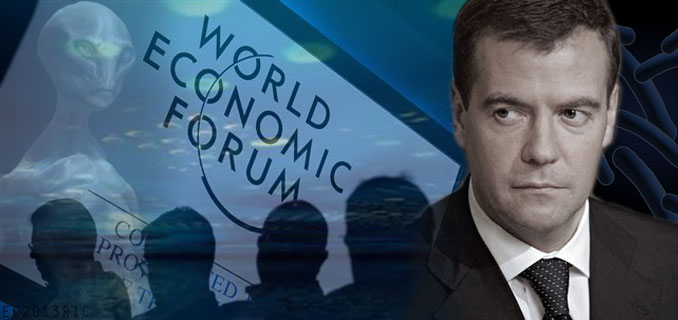 In December 2012 the Prime Minster of Russia, Dmitry Medvedev, caused a stir by speaking straight-faced to reporters about extraterrestrial beings.

In a candid moment after a televised interview, he made statements to a reporter that instantly got the attention of many.

ExoNews.org reports:


After completing an on-air interview with five television reporters on December 7, 2012, Prime Minister Medvedev continued to respond to reporters and made some off-air comments without realizing that the microphone was still on. He was then asked by one reporter if "the president is handed secret files on aliens when he receives the briefcase needed to activate Russia's nuclear arsenal," Medvedev responded:

Along with the briefcase with nuclear codes, the president of the country is given a special 'top secret' folder. This folder in its entirety contains information about aliens who visited our planet… Along with this, you are given a report of the absolutely secret special service that exercises control over aliens on the territory of our country… More detailed information on this topic you can get from a well-known movie called Men In Black… I will not tell you how many of them are among us because it may cause panic.




News reports treated the admission as a joke, especially with the assumed reference to the well known Hollywood 'Men in Black' film. However many speculate at Medvedev's frank, 'matter-of-fact' attitude, and also that he called "Men in Black" a documentary film.

The "Men In Black" documentary is a well known film in Russia that details UFO cases:


In the Russian Men In Black (MIB) documentary, a number of prominent UFO cases in Russia and the USA are discussed. The Roswell UFO crash is covered, along with a number of extraterrestrial abduction cases, and UFOs disabling nuclear weapons facilities. The documentary examines testimony that extraterrestrial bases have been established on Earth, and that some are in restricted US military areas with the full knowledge of the Pentagon. The documentary even goes on to seriously discuss President Eisenhower's alleged meeting with extraterrestrials, where agreements were reached with some of the visitors giving them permission to take some of the Earth's resources in exchange for advanced technology.
Source




[Note: Translation issues, some segments not translated.]



While these statements by Prime Minister Medvedev are remarkable, either for his surprisingly dry teasing, or for his unexpected disclosure, it should be noted that he's not the first high-profile source to speak on extraterrestrials and what finding life could mean to humanity.

Indeed the Vatican has already publicly discussed their plan for extraterrestrial life, and former Canadian Cabinet Minister Paul Hellyer is well known for his stance on UFOs. These sources can be added to the list of former astronauts that detail their experiences with unexplained phenomena and military and government coverups.

[RedIceRadio speaks with Paul Hellyer to discuss UFO issues, shadow government, and more]

What makes Medvedev's words more interesting is a newly released document that is to be covered at Davos - the World Economic Forum's annual meeting of world leaders in business, banking, and politics. They're meeting in Switzerland from the 23rd to 27th of January not only to discuss economics, but also to address financial crises, environmental challenges, and global government.
Apparently, aliens are ALSO on the agenda.

The EUTimes.net writes:


Medvedev is scheduled to open this years Forum where as many as 50 heads of government, including Germany's Angela Merkel and Britain's David Cameron, will attend the five-day meeting that begins on 23 January.

Critical to note about this years Forum is that the WEF, in their 2013 Executive Summary, scheduled for debate and discussion a number of items under their X Factors from Nature category, and which includes the "discovery of alien life" of which they state: "Proof of life elsewhere in the universe could have profound psychological implications for human belief systems."


From the Summary:


X Factors from Nature

Developed in partnership with the editors of Nature, a leading science journal, the chapter on "X Factors" looks beyond the landscape of 50 global risks to alert decision-makers to five emerging game-changers:

- Runaway climate change: Is it possible that we have already passed a point of no return and that Earth's atmosphere is tipping rapidly into an inhospitable state?

- Significant cognitive enhancement: Ethical dilemmas akin to doping in sports could start to extend into daily working life; an arms race in the neural "enhancement" of combat troops could also ensue.

- Rogue deployment of geoengineering: Technology is now being developed to manipulate the climate; a state or private individual could use it unilaterally.

- Costs of living longer: Medical advances are prolonging life, but long-term palliative care is expensive. Covering the costs associated with old age could be a struggle.

- Discovery of alien life: Proof of life elsewhere in the universe could have profound psychological implications for human belief systems.

The Global Risks report is the flagship research publication of the World Economic Forum's Risk Response Network, which provides an independent platform for stakeholders to explore ways to collaborate on building resilience to global risks. Further information can be found at www.weforum.org/risk


For the millions of people pressing for disclosure of the existence of extraterrestrial life and an end to the secrecy and coverup involved, this Davos 'Executive Summary', and remarks by the PM of Russia, might mark yet another 'small step for mankind' towards admission.

By Elizabeth Leafloor , RedIceCreations.com





---
Sources:
Examiner.com
Exopoliticsinstitute.org
EUTimes.net
---
Tune into Red Ice Radio:
Paul Hellyer - The Shadow Government, UFOs & Clean Energy
Nick Redfern - The Men in Black & Mothman
Alfred Webre - Exopolitics, NASA Bombing of the Moon, Outer Space Treaty & E. T.
Steven Greer - ET: Friend or Enemy? Disclosure & Free Energy
Stephen Bassett - Disclosure Petition II, The Rockefeller Initiative
James Gilliland - The Collapsing Empire, ET & The Unveiling
Bryce Zabel - Dark Skies & A.D. After Disclosure
Richard Dolan - The Secret Space Program & Breakaway Civilization