France's Hollande Invades Mali, Wins UNESCO Peace Prize
Give that man a prize! He deserves it.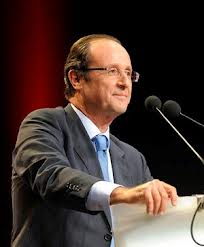 Barack Obama walked off with the big one as soon as he was elected. He was awarded the Nobel Peace Prize. What exactly US President Obama did to deserve the prize is unclear. He's authorized the drone-killing of US citizens around the world without due process. He's talked about removing troops from Afghanistan. That remains to be seen.

As for Hollande? He's promised to remove troops from Afghanistan, like Obama. But he's also proposed the establishment of a common German/French EU military headquarters and is a big proponent of increased EU powers. And the prize he received from UNESCO was for starting yet another war.

As Wikipedia tells us, "On 11 January 2013, Hollande authorised the execution of Operation Serval, which aimed to curtail the activities of Islamic extremists in the north of Mali ... During his one-day visit to Bamako, Mali's capital, on February 2, 2013, he said that it was 'the most important day in [his] political life'."

Currently, Hollande's gamble is said to have paid off. Al Qaeda in Northern Africa has been dealt a setback and pro-Western Mali officials have some time to recover from the unexpected onslaught. So perhaps Hollande IS a "peace hero" – or is supposed to seem like one. Here's more from the UNESCO announcement.


The award, created in 1989 by the UN Educational, Scientific and Cultural Organization (UNESCO), honours people, institutions and organizations that have contributed significantly to the promotion, research, preservation or maintenance of peace. It is named for the first president of Côte d'Ivoire.

Northern Mali was occupied by radical Islamists after fighting broke out in January 2012 between Government forces and Tuareg rebels. The conflict uprooted hundreds of thousands of people and prompted the Malian Government to request assistance from France to stop the military advance of extremist groups.

"The Jury condemns the violation of Mali's territorial integrity, the violation of human rights, the taking of hostages and the destruction of the cultural heritage of humanity in Timbuktu," Mr. Chissano said. "The Jury therefore decided to award the Félix Houphouët-Boigny Peace Prize to Mr. François Hollande, President of the French Republic, for his great contribution to peace and stability in Africa."


This really is the rankest kind of politics, however. We've reported on this blossoming Northern Africa war, and its fairly clear that it is yet another staged exercise in Western aggression.

[...]

Read the full article at: thedailybell.com




---