Gunman Shoots Two At Quebec Political Rally
A masked gunman opened fire during a midnight victory rally for Quebec's new premier, killing one person and wounding another. The new premier, Pauline Marois of the separatist Parti Quebecois, was whisked off the stage by guards while giving her speech and uninjured.

It was not clear if the gunman was trying to shoot Marois, whose party favors separation for the French-speaking province from Canada. Police identified the gunman only as a 62-year-old man, and were still questioning him Wednesday morning.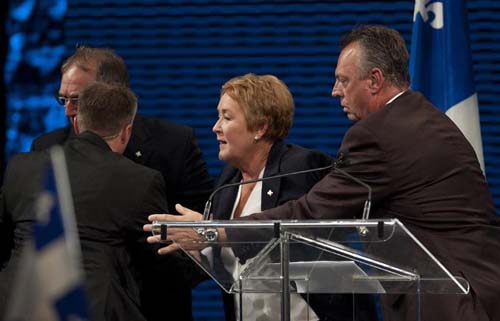 Parti Quebecois leader Pauline Marois is removed from the stage by police as she as she declares victory to supporters in Montreal, Tuesday, Sept. 4, 2012 following her election win. Police were not immediately able to provide details but party organizers informed the crowd that there had been an explosive noise and they needed to clear the auditorium.



Montreal police Cmdr. Ian Lafreniere said the gunman opened fire in the back of the hall while Marois was giving her victory speech to hundreds of supporters at the Metropolis auditorium. She had just declared her firm conviction that Quebec needs to be a sovereign country before she was pulled off the stage.

"What's going on?" Marois told her security detail as they grabbed her arms and took her off the stage during the celebration of her party's victory in Tuesday's provincial election.

The gunman then fled outside where he set a small fire before he was captured, police said.

Police said they didn't know the gunman's motive. As the suspect was being dragged toward the police cruiser, he was heard shouting in French, "The English are waking up!"

Marois returned to the stage after the shooting and asked the crowd to peacefully disperse and then seemed to finish her speech. She left the hall amid a tight cordon of provincial police bodyguards.

The attack shocked Canadians who are not used to such violence at political events.

[...]

It's not the first time there has been political violence in Quebec. In the 1970s Canadian soldiers were deployed because of a spate of terrorism by a group demanding independence from Canada. In 1970, the militant FLQ demanded "total independence" from Canada. Its members kidnapped and killed Quebec's labor minister and later abducted, then freed, a British diplomat.

The subsequent "October Crisis" was considered one of the darkest periods in modern Canadian history. Canadian troops patrolled the streets of Quebec and jailed alleged FLQ sympathizers, most of whom were later found innocent of having any FLQ ties.

Read the full article at: news.yahoo.com