Jackie Kennedy artifacts missing from JFK exhibit - sealed till 2103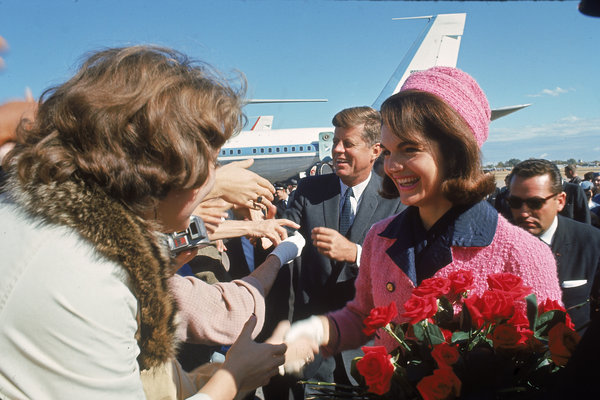 On Nov. 22, 1963, the fateful day of John F. Kennedy's assassination, First Lady Jacqueline Kennedy famously wore a pink suit, accessorized with a matching pillbox hat. And in conjunction with the 50th anniversary of JFK's inauguration this month, Boston's John F. Kennedy Presidential Library and Museum mounted a display featuring a treasure trove of Kennedy artifacts. But the first lady's iconic Chez Ninon suit and pillbox hat -- immortalized on websites and History Channel programs -- aren't part of the show.

At the request of erstwhile first daughter Caroline Kennedy, her late mother's Dallas suit won't be on public display until the year 2103, reports the Los Angeles Times' Faye Fiore. Until then, the National Archives and Records Administration is storing the clothes in a dark, window-less, temperature-controlled bunker at the agency's complex in Maryland.

According to people who have seen it, the jacket was never washed and still retains the look of a brand new article of clothing -- except, of course, for the stains from the blood of the fallen president.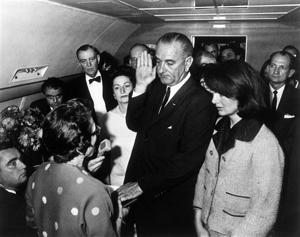 Kennedy biographer William Manchester wrote that Jacqueline Kennedy, against the wishes of White House staffers and aides, refused to change into a clean dress prior to a TV appearance at Dallas's Parkland Hospital, where the presidential motorcade sped the fatally wounded JFK for emergency treatment. "No, let them see what they've done," she reportedly said. She is still wearing the jacket aboard Air Force One in the famous photo of Lyndon Johnson's swearing in at right.

Meanwhile, no one seems to know the whereabouts of the pillbox hat. A Secret Service agent on duty that told Fiore that he gave the hat to Mary Gallagher, the first lady's personal secretary. But according to Fiore, Gallagher "won't discuss" what she did with the hat -- though she notes that Gallagher has auctioned off a number of Kennedy artifacts on the internet in the past.

The suit's chain of custody leading to the National Archive also isn't entirely clear. According to Fiore's report, Kennedy's White House maid boxed up her bloody clothes after the first lady removed them. Months later, officials at the Archives received a box containing the pink suit, blouse, handbag, shoes, and stockings. The items were accompanied by an unsigned note composed on the stationery of Jacqueline Kennedy's mother. It read simply, "Jackie's suit and bag worn Nov. 22, 1963." No one to this day appears to know for certain if Jacqueline Kennedy's mother, Janet Auchincloss, sent in the artifacts -- or if the curator in question was the former first lady herself, or one of Jacqueline Kennedy's assistants.

(Photo of President Kennedy and Jacqueline Kennedy at Dallas' Love Field: Getty/Time & Life.Photo of LBJ swearing in: AP/White House/Cecil Stoughton)

Article from: news.yahoo.com